Hear Shabason, Krgovich, and Harris's New Age-inspired new single "I Don't See The Moon"
The latest single from the trio's new album, Philadelphia, out tomorrow.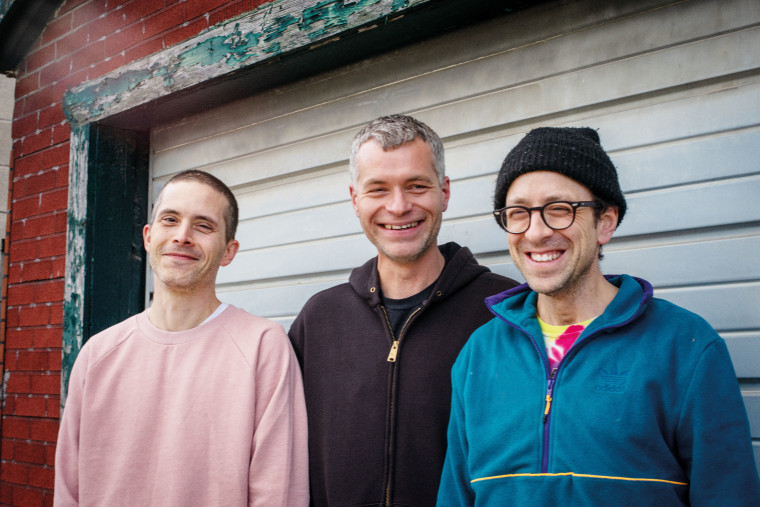 Nicholas Krgovich went through his first break-up at the age of 35, and, being an uncommonly gifted singer-songwriter prone to lengthy bouts of introspection at the best of times, he channeled his pain into the creation of an album. The result was "OUCH," released in 2018, a record that displayed much of what makes Krgovich such an interesting musician — not least his ability to render mundane details essential through pithy lyrics and meticulous melodies. But for the sake of brevity, you can learn a lot about Krgovich by thinking the album title, rendered in quote marks and written in caps lock, grimly funny in a shrug-your-shoulders, existential sort of way. Here's a guy who sings, "No amount of Jonathan Richman, Hafiz, and Alain de Botton is stopping me / From screaming 'fuck you' into the air," with all of the resignation absolutely none of the fury that he's referring to. The song from which that line is taken, "Spa," is a lavished in flutes and delivered in near-whisper.
His latest project is fully collaborative, a full-length album with his friends Joseph Shabason and Chris Harris — as Shabason, Krgovich, and Harris — called Philadelphia. The project was born out of a shared love of Japanese New Age music, which is present throughout without overpowering Krgovich's wry sophistipop or Shabason's deft jazz inflections. Philadelphia is no break-up record (Krgovich says in a press release that he deliberately avoided writing about heartbreak this time), but his lyrics are still scrupulous and sharp.
"I Don't See The Moon," premiering below, is one of the album's more pensive moments, its minimalism less clearly indebted to Hiroshi Yoshimura or Midori Takada than the first two singles from Philadelphia, and the video for the single, directed by Derek Janzen, reflects that.
"I'm so glad SZA released the 'Hit Different' video a day or two before we made this one," Krgovich wrote in a statement to The FADER. "All of a sudden I was inspired to lip sync and change outfits and even get my boyfriend to do my hair and make-up. All things I haven't done in a music video for years, if ever. This was another breezy and fun video to make with Derek and I'm glad we did it before all the forest fire smoke wafted up here. Also very psyched on how the sixth shot looks a lot like a painting I really love called 'Song of the Lark' by Jules Breton. Ooh, and that we could feature this woodblock my mom brought me back from a trip to Hawaii back in the late '90s. She was pleased."
My main goal with this video was to really try to find a balance between the soft pacing of the song and the visuals," Janzen added. "With the song encroaching on nine minutes, it seemed suitable to try and keep things minimal in terms of technicality and subject matter, and instead simply offer a handful of slow moving dolly shots for the viewer to soak in the scenery and hopefully get swept up in the music. Nicholas is also just such a fun performer to watch, so it's never a bad idea to just let the camera roll on him for long stretches of time as the sun is setting."
Watch the video for "I Don't See The Moon" below. Philadelphia is out tomorrow, September 18, via Ideé Fixe Records. Pre-order it via Bandcamp.