Watch the tranquil visuals for Shabason & Krgovich's new song, "In The Middle Of The Day"
It's the second single from their second joint LP, At Scaramouche, due out October 7 via Idée Fixe.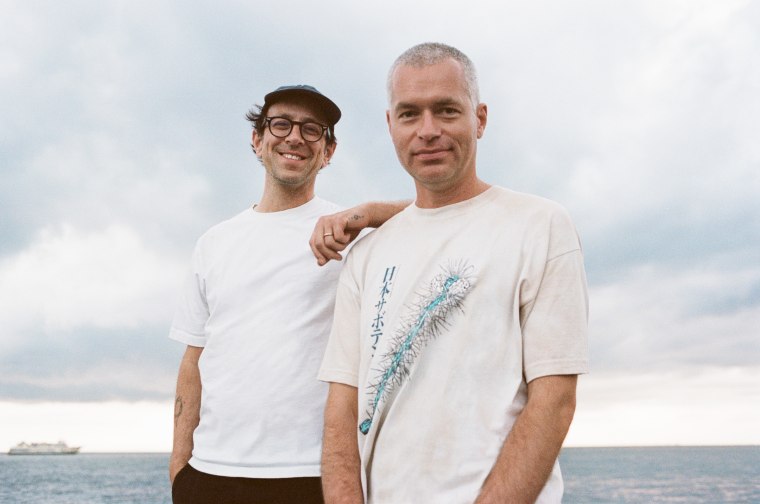 The mutable duo of Canadian multi-instrumentalists Joseph Shabason (DIANA, Destroyer, The War On Drugs) and Nicholas Krgovich (P:ano, Gigi, No Kids) have shared a slow-burning new song called "In The Middle Of The Day," the second single from their sophomore joint LP. At Scaramouche — the follow-up to 2020's Philadelphia, which also featured fellow musical polymath Chris Harris — is due out October 7 on the Toronto label Idée Fixe. Its lead single, "I Am So Happy With My Little Dog," arrived last month.
The new track is a soothing, six-minute jam that invokes the spirit of smooth jazz, trip-hop, and sophisti-pop with a twinkling self-awareness. "I was hanging out in the backyard behind the studio making up the words and melody for this song as Joseph and Kieran [Adams] and Bram [Gielen] were inside recording drums and bass," Krgovich tells The FADER. "The mp3 I was singing to in the yard, which was really just a sketch, was this floaty synth chord progression Jos' had come up with that just circled round and round. It was fun to sing to and when I felt I "had something" I went back into the studio and all of a sudden the track had this cuckoo 80s/90s baggy beat and a super punchy, articulated bassline. I was like 'what the hell is going on in here?' and I loved it! It instantly reminded me of "I'm Not the Man I Used to Be" by Fine Young Cannibals and had a forward motion a bit like "Unfinished Sympathy" and it surprisingly held what I had come up with just fine — which was a nice surprise 'cause I thought it was gonna be this groundless, sparse thing. "
It arrived on Wednesday, and is comfy visual treatment — directed by Derek Janzen and shot in idyllic locations across Toronto, Shabason's home city — is premiering below.
"When we decided to make a video for this song I showed Derek Janzen the Fine Young Cannibals vid and Sade's "When Am I Going to Make a Living" and was like "let's try to do something like this!" And we did — although I weirdly feel like it ended up visually more like Automatic For The People-era R.E.M., which I'm not mad at all. I really wanted to shoot this one in Toronto and have Joseph in it, so we did that too, along with cameos from Dorothea Paas and Chris A. Cummings, who sing all over the new record. It's a love letter to the music you'd hear in the back of your mom or aunt's car in the late 80s/early 90s and to Toronto, a place I've really grown to appreciate a lot since being in this band. We hope you like it!"
"The video was a great excuse to get to spend a week together again after finishing the record," Shabason adds. "I also love the video because it's super Toronto-centric but the main character of it is Nick who I associate deeply with Vancouver (a city that loves to hate Toronto). The juxtaposition really warms my heart."