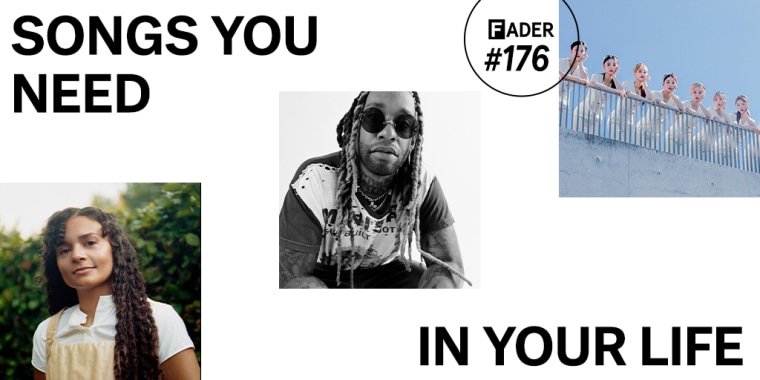 Each week, The FADER staff rounds up the songs we can't get enough of. Here they are, in no particular order.
"By Yourself" — Ty Dolla $ign featuring Jhené Aiko and Mustard
A sturdy sense of independence has never been more important. Ty Dolla $ign brings back his lyrical lothario persona and lays down game bedazzled with melodies. Jhené Aiko adds a bit more dimension with a rap containing bars about being happy with who you are, a sentiment boosted by Mustard's joyful, filtered-choral beat.
"Fall Again" — LOONA
K-pop group LOONA try neo-soul on for size on "Fall Again," and it fits perfectly as a tailor-made dress for smokey cocktail lounges.
"No Butterflies, No Nothing" — Erika de Casier
de Casier is stuck in the sludge of a stagnant relationship on this one, but you'd never guess it from her sound, an intuitive blend of R&B melodies and underground club rhythms. Revisit our recent interview here.
"I'm Amazing" — Omar Apollo
Sometimes the view from the mountaintop can inspire nostalgia instead of awe. On "I'm Amazing," the opening song from his debut album Apolonio, Omar Apollo looks back on the humbling, surprising journey from unknown to pop "It Boy," and shows us the bars, vocals, and textures behind the hype.
"Floor" — Tomberlin
The spectre of frayed human connection, and our efforts to reach out in spite of the futility, is all over "Floor." Amid death and rejection, Tomberlin conjures sparks of optimism and an abundance of humanity.
"Mermaid Dreams" — Annie
Dark Hearts, the new album from Annie ten years in the making, is sexy and ambitious synth-pop. "Mermaid Dreams" eschews the club-friendliness of the album's singles for a fantastical journey through otherworldly landscapes and dimension-popping synth arpeggios.
"Mid-Practice" — Helena Deland
In our GEN F interview with Helena Deland, the Montreal singer-songwriter talked about writing female characters that existed with dimension outside of their relationships to men. The idea of playing a role is central to the lyrics on "Mid-Practice," a dream-pop song about the roles we play in love. After all, it is the show we need the most.
"Crash" — Nilüfer Yanya
With a guitar that's by turns stonkingly heavy and beach-day swoony, "Crash" is a welcome return for Yanya, whose 2019 debut album Miss Universe still goes hard.
"dominique" — Ela Minus
The plight of the night owl is on full display in Ela Minus' newest song. Vapourous acid house and early synth-punk are the musical backbones of the Columbian artist's entreaty for health and stability.