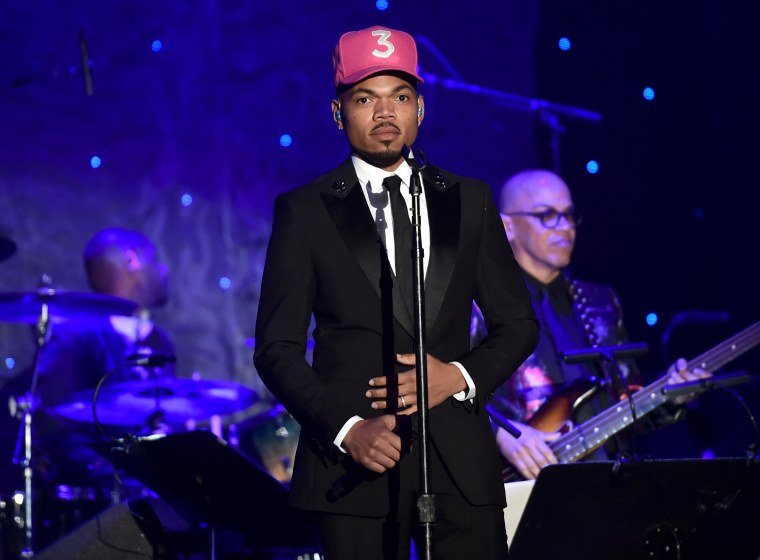 Chance The Rapper's former manager Pat Corcoran is suing the Chicago rapper for $3 million, claiming breach of contract, unjust enrichment, and violation of the Illinois Sales Representative Act. The suit was first reported by Complete Music Update and confirmed in documents obtained by Courthouse News. Corcoran was fired as Chance's manager in April 2020 after a working relationship that began in 2012 and spanned three acclaimed solo mixtapes and a Grammy Award for Best New Artist.
Corcoran's suit details the circumstances surrounding the creation and release of Chance's 2019 debut album The Big Day. The suit claims that Chance did not consult Corcoran before announcing in February 2019 that he would release his debut album in the summer of that year. Corcoran advised against this timeline, reportedly pointing to the fact that the album had not yet been recorded, and said the planning of Chance's then-impending marriage would be a possible impediment to the album's creation.
The suit also claims that recording sessions for The Big Day were "unproductive and undisciplined," with the album itself being a "freestyle-driven product of sub-part quality." Corcoran's suit says that the tour behind The Big Day was postponed and eventually canceled due to "low ticket sales and poor attendance projections."
Chance did not mention these factors when he announced the tour's cancellation in December 2019, saying "I'm gonna take this time to be with family, make some new music and develop my best show to date."
Chance's father and brother, Ken and Taylor Bennett, are accused of interfering in Chance's business affairs and "slowly erod[ing Chance's] confidence in Corcoran." Ken and Taylor Bennet pushed for Chance to promote The Big Day on multiple talk shows, the suit says, while Corcoran urged Chance to "step away from the public and regroup." The resulting appearances did not boost the project, the suit says, but "served only to exacerbate the failure of The Big Day."
It was Corcoran who bore the brunt of the blame within Chance's camp for The Big Day's underperformance, according to the former manager's suit: "Instead of acknowledging the numerous distractions and artistic compromises that inevitably resulted from time wasted in the studio, all of which contributed to a lackluster album evidenced by historically low ticket sales, Bennett ultimately blamed Corcoran for the judgment rendered by his fanbase rather than accept that his own lack of dedication had doomed the project."
Pat Corcoran was formally terminated from his role on April 27, 2020. He claims he is owed $3 million, or 15% of Chance's net income, based on an oral agreement with the rapper. He is also seeking to earn commissions for three additional years based on a "sunset clause."
The FADER has reached out to Pat Corcoran's attorneys. Chance The Rapper's legal team issued a statement denying Corcoran's claims: "Mr. Corcoran has filed a suit for allegedly unpaid commissions. In fact, Mr. Corcoran has been paid all of the commissions to which he is legally entitled. Most of the complaint consists of self-serving and fabricated allegations that are wholly unrelated to Mr. Corcoran's claim for commissions and were plainly included in a calculated attempt to seek attention. Those allegations are wholly without merit, are grossly offensive and we will respond to them within the context of the litigation."
This post was updated on Saturday, December 5 at 10:46 am to include a statement from Chance The Rapper's attorneys.