A year of being locked indoors was always 25-year-old Emmanuel Kazadi's plan. "I realized if I wanted to make a legitimate footprint in the art that I was pursuing I had to drop everything else and focus. Late last year I told myself 'no matter what, I will have a short film that I'm proud of by the end of 2020, even if I have to stay in my room for eight months and not talk to anyone." It was then — just around three months before COVID-19 ravaged the nation — that the Atlanta-born, Paris-raised and now Los Angeles-based artist made a commitment to total concentration.
Twelve months later, his debut film Enzo Bleu is now streaming on YouTube: a 16-minute animated short that details one trying morning in the life of fictional celebrity Enzo Bleu, a wealthy young producer who has just been sentenced to a year in jail due to tax evasion. Imagine a more realistically-drawn BoJack Horseman scenario: a loner surrounded by clout-chasers in an estate so lavish, it could only be animated. Inspired by the loose-ended nature of French cinema, the film doesn't hand you a satisfying ending, but it does leave you wanting more.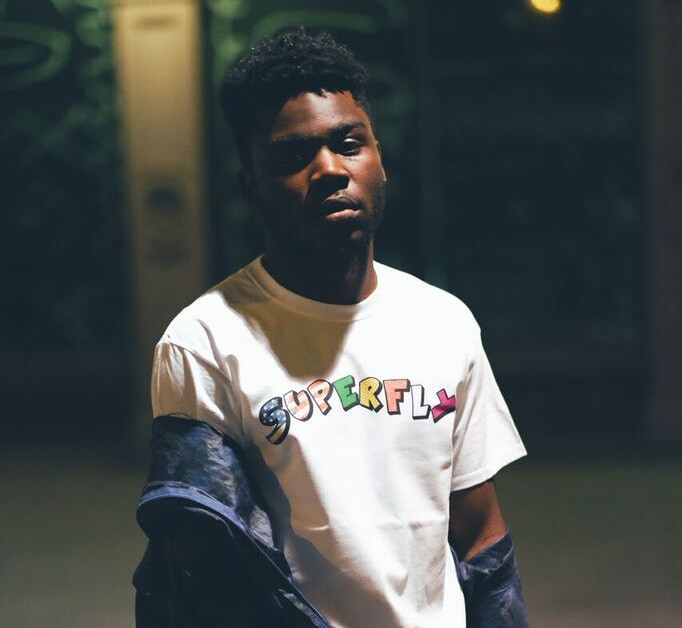 Among the many works of art, prized accolades and pop cultural paraphernalia scattered throughout Bleu's house are replicas of Kazadi's own paintings, which draw references from the worlds of George Condo and Looney Toons. On the heels of his debut art show at Aziz Gallery in Los Angeles a few weeks back and the premiere of Enzo Bleu, we caught up with Kazadi to discuss the symbiosis of his art on and off-screen, as well as what he sees next from the world of Enzo.
Where did the story of Enzo Bleu originate?
It came from many places. I don't want to describe myself as a loner, but I kind of have to, if you compare me to other people. Out of the majority, I would probably be considered a loner. I wanted that feeling to come across. Who would be an interesting loner? Probably somebody successful. With Enzo Bleu, I wanted to show someone who doesn't have the choice truly be his loner self because there's always people surrounding him.
Enzo's house is almost a character in itself — there's a lot of attention to detail and pop cultural references littered throughout it.
When I was a kid, I saw a documentary on Nigo (the founder of Bape). His house was just so interesting — toys and art everywhere. More than what he said on film, his house was a statement in itself. That definitely inspired me.
We see your paintings throughout Enzo's estate, but there's a clear distinction between them and the rest of the world they occupy. How do you differentiate the animated from the painted?
It's two different worlds, for sure. My paintings live the same kind of life in the film as they would in the real world. They're fantasy like, and colorful. My paintings have always been inspired by the golden age of American animation — like what the Warner Brothers were doing in the 50s. But for the film, I wanted the animation to have a live-action feel. I wanted it to feel like it was shot on a 16mm camera.
Speaking of your paintings, you recently had a gallery showing. How did that go?
I had my first show last month in Los Angeles, and it was very successful. It was my first time selling paintings. I sold one to Henry Taylor who's a reference in the art world — his biggest sale is like $1 million. To have him walk into my show and leave with one of my works… that's the biggest co-sign to keep pushing and keep doing this.

It's one thing to envision the kind of world that Enzo lives in, but it's another thing to execute it. Talk to me about that process.
I obviously don't actually live the lifestyle that Enzo lives, so there was a lot of research that went into illustrating his world. At first I did a lot of traditional 2D animation tests for it, but I didn't like how those turned out. I wanted the film to feel as real as possible — real life, animated. It was me in my room drawing for twelve hours every day. It was a very repetitive year — 90% of my time was drawing on Photoshop, and 10% was blown on social media.
The film ends pretty abruptly. Are you thinking about continuing the plot somehow?
That's the goal, and the hope, and why I set it up this way. I want people to envision a continuation. Growing up in France, I've always been obsessed with French cinema and how those films often seem random. Enzo Bleu doesn't start or end at traditional points, and there isn't a resolution for now, and that was my whole purpose. If people want to see more, then I've succeeded.