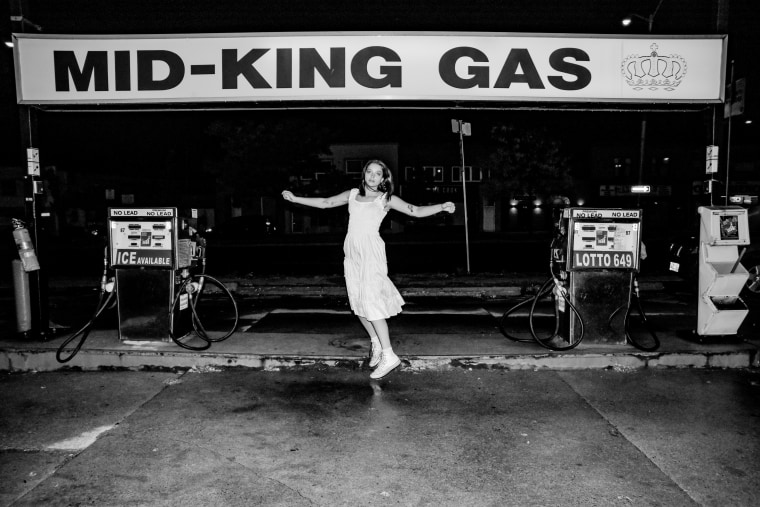 Since signing to Fire Talk / Royal Mountain a few weeks back, Toronto slacker rock four-piece PACKS have been compared to a bunch of rock bands from the '90s (Sonic Youth, Pavement), a few of bands from the past decade who borrowed from rock bands from the '90s (Vivian Girls, Best Coast), and a handful of contemporary artists who borrow from rock bands from the '90s (Disq). These comparisons aren't entirely misleading. "Silvertongue," the single with which they announced their debut album Take The Cake, had all the components of a reluctantly anthemic slacker-rock song: uncomplicated power chords, one- or two-note solos, vocal melodies ripped from early Seattle grunge. The band's lead singer and songwriter Madeline Link — who started PACKS as a solo project before inviting in drummer Shane Hooper, bassist Noah O'Neil, and guitarist Dexter Nash — sings with her jaw half-clenched half the time, as calculatedly laconic as Steven Malkmus, and there is a naturally grainy quality to the band's sound and look.
Still, it would be unfair to cast PACKS as simply throwbacks. Link is a witty and intriguing lyricist ("Shiny words on a page / Hop to me later in a burlap sack / Make way for beautiful displays"), and Take The Cake has plenty of risky moments. While we're all blurting out band names, restlessly inventive bands like Speedy Ortiz and Land of Talk might be more accurate markers of where this group could go. The latest single from the album, "New TV," premiering below, is slower and a little more melancholy than "Silvertongue," and there's something college-radio-ready behind the looping piano too. Its lyrics are even odder than before — though Link writes in an email to The FADER that she was really just singing about trash:
"I got the chance to witness a craigslist transaction of two bros selling a hideous pink couch to an eager young man with a U-HAUL. As they lovingly demonstrated the LA-Z-BOY function, everyone seemed pretty impressed. New TV boxes and old couches litter curbs every garbage day. This song goes out to other people's garbage."
Watch the video for "New TV" below. Take The Cake is out May 21 via Fire Talk / Royal Mountain.