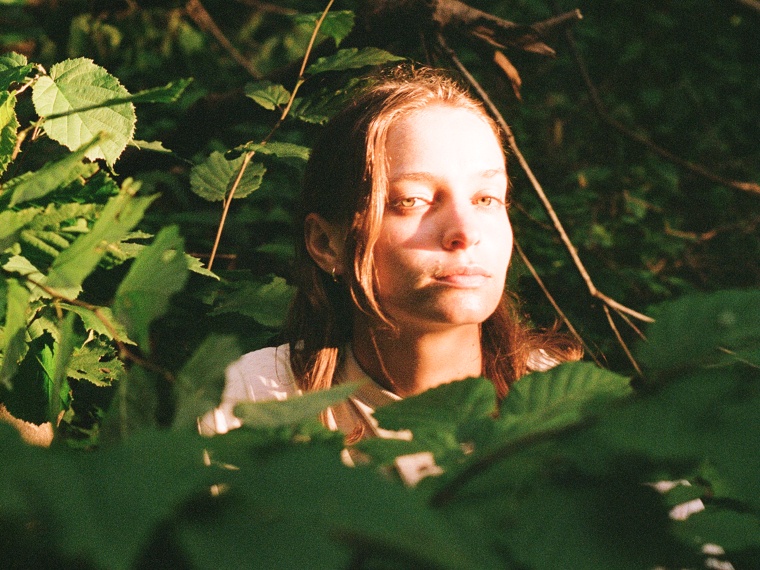 Back in March, PACKS dropped Crispy Crunch Nothing. The second album from the Toronto-based indie rock group, founded and fronted by Madeline Link, it was the perfect backdrop for the sun breaking through the clouds and buds poking through the thawing snow left over from a particularly cruel winter. On the heels of summer's end, PACKS have announced a new album — Melt The Honey, coming January 19 via Fire Talk — and shared its lead single, "Honey."
Listening to a PACKS record can feel like scanning through a bunch of college radio stations in the mid-'90s close to midnight, but the band have always been more interested in emotional fidelity than the sonic kind. "Honey" continues to build on the ambitious compositional heft found on Crispy Crunchy Nothing; here, Link discovers a new clarity and pledges to fiercely protect it. This being a PACKS track, there's a sense of humor to it: Everything about the song, from Link's infomercial-dazed vocals to the busker-loose guitars and the chipper, bright organ conveys a total lack of urgency. It's your new soundtrack for letting go and letting God.
"I wrote this song while I was living in a tiny beach town in Chile, nestled between two hills," Link says in a press release. "They don't have maple syrup down there so we'd have honey instead. To keep the honey from burning you have to melt it a special way! As this developed into a habit, I think I was struck by how cute it was."
In the song's music video, Link goes on a bike ride through the park and climbs a couple of trees, because why not? Watch it below, followed by PACKS' upcoming tour dates, a selection of headline shows and spots opening for Slow Pulp and Geese.
PACKS 2023 tour dates
September 30 - Brooklyn, NY - Union Pool
October 1 - Washington, DC - Pie Shop
October 4 - Troy, NY - No Fun*
October 6 - Boston, MA - Sinclair*
October 7 - Montreal, QC -Bar Le Ritz*
October 8 - Toronto, ON - Velvet*
October 10 - Pittsburgh, PA - Bottlerocket*
October 11 - Detroit, MI - Third Man*
October 12 - Chicago, IL - Lincoln Hall*
October 13 - Milwaukee, WI - Colectivo*
October 14 - Minneapolis - 7th Street Entry*
October 16 - Denver, CO - Larimer Lounge*
October 17 - Salt Lake City, UT - Kilby Court*
October 19 - San Diego, CA - Whistle Stop
October 20 - Los Angeles, CA - Ghengis Khan
October 22 - San Francisco, CA - Bottom of the Hill
October 24 - Portland, OR - Mission Theatre
October 25 - Seattle, WA - The Vera Project
October 27 - Vancouver, BC - Green Auto
November 29 - Leeds, UK - Brudenell Social Club#
November 30 - Liverpool, UK - Jimmy's#
December 01 - Glasgow, UK - the Hug & Pint#
December 02 - Dublin, IE - Workmen's Club#
December 04 - Manchester, UK - Yes#
December 05 - Bristol, UK - Strange Brew#
December 06 - London, UK - Moth Club#
December 07 - Brighton, UK - Green Door Store#
December 10 - Antwerp, BE - Trix#
December 11 - Paris, FR - L'International#
December 13 - Berlin, DE - Bedehaus Szimiple#
December 14 - Leipzig, DE - Conne Island#
December 15 - Schorndorf, DE - Club Manufaktur#
December 16 - Munster, DE - Gleis 22#

* with Geese
# with Slow Pulp