For Those I Love's "To Have You" video captures the ecstasy and agony of being a soccer fan
Watch the Dublin-based musician's love-letter to his beloved Shelbourne FC.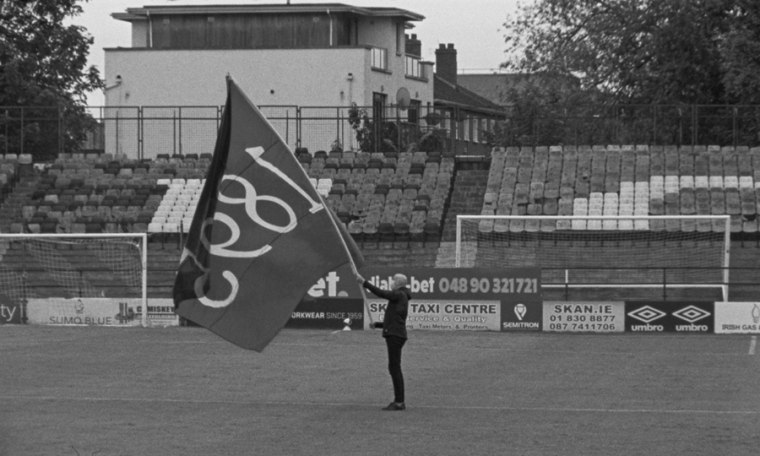 It doesn't take long while listening to For Those I Love to appreciate how much the game of soccer means to him. David Balfe has earned rave reviews for his debut album, released earlier this year, in part for its themes of grief, loss, mental health, and navigating a punishing class system as well as its uncanny ability to marry that heaviness with dancefloor euphoria. Little else represents that same sense of community and release like a well supported sports team and Dublin-based Shelbourne FC are a bedrock of both Balfe's life and those closest to him. Its why the team's Tolka Park stadium makes the perfect backdrop for the "To Have You" video. The video encapsulates the matchday experience, from pints before the game to the action on the pitch, while also maintaining something of a melancholy edge, being shot during a time in which fans are unable to attend matches due to the ongoing global pandemic.
Speaking about finding community in a time of bleakness and disconnection, Balfe said the following: "The trip out to the football can feel like a pilgrimage. Every mix of bliss and pain and glory is felt in the terraces each week, but it's been lost for us all since the world changed overnight.
Being back in the stands as 'To Have You' was shot felt like a shower of relief and beauty, and I can't thank Niall (Trask, director) enough for his vision and understanding of what it all means. The track is very much about survival, reflecting on a world me and mine grew up through and confronting those who question it. I am blessed to be able to hear this in a new light now as it's mixed with Niall's art."
The club's shared stadium, Tolka Park, where Balfe shot the cover of For Those I Love is under threat. You can read more about the Save Tolka Park campaign here.