Here are the best looks from the Governors Ball 2021
The festival brought a sensory overload to New York City last weekend with amazing musicians and vivid fashions.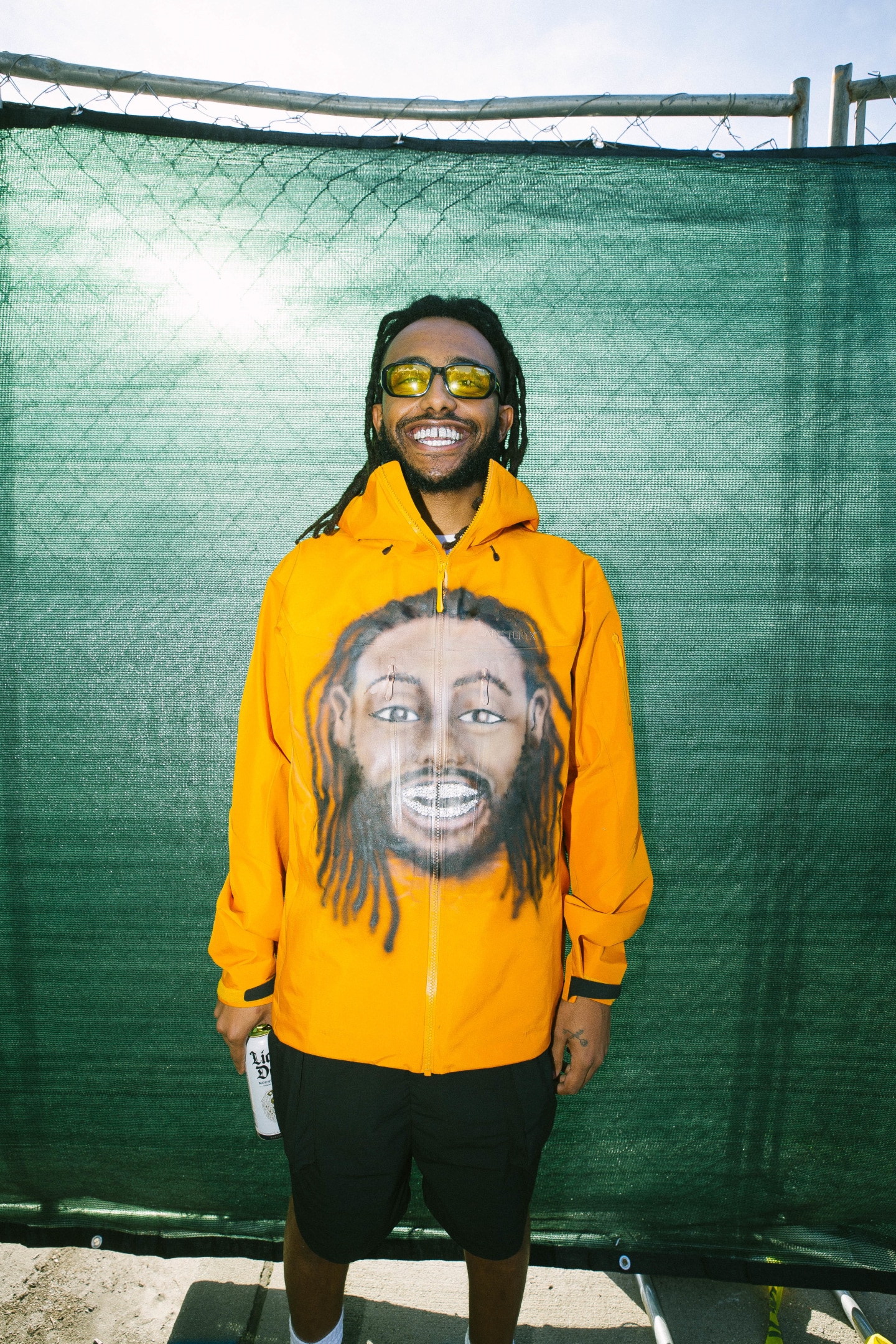 A music festival is an opportunity to pull a look that you wouldn't wear back to the office or classroom when reality returns on Monday morning. It's also countless hours of being on your feet, in the sun, in a crowd of hyped-up strangers. The coolest kids showed up to Gov Ball 2021 at Citi Field last weekend in fanny packs and stomping boots, merging practicality and style for the 10th anniversary of New York City's hometown fest.
The big pants / tiny top trend is still going strong (and is appropriate for singing along to the lyrics of headliner Princess Nokia's banger, "Tomboy"). Grunge prevails, from chain details to slouchy cardigans to the funky characters featured in The FADER x No Negativity's Gov Ball merch collab. The top footwear choices were hands-down Dr. Martens, cowboy boots, dad sneakers, and a classic pair of Nikes.
If you're missing the energy already, or stayed home and are feeling the FOMO, cop your own look on Gov Ball's Instagram. J Balvin, EARTHGANG, Breland, Orville Peck, and King Princess debuted exclusive tees that speak to each artist's aesthetic.
Read on for our favorite fits from all three days and all four stages.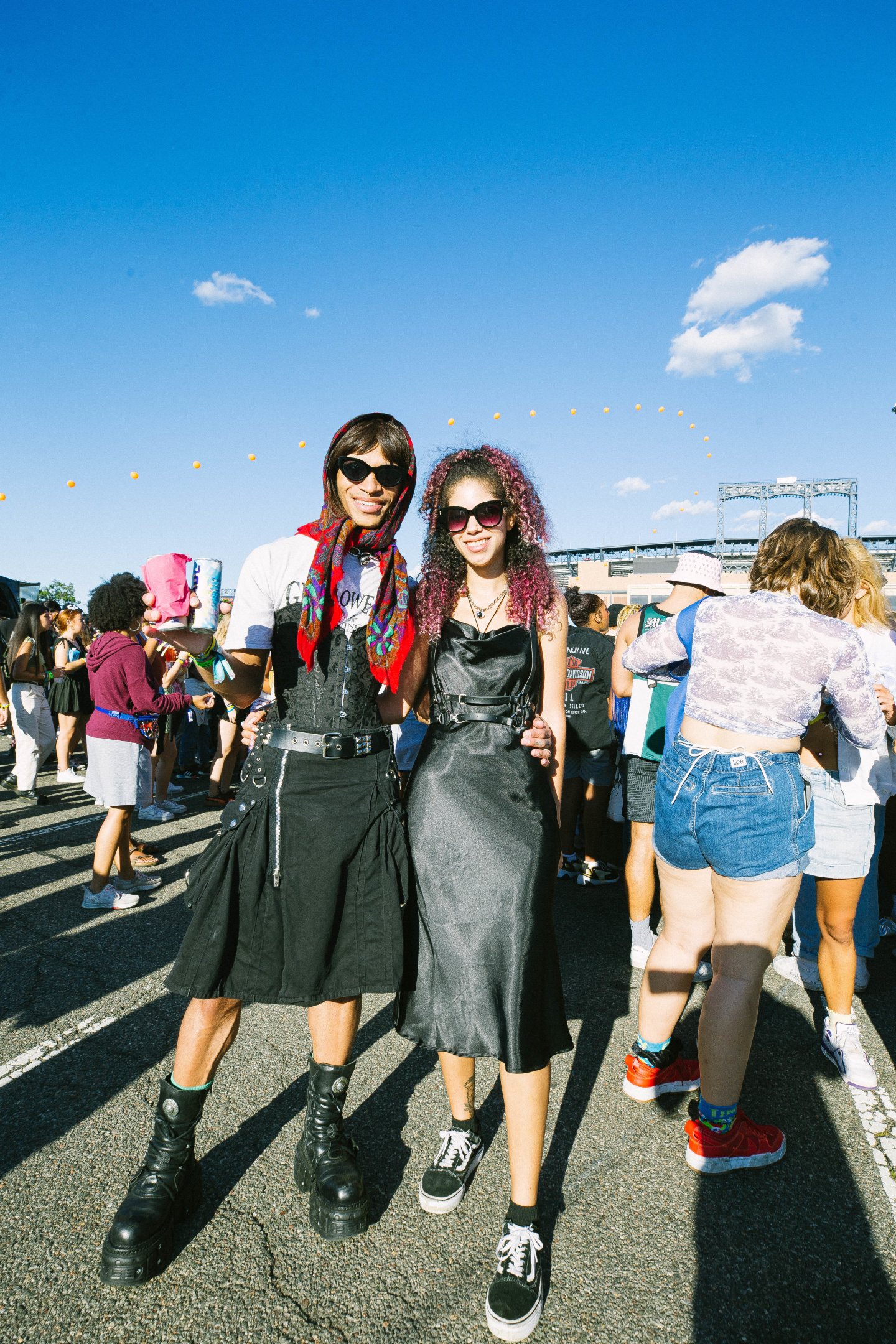 DJ GOODCHILD and friend Amina are chilling in silks, waiting for Smino to take the stage. "I was saying to her all weekend, it's a music festival, I should wear the 'Get Plowed' shirt. It's the last day so I've got that on under my staple corset with a Tripp NYC kilt, New Rock boots, and the Nike Elite socks in case I gotta dunk on somebody." Amina "just threw something on" but took Gov Ball as an opportunity to wear a bondage-style harness that is usually just hanging from her closet doorknob.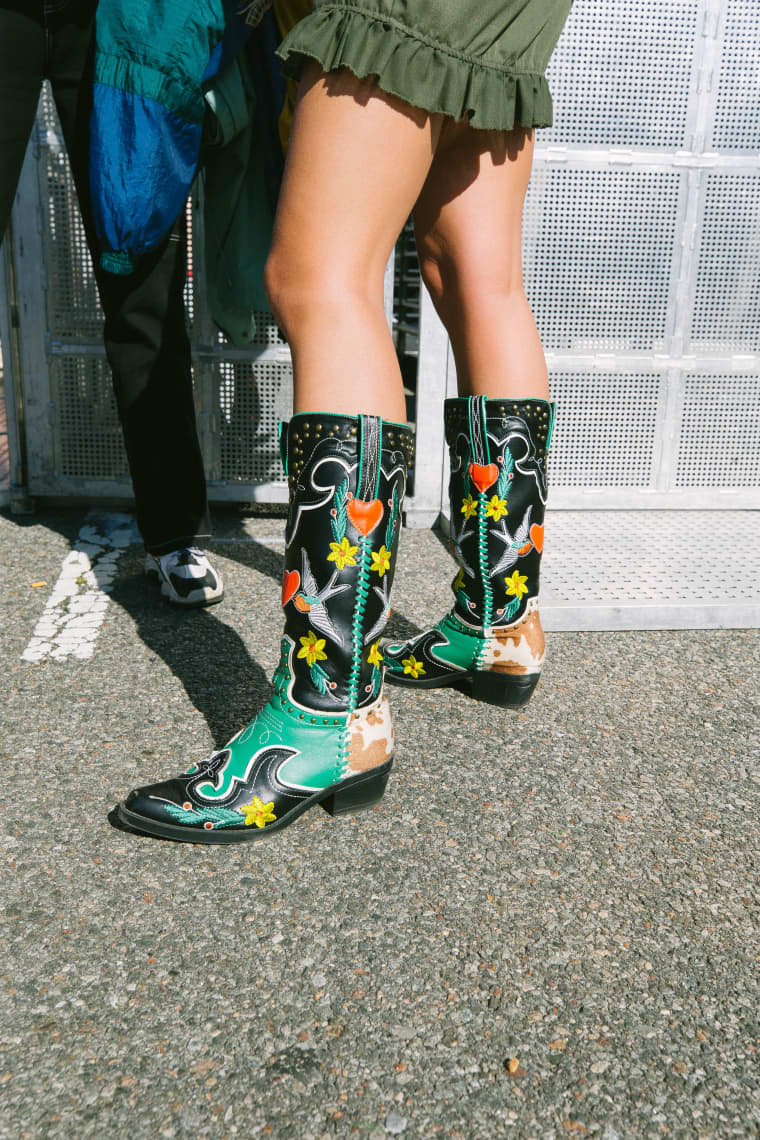 Kathia and Ali are wearing threads, fuzzy patches and peace-sign earrings all made by Kathia herself -- okay, except for the wild western boots. "I wish I'd made these. I got them at a vintage store in Woodstock," she says. Her style is "a bit schizophrenic, just like my music taste." Case in point: the girls were en route from King Princess to Cordae to Megan Thee Stallion. Kathia's brand, Psychedelic Threads, is a collection of tufted rugs, wallhangings and apparel made from upcycled mixed materials. She's open for album art commissions.
Artist and DJ Sonika Misra has always been a Michael Jordan fan, but she became full-on obsessed with the Chicago Bulls after watching the 2020 Netflix miniseries The Last Dance. "I went on eBay searching for Bulls stuff and found this homemade dress. I had to get it. There's no tag or anything." Paired with classic Asics, it was the perfect fit for shuttling between shows and the artists' area where she was hanging with New York-based rapper MIKE.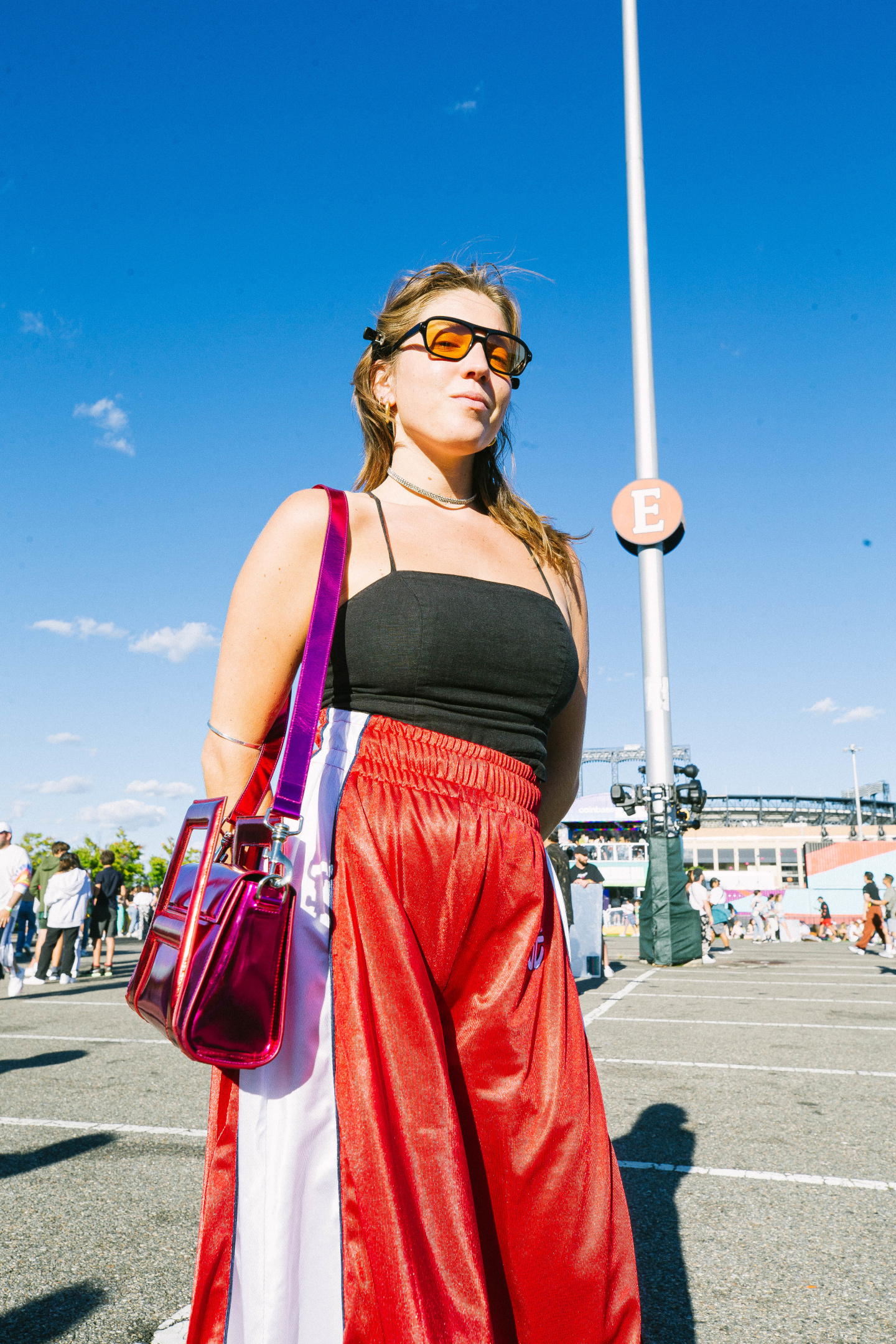 Allie is ready to bounce to Burna Boy in Telfar track pants that were lying on her bedroom floor from an event last week (perks of co-founding a production company). Pulling a cake-frosting pairing of pink and red, Allie brought it back to earth with a black linen tank and 70s orange-tinted glasses.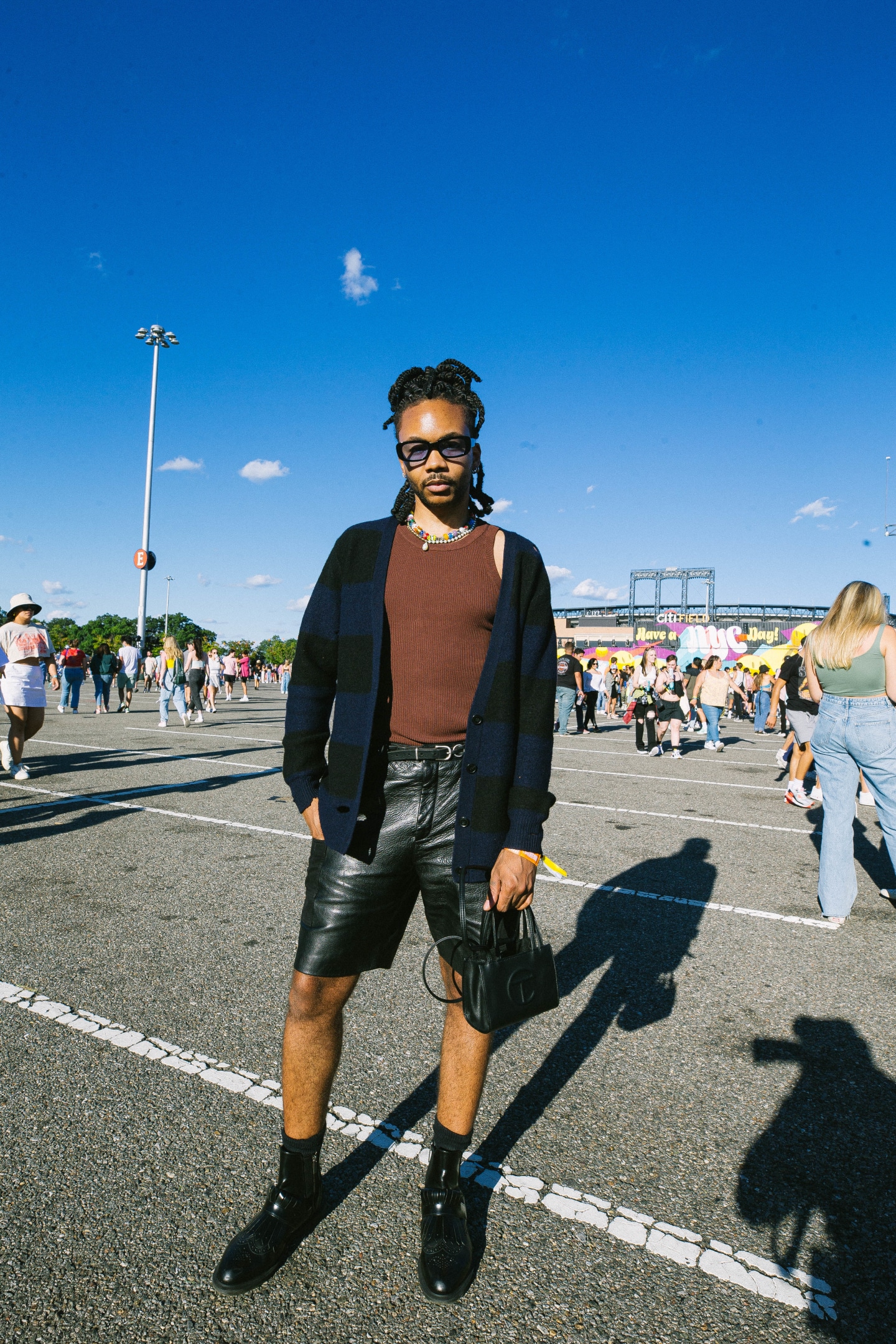 Being the last weekend in September, Gov Ball is blazing hot with no shade during the day and chilly once the sun drops down for the evening headliners. Rashid is transitioning to fall in leather shorts and wool Alexander Wang while clutching to summer with colorful, layered necklaces. The mini Telfar bag is obviously appropriate for all seasons. Rashid is inspired by Jean-Michel Basquiat, from his hair to his art to his attitude. Not so much the Uniqlo collab, though; that's basic.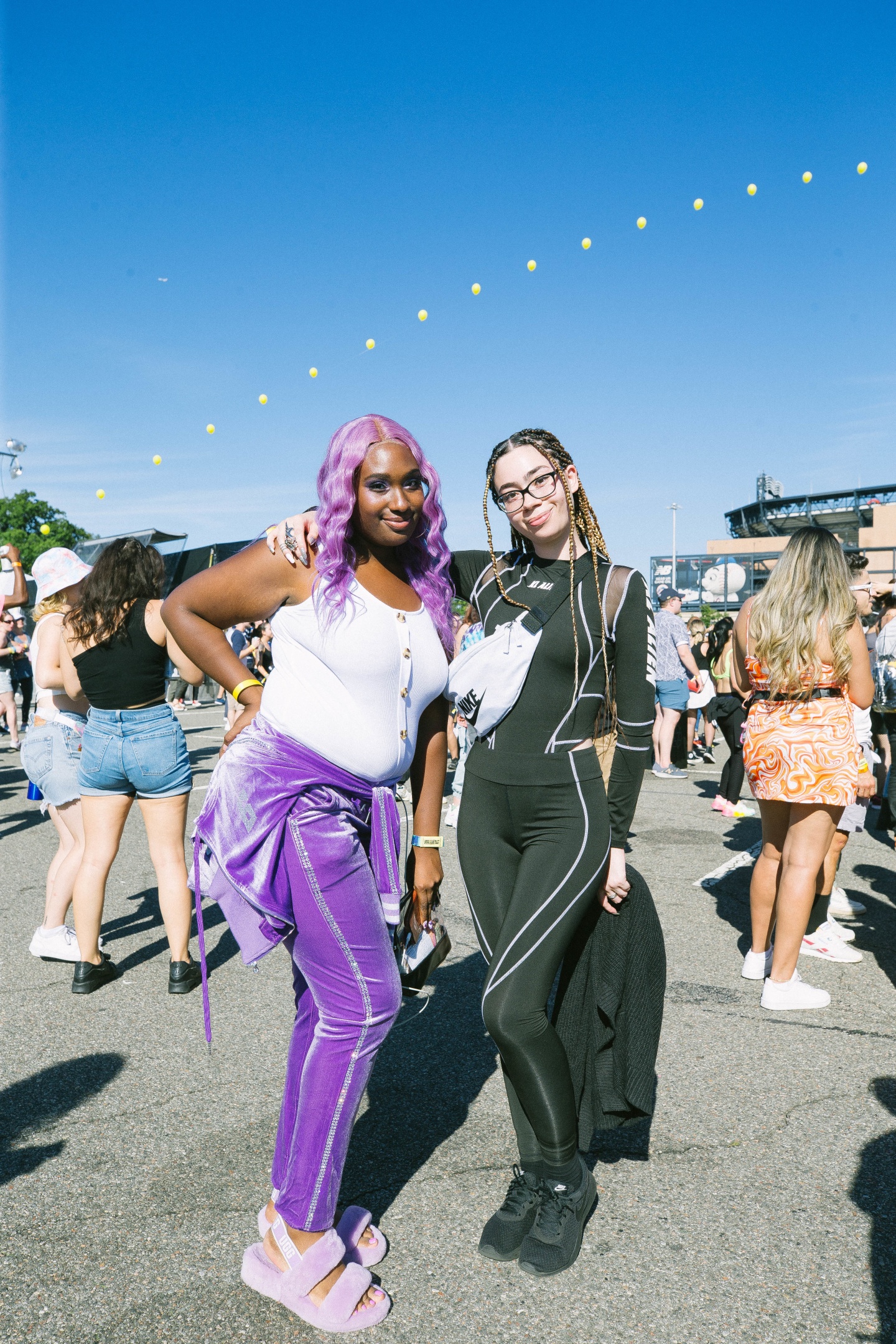 Is purple Tiffany's favorite color? "No, I just woke up today and wanted to be it." Meanwhile, black and white are more Crystal's speed. Tight pants and comfy shoes are necessary for the day's plans: dancing to Megan Thee Stallion and A$AP Rocky. Just watch those toes.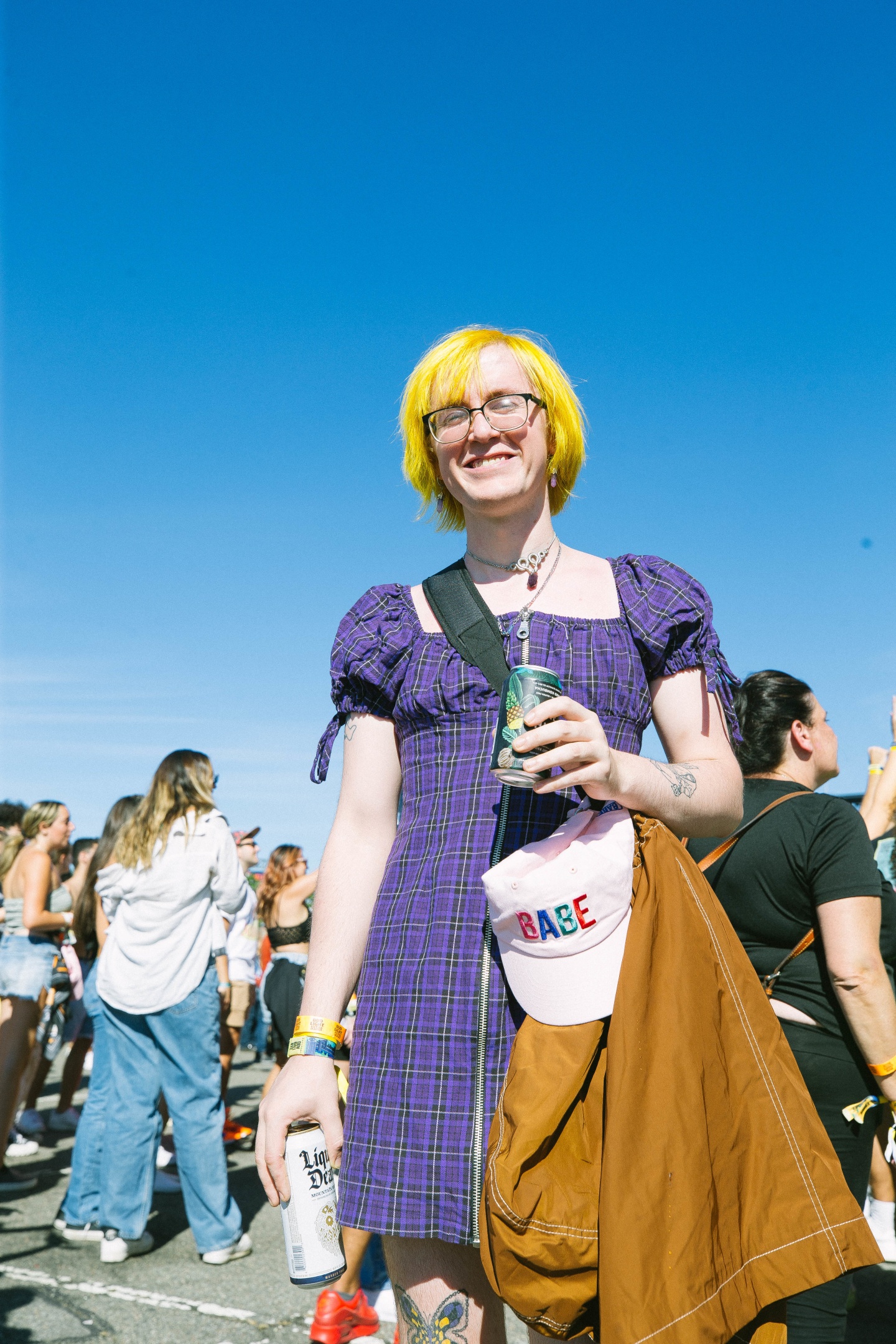 The Olivia Rodrigo-spearheaded grunge revival doesn't quit, with black lace, silver details and ripped fishnets spotted all over the festival grounds. New Orleans native Dylan wears a plaid dress from The Ragged Priest that suggestively zips all the way down. "How did I get dressed today? I put on whatever I thought would make Phoebe Bridgers fall in love with me."
Pink Sweat$ and his band were on-brand in baby pink Dickies overalls and Dr. Marten's. But his girl — ahem, fiancée — was also serving her own variation of dreamy bubblegum style. Bunny wears a mini wrap top and ombré fringe pants from the Mexican label Thrifts+Threads, also seen on the likes of Hailey Bieber and Maren Morris.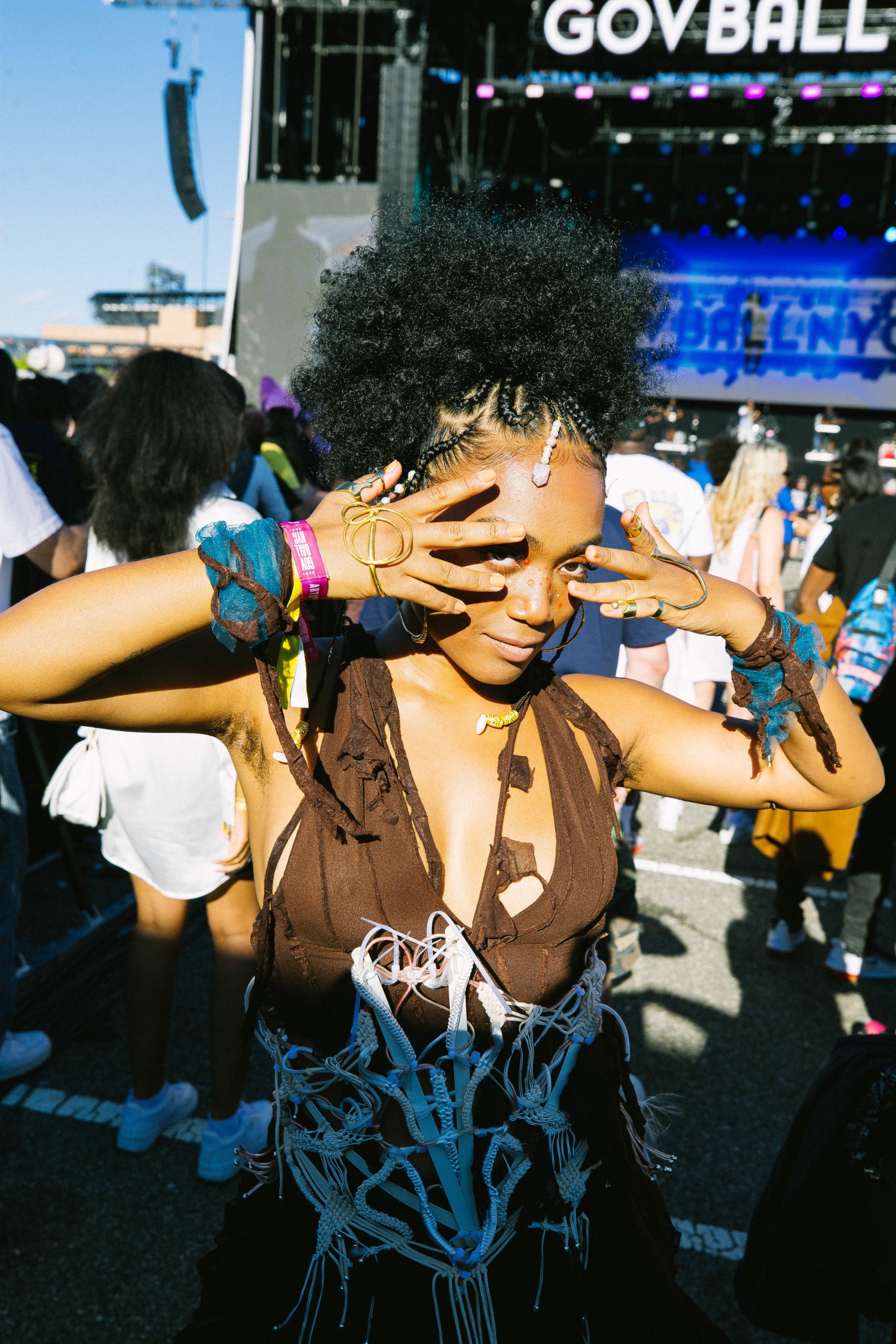 If this superior look is any indication, R&B-influenced singer-songwriter UMI is on the up and up. Her friend, the childrenswear designer Janáe Roubleau, was inspired by UMI's "aura, her magical essence" to style her in a complex woven dress and ethereal bodice. It's giving Avatar.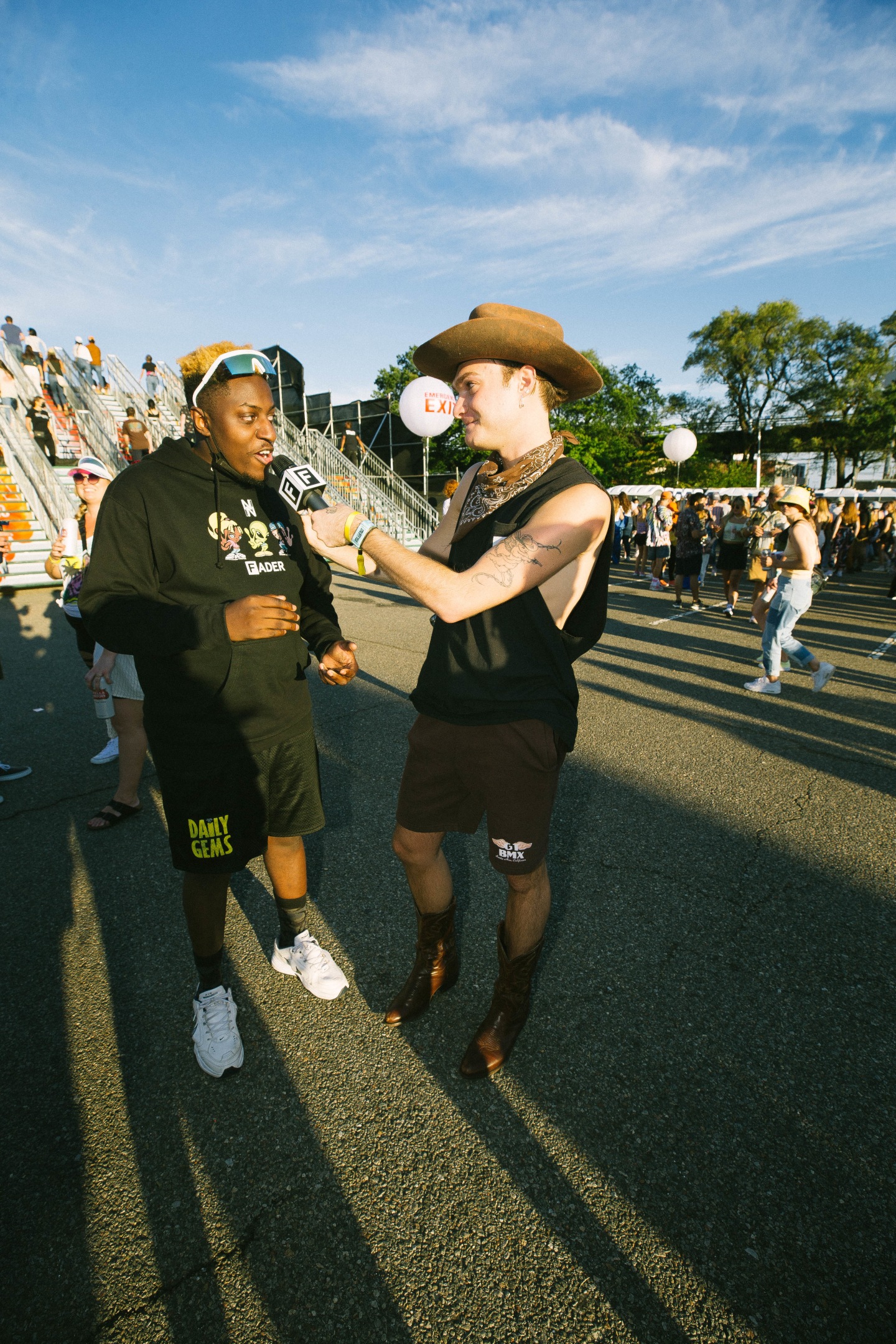 The heavy-handed country western trend still has New York in a chokehold. Gov Ball saw boots, big buckle belts, and hats that -- if they weren't too precious -- were thrown on stage for heartthrob artists like 24kGoldn to catch. When Kevin grabs the mic from Levar Mcdonald, a.k.a. DickByAir., that's his cowboy confidence talking. Originally from Montana, all of Kevin's clothes are from the heartland. His bandana is subtly bedazzled, a piece by his friend's brand Ugly Cherries.
FIT and NYU students Isabel and Caleb doubled up on AF-1s for a full day of standing around and waiting for Billie Eilish to start. Caleb wears a corset-style top designed and sewn by Isabel, repurposing a thrifted Nike hoodie that was way too big. "She's basically my model… and my best friend."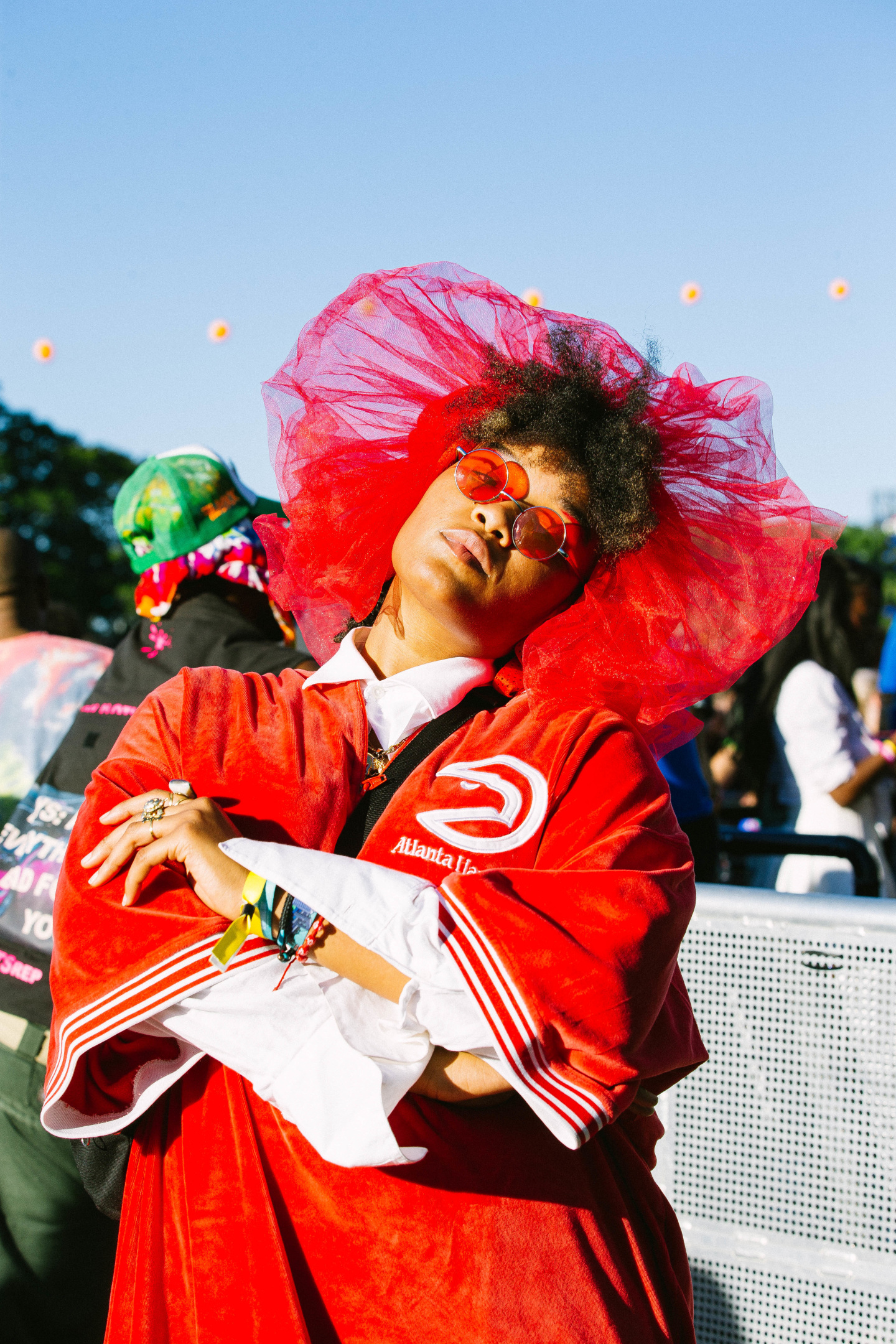 Ril is a musician, a self-described "21-year-old visionary", and how they dress is another mode of their creative expression. This wild thrifted fit is not a costume, they clarify. They normally look this good.
Levar Mcdonald, a.k.a. DickByAir, had to stop Asti-Loren and her semi-TikTok-famous service dog Luna the Tuna in their tracks to ask how they coordinated so well. The answer: it's easy when you already resemble one another and both love teal.