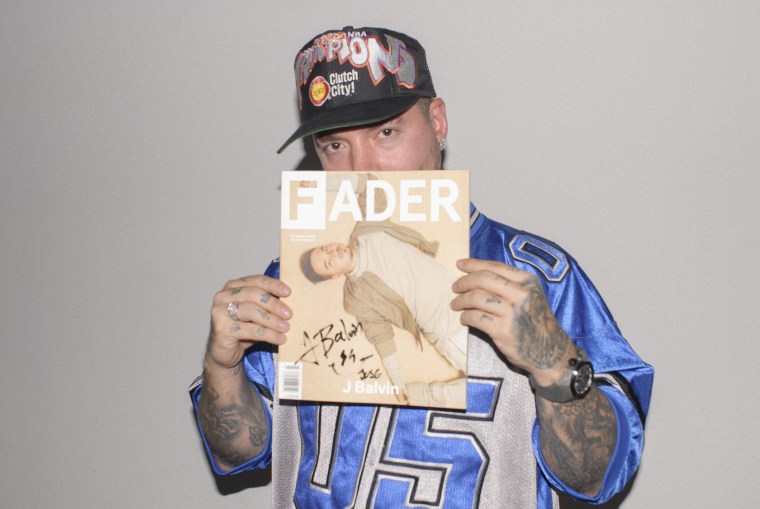 The first episode of The FADER Uncovered Season 2, the series in which host Mark Ronson talks with the world's most impactful musicians, is up now and available for download wherever you listen to podcasts. This week Ronson is joined by J Balvin. Together they discuss Balvin's past five years, including appearances at the Super Bowl, and being invited on stage at Coachella during Beyoncé's iconic headline set, while picking apart the wider impact his rise has had on the music world. Ronson also dives into Balvin's new album José, his most personal album so far.
Between them, Ronson and Balvin bring up lots of music across the episode, referencing Spanish language icons including El General, Bad Bunny, and Daddy Yankee to the artists Balvin can consider his new peers; Beyoncé, Jay-Z, Coldplay, and Rihanna. To make that all easier to navigate, we've dropped all the artists they namecheck into a massive 64-song playlist, which you can check out below.
Follow and subscribe to The FADER Uncovered here, check out the previous episode with Damon Albarn here, and come back for new episodes every Monday.
The Prisoner Wine Company is an official sponsor of UNCOVERED. For a limited time, take 20% off & get Shipping Included on the star-studded Prisoner lineup by using code: UNCOVERED at theprisonerwinecompany.com/uncovered.
Offer valid on first time online orders only for U.S. residents of legal drinking age through 12/31/2021. Rebate requests from alcoholic beverage retailers, wholesalers, or anyone suspected of submitting fraudulent requests, will not be honored or returned. Limit 1 offer per household, name, or address. For more information, contact customerservice@theprisonerwinecompany.com. Other exclusions may apply. Please enjoy our wines responsibly.