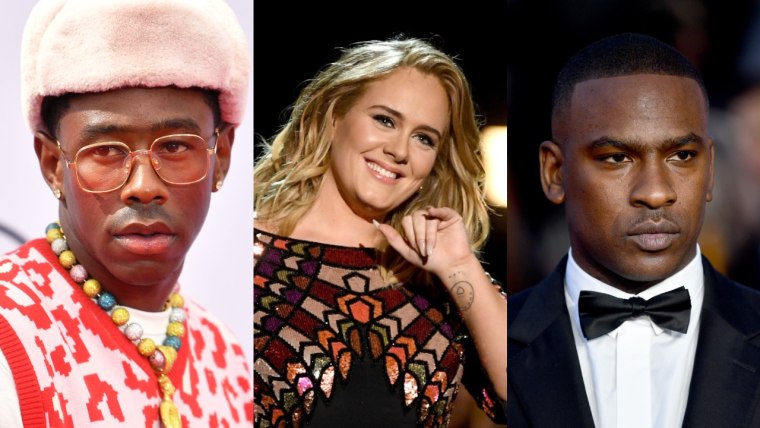 Update: Friday, October 8, 2:32 PM EST: Adele is not, in fact, including Skepta and Tyler, The Creator on her upcoming album. She was merely inspired by those artists to incorporate her own voice notes in the project. Oh well.
---
All signs — all billboards, in fact — are pointing to the fact that Adele's new album 30, the long-awaited follow-up to her blockbuster 2015 record 25, will be released some time before the end of the year. We've already heard a teaser for the new single "Easy On Me", which is set to drop soon, and now Adele has revealed a lot more about the record in two concurrent cover stories for American and British Vogue.
Much of the information divulged in the interviews is standard pre-album fare — the album is emotional, it's a Saturn's Return album, and so on — but one particularly juicy tid-bit from the American interview, by Abby Aguirre, is that Tyler, The Creator and Skepta, Adele's maybe-ex, appear on the album. They're not rapping, exactly — Adele was inspired to include voice memos from her friends and loved ones on the album, and Tyler and Skepta were enlisted for the task. "I thought it might be a nice touch," she told Aguirre, "Seeing as everyone's been at my door for the last 10 years, as a fan, to be like, Would you like to come in?" It's sad news for anyone hoping Adele would be releasing a rap album, but exciting news for everyone else. 30 is expected some time before the end of the year; read the British Vogue feature here, and the American feature here.