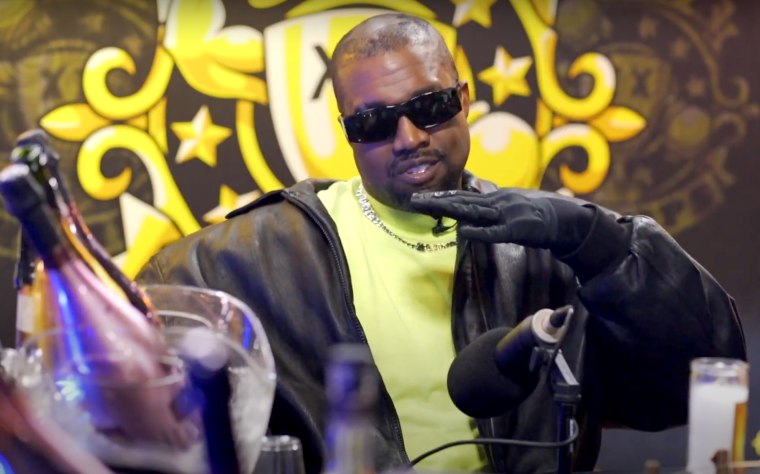 Kanye West appeared on the Drink Champs podcast on Thursday, giving his first major interview since the release of Donda to hosts N.O.R.E. and DJ EFN.
As usual with a Kanye interview, there was plenty to talk about and Ye, as he's now legally named, got into a range of subjects over the course of the 2.5 hour discussion. Chief among them was cancel culture, a topic close to Kanye and one he feels he is fighting against.
Kanye has recently made two public appearances with Marilyn Manson, both at a Donda listening event and again at a Sunday Service in late October. Manson is currently facing accusations of sexual assault from multiple women, accusations he denies. Speaking about his decision to slign himself with the rock star, Kanye told Drink Champs: "All the #MeToo – like, when I sit next to Marilyn Manson … for five songs, you know, it's like they can't cancel a song. They'll hit you with the accusations or somebody who you was with 10 years ago. And also, there's women who've been through very serious things, pulled in alleys against they will – that's different than a hug, but it's classified as the same thing. It's power and politics. You know, power-hungry maniacs and just, control. This is Nineteen Eighty-Four mind control that we in. And mob mentality."
Elsewhere in the freewheeling chat, Kanye returned to the subject of his ongoing beef with Drake. Ye said he'd be open to appearing on a Verzuz battle with Drake and was confident he would win. At one point he comapred the rivalry to Mike Tyson's beef with Evander Holyfield. "I bit his ear," he told his hosts.
Kim Kardashian was also discussed, with Kanye stating his belief that they are not technically divorced until all of the paper work is complete. The rapper said he was angry at Saturday Night Live for making jokes about their separation during the episode she hosted last month.
At one stage he suggested Black History Month should be replaced by "Black Future Month, Black Positivity Month." Appearing to criticize Vice President Kamala Harris, he explained: "I'm tired of seeing us get hosed down, I'm tired of talking about slavery and how we should only be so lucky to vote for a woman we haven't seen since the election. [Black History Month] is here to remind you of who they want us to be and not who we really are."
Other subjects that came up included God, the COVID-19 vaccine (Kanye said he's had one shot), cutting his own hair, a run-in with police in Belgium, Kobe Bryant, and Big Sean's recent depature from G.O.O.D Music, with Kanye saying "the worst thing I've ever done was sign Big Sean."
Check out the whole thing below.