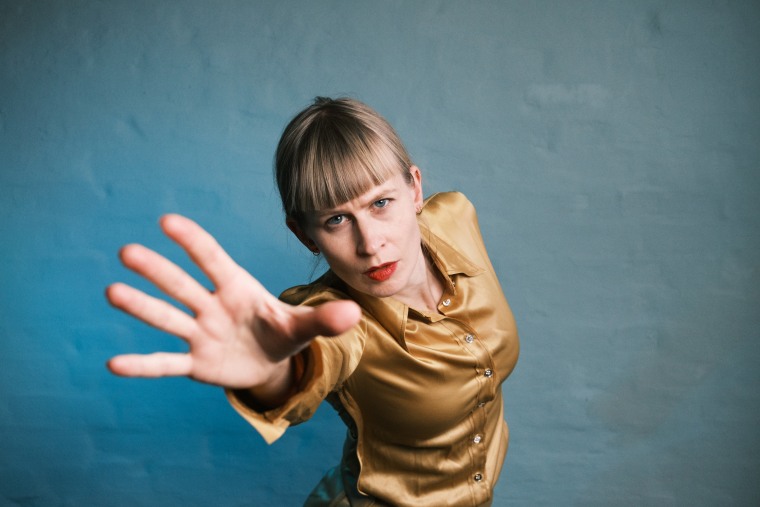 Jenny Hval is constantly changing forms. Her work — both musical and literary — can be brutally cold and minimalist or glowing with humanistic warmth, depending on the project. Her new song "Jupiter," out today, sits at the latter end of the spectrum.
"When I wrote the music for this song in 2015, it had no lyrics, and I did not understand where it came from," Hval said in a press release. "It was a strange creature that moved from one genre to the next like a slide show and crashed into a chorus full of cymbals. Six years later, 'Jupiter' has become a post-apocalyptic road trip."
The track comes with a music video directed by frequent collaborator Zia Anger, who's also worked with Mitski and Angel Olsen. It begins as a surrealist send-up of influencer culture; a woman drags her husband through a field towards a shoebox-sized "PARFA" (a stand-in for the fake Prada store installation outside Marfa, Texas). But as Jupiter looms in the sky ahead, the scene devolves into a technicolor acid trip that ends in a hot air balloon ride. In the video's final minute, a message on the screen tells the viewer to close their eyes and listen because there is "nothing left to see." The song plays out in whirring and whispers as the screen fades to black.
Watch the "Jupiter" video above, and view Jenny Hval's 2022 world tour dates below. Advance tickets go on sale Friday, November 12.
Jenny Hval 2022 Tour Dates
3/11 - Oslo, NO - TBA
3/17 - Bergen, NO - Kulturhuset | Bergen
3/18 - Stavanger, NO - Tou Scene
3/26 - Trondheim, NO - Dokkhuset
4/5 - Stockholm, SE - Fasching
4/6 - Copenhagen, DK - Bremen Teater
4/7 - Berlin, DE - Columbia Theater
4/9 - Den Haag, NL - Rewire Festival
4/10 - Brussels, BE - BRDCST Festival
4/11 - London, UK - EartH
4/13 - Paris, FR - La Gaîté Lyrique
5/9 - Boston, MA - Arts at the Armory
5/10 - Brooklyn, NY - Elsewhere
5/11 - Philadelphia, PA - PhilaMOCA
5/13 - Washington, DC - Miracle Theatre
5/14 - Columbus, OH - Skully's
5/15 - Chicago, IL - Constellation
5/16 - Chicago, IL - Constellation
5/17 - Toronto, ON - Lee's Palace
5/20 - Seattle, WA - Neumos
5/21 - Portland, OR - Holocene
5/24 - Oakland, CA - Starline Social Club
5/25 - Los Angeles, CA - Lodge Room
6/4 - Barcelona, ES - Primavera Festival