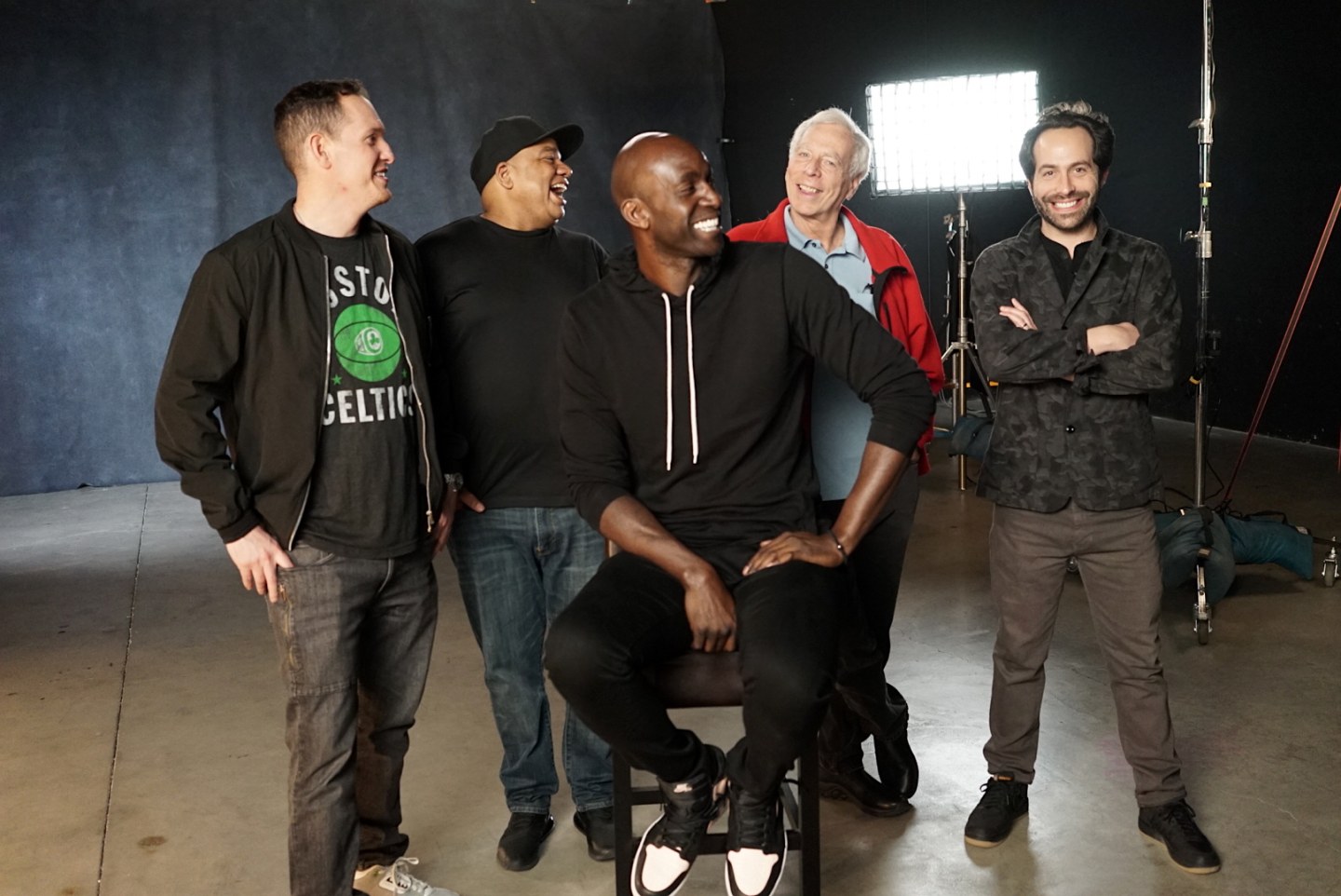 The creators of Kevin Garnett: Anything is Possible had a difficult task ahead of them. Perhaps not as difficult as getting a shot up against KG (even after the whistle blows), but delicate nonetheless. Daniel B. Levin and Eric Newman had to put together a documentary that both illustrated the importance of KG to a broad audience and provided enough juice to appeal to the diehards already acquainted with the MVP's origin story.
The documentary, streaming now on Showtime, succeeds, working as an excellent Cliffs Notes for the uninitiated and a rewarding watch for those who've followed KG closely since he entered the NBA in 1995. It captures his importance not just as an all-time great — including his run as a top-five player through the 2000s and his storybook championship with the Boston Celtics in 2008 — but as a pioneer for elite players going to the NBA straight from high school (there would likely be no LeBron without KG), and a star who helped bridge the gap between basketball and hip-hop. For the entirety of his 21-season career, Garnett was one of the most recognizable faces in the NBA, an Olympic gold medal winner whose name was dropped in songs by everyone from Gucci Mane to The Lonely Island.
Anything is Possible features an impressive breadth of interviews, from his high school coach William "Wolf" Nelson to teammates like Paul Pierce and Sam Cassell, as well as close friends Snoop Dogg and Candace Parker. But the KG interviews are the heart and soul of the film as he recalls his early days in South Carolina, his struggles and triumphs with the Minnesota Timberwolves, and shares thoughts on Black Lives Matter activism in the NBA. Garnett's intensity and charisma were discovered by a whole new set of viewers through his acclaimed turn in the 2019 thriller Uncut Gems, and he's still a magnetic figure on camera and off.
Throughout the film, Levin and Newman smartly recognize what they have in their subject, an awareness Newman said came from the very beginning: "Our first meeting was in West Hollywood and about 30 minutes into that meeting, I'm like, 'We should be filming this meeting. This is unbelievable."
A few days after Anything is Possible was released, we spoke to Levin and Newman about making the movie, spending time with KG in Minneapolis' George Floyd Square, and the incredible behind-the-scenes footage they obtained.
The FADER: You guys have done basketball films before, but never with a subject who was an NBA MVP and one of the biggest names of his era. Did the star caliber of KG change the way you approached making the movie?
Daniel B. Levin: Basketball has been a huge influence in my life. One of the ways me and Eric connected was through basketball, our love of basketball and film. Prayer for a Perfect Season was more of a vérité film, and I think we just wanted to be with that school. The Legend of Swee' Pea [a 2015 documentary on the troubled but brilliant Lloyd "Swee' Pea" Daniels] was a character study. A lot of people know parts of [Kevin's] story, and our big challenge was to bring it all together and synthesize it in a way that was digestible.
When we first met Kevin and started talking to him, I mean, obviously the initial interests for us were [that] he's a disrupter, he's a game changer. He was the first to come out of high school [and go to the draft] in 20 years. You know, he had the biggest sports contract at the time, for $126 million. Then, of course, how he changed his position and the Big Three and the whole Celtics super team era that he created. Those were the things that fascinated us on paper. But when we met him, he is such an incredible storyteller and it wowed us and gave us a new perspective to just let Kevin tell his story and to hear it from him, it's so powerful and so entertaining. So I think it's almost a one-man show.
In addition to paving the way for prep stars to go straight to the league, Kevin was also early on the trend of going to a more prominent high school as an upperclassmen to up the caliber of their competition and increase their notoriety.
DL: I think that he really grew up in Chicago, meaning he became an adult. He says it in the film and it's almost a buried line that I don't even know if everybody catches. But he's reflecting on his decision to go straight from high school and he's like, "Nothing can be harder than living in Chicago. If I can make it here I can make it in the pros." And it's just that mentality, I think, gave him so much confidence that year he played there.
Eric Newman: I think also one other thing that's important in terms of the role of Chicago, and he talks about it when he's comparing his coaches from South Carolina to [William] Wolf [Nelson] in Chicago. [When] he gets to Chicago, he's still Kevin. He becomes KG in Chicago. It's almost like he is unleashed in Chicago. And between that encouragement from Wolf and what he's got to deal with in real life outside of basketball every day, that combination along with growing his skillset and his game, that's where KG is born and obviously then leaps to the NBA.

There's so much great new footage here–a scene that comes to mind is after one of the Minnesota playoff losses when he's doing sprints in the backyard and talking to the camera. When you were reviewing the archival tape, were there any moments where you really felt like you'd struck gold?

DL: KG had personal archives that his team was filming over the years. That was one of those moments, including some of the archival of him on the beach, the grainy VHS-style archival that's him on the beach in Malibu. We had to seek a lot of it out. Eric is a colleague and a friend of Jonathan Mannion. And when we realized we could use his photography in the film, the iconic photo that he took for Slam with KG and [Stephon Marbury]. Seeing Slam magazine in the '90s, those are iconic in my mind. So being able to see all the contact sheets that he had taken from those photo shoots and use those, I think was an incredible opportunity and gave the film a certain texture. Obviously we got a lot of archival from Farragut [where KG attended high school in his senior year]. The NBA helped us.
EN: Thankfully he had some stuff taped over the years that had never seen the light of day and was able to share. And then obviously the climbing of the steep sand hill that we were able to weave into the close of the film with those thematics and the parallel with climbing the mountain every year and knocking out the bully, and it just works beautifully. The first time I saw that archival of him running on the beach though in the Ali sweatshirt and the seagulls flying by, I was just like, "Holy shit."
I hope it can be inspirational when people watch it. Sometimes that's what's needed in a film.
One of the most powerful scenes in the movie is when Kevin visits George Floyd Square in Minneapolis and you see him engaging with local folks in the city where he means so much. Whose idea was it to include that?
DL: Making this film, we lived through an unbelievable time period: the pandemic, the George Floyd murder, the wave of Black Lives Matter protests and all the other police shootings that happened. So as filmmakers originally, we were like, "What's going to be the present day story? It's going to be Kevin being inducted into the Hall of Fame." That was our 2020 story. And of course then the world turned upside down. We were battling as filmmakers. We were like, "How much of this should we include? How much is appropriate? We don't want to be heavy handed." And I think we needed to reference the year that this film was made. It needed to be felt in some way.
When we went back to his house in Minnesota and we shot a couple days [there]. He wanted to go to George Floyd Square. He wanted to see it and he wanted to pay his respects. So these were all just things that we were documenting and we didn't want them to be overtly heavy handed. But we didn't ... We knew we had to acknowledge what had gone down in 2020. And I think that's why those are there.
EN: And let me just add, seeing KG on the ground in Minneapolis in that setting was some of the most surreal shit I've ever seen in my life. Of all the things I've been fortunate enough to do in this life and this career, that day was so memorable because of what was going on. And then people [were]magnetized to him. And a lot of people that day there, you could tell they needed something and he was able to at least provide that for a little, while having his own experience. It was a hell of a moment.
There were also plenty of obstacles in his personal and professional life that are in the film that you don't shy away from.
EN: [Malik Sealy's death] happens on his birthday in 2000 and then he plays one of the greatest games of his life against one of his idols four years later to push them to the conference finals on his birthday. So we have that fan with the "Happy birthday KG" sign there during the close of that great game in '04 against the Kings.
It's pretty cool when you think about all the different brotherhood figures that come in and out of his life, because he just wanted that consistency. He had it with Ronnie and then it always was fleeting in Minnesota. And then to get it in Boston and then have Cassell join the team, and obviously KG be a big brother to Rondo and to Perk and the other guys and his bond with Paul. And he knew Ray as well from South Carolina, not as well as he knew Paul. But that was just the perfect convergence at the perfect time, and the brotherhood theme was all over that.
Just watching him, the way his brain works and the associations that he makes and how he comes up with these metaphors, there must be a feeling that if you don't get it now, is he ever going to come back here? Because he seems like someone who'll say something once and then it's gone forever.
DL: That was definitely the feeling we had. And then of course there's the different chapters in his life. So to try to focus in and say like, "Alright, for the next hour, we're going to talk about Chicago. Or the next hour, we're going to talk about Minnesota." It's like he is so free association that it would go all over the place. A part of our challenge and our job was to just keep it on track, building an assembly of the film so that we could get from the beginning to the end, at least in an edit room.
Listen, there's controversy, there's dark moments in his career, but I think the universal message that we pulled out of the film, which is straight from one of his most famous moments, is that anything is possible. So to end in that crescendo seemed like a way to just keep it inspirational. And I hope it can be inspirational when people watch it. Sometimes that's what's needed in a film.