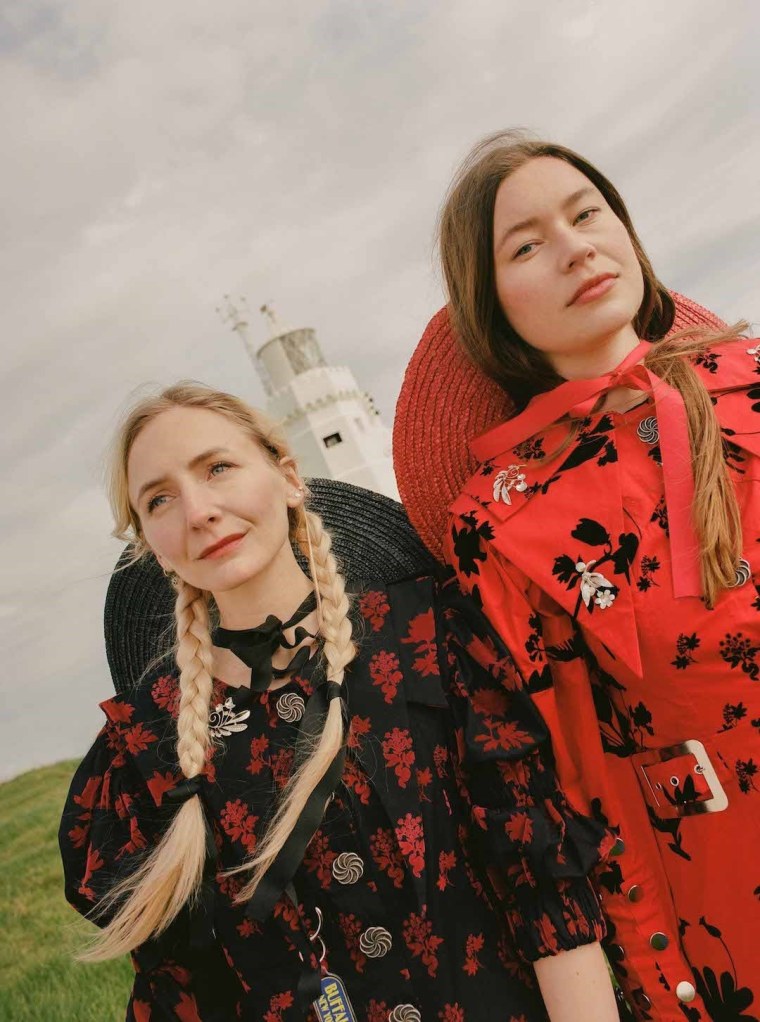 Wet Leg have announced their debut, self-titled studio album. Along with news of the LP, the Isle of White indie-pop duo of Rhian Teasdale and Hester Chambers have shared two new songs — "Too Late Now" and "Oh No" — the former of which comes with a video. They've also posted new North American tour dates in March 2022.
Like Wet Leg's two previously released singles — "Chaise Lounge" and "Wet Dream" — "Too Late Now" pairs clear, simple songwriting with a sparse arrangement that crescendos tightly toward a satisfying climax.
The earlier songs came with impeccably produced, self-directed music videos, but the video for "Too Late Now" was directed by Fred Rowson and contains sci-fi elements. Teasdale and Chambers are beamed onto the empty roof of a parking garage on a bleak British day. Three men are similarly zapped into existence shortly afterward, and the quintet roam crowded streets and lush countrysides, all of them dressed in spa robes.
"It is about sleepwalking into adulthood," Teasdale writes of the new track. "I never imagined that my adult life would look the way it does and I guess this song reflects on some of the pressures and pulls of life. Sometimes I get really inside my head and everything can feel very overwhelming. I think this song is about accepting that life can feel a bit shit from time to time. Maybe don't indulge that thought too much though. Just take some time for yourself. Take a breath. Have a bath. It might make you feel a bit better."
"Oh No" strips down the duo's lyricism to almost nursery-level rhymes — "You're so woke / Diet Coke" — over bright, crunchy guitar chords. Watch the "Too Late Now" video above and stream "Oh No" below.
After a show in Rennes, France this Wednesday, December 1, Wet Leg will fly to the U.S. and play six sold out shows in New York and California. They'll also appear on NBC's Late Night with Seth Seth Meyers on December 8, the same night as their scheduled performance at Brooklyn's Union Pool. They'll finish out the year opening for CHVRCHES at San Francisco's Bill Graham Civic Auditorium on December 16 and at Los Angeles' Hollywood Palladium on the 17th and 18th.
Their March 2022 North American tour will follow a smattering of U.K. and Netherlands performances in January and February, and precede nine already sold-out U.K. shows in April. Find all their upcoming dates below.
Wet Leg December 2021 shows
12/1 – Transmusicales de Rennes – Rennes, FR
12/7 – Mercury Lounge – New York, NY – sold out
12/8 – Union Pool – Brooklyn, NY – sold out
12/8 - Late Night With Seth Meyers (NBC)
12/9 - Baby's All Right – Brooklyn, NY – sold out
12/13 – The Echo – Los Angeles, CA – sold out
12/14 - The Moroccan Lounge – Los Angeles, CA – sold out
12/15 - Popscene @ Rickshaw Stop – San Francisco, CA – sold out
12/16 – Bill Graham Civic Auditorium – San Francisco *
12/17 – Hollywood Palladium – Los Angeles, CA *
12/18 - Hollywood Palladium – Los Angeles, CA *
* = with CHVRCHES
Wet Leg 2021 international tour
1/16 – Brixton Academy – London, UK ^
1/19 – Eurosonic – Groningen, Netherlands
1/20 – Ekko – Utrecht, Netherlands
1/28 – Yes Pink Room – Manchester, UK
1/29 – The Louisiana – Bristol, UK
1/30 – The Joiners – Southampton, UK
2/1 – Elsewhere – Margate, UK
2/2 – 100 Club – London, UK
3/3 – Amsterdam Bar and Hall – Minneapolis, MN
3/4 – Empty Bottle – Chicago, IL
3/5 - A&R Music Bar – Columbus, OH
3/7 – Horseshoe Tavern – Toronto, ON
3/8 – Bar le Ritz PBD – Montreal, QC
3/10 – Music Hall of Williamsburg, – Brooklyn, NY
3/11 – DC9 – Washington, DC
3/12 – PhilaMOCA – Philadelphia, PA
3/14 – Basement East – Nashville, TN
3/16–3/18 – SXSW, Austin, TX
3/23 – Pabellon Cuervo – Mexico City, MX ^
3/25 – Wise Hall – Vancouver, BC
3/26 – Sunset Tavern – Seattle, WA
3/27 – Vitalidad – Portland, OR
4/16 – Newcastle University – Newcastle, UK – sold out
4/17 – The Mash House – Edinburgh, UK – sold out
4/19 – Brudenell Social Club – Leeds, UK – sold out
4/20 – Gorilla – Manchester, UK – sold out
4/21 – Trinity Centre – Bristol, UK – sold out
4/23 – O2 Institute – Birmingham, UK – sold out
4/24 – Norwich Arts Centre – Norwich, UK – sold out
4/26 – Koko – London, UK – sold out
4/27 – The Wedgewood Rooms – Portsmouth, UK – sold out
4/28 – Neighbourhood Weekender – Victoria Park, Warrington, UK
^ = with IDLES