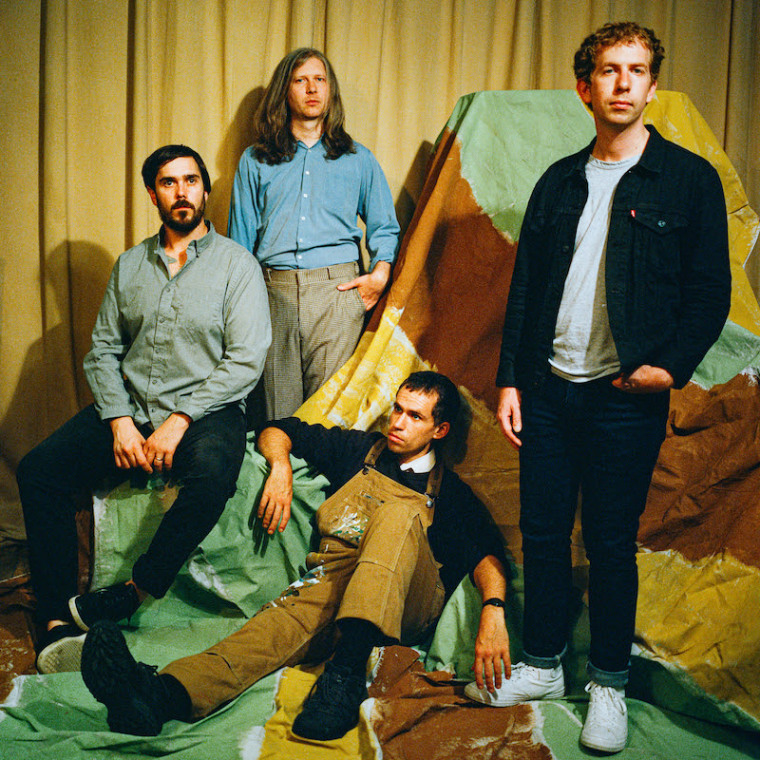 Parquet Courts has shared new visuals for "Marathon of Anger," the third track from their seventh studio album, October's Sympathy For Life. The vaporwave-indebted video, directed by Mara Palena, blends negative film of the New York City skyline with VHS videos of people dancing.
The new video is the first in the Sympathy For Life, Visualized series, announced today. The band will continue down the tracklist — opener "Walking at a Downtown Pace" and subsequent song "Black Widow Spider" already have visuals — releasing a new video every weekday at noon EST until closer "Pulcinella" gets its own film on Friday, December 17. Feel Free: Sympathy For Life, Visualized, directed by Andy Capper and featuring guest appearances from Joe Pera and Bill Walton, will premiere the following Sunday, preceded by a Q&A with Parquet Courts bassist Sean Yeaton.
View the premiere schedule, and the the band's upcoming tour dates, below.
Sympathy For Life, Visualized premiere schedule
12/9 - "Just Shadows" (directed by Ben Rayner)
12/10 - "Plant Life" (directed by Adinah Dancyger)
12/13 - "Application/Apparatus" (directed by Claes Nordwall)
12/14 - "Sympathy for Life" (directed by Claes Nordwall)
12/15 - "Zoom Out" (directed by Erin Vassilopoulos)
12/16 - "Trullo" (directed by Eric Kaiser)
12/17 - "Pulcinella" (performed by Jonny Campolo a/k/a the Grayscale Clown and Chase Ceglie)
12/19 - Feel Free: Sympathy for Life, Visualized (directed by Andy Capper)
Parquet Courts 2022 tour dates
2/27 - The Orange Peel - Asheville, NC *
2/28 - Georgia Theatre - Athens, GA *
3/2 - Variety Playhouse - Atlanta, GA *
3/3 - Saturn - Birmingham, AL *
3/4 - Cannery Ballroom - Nashville, TN *
3/5 - The Pageant - St. Louis, MO *
3/7 - Liberty Hall - Lawrence, KS *
3/8 - The Waiting Room - Omaha, NE *
3/10 - First Avenue - Minneapolis, MN *
3/11 - Turner Hall - Milwaukee, WI *
3/12 - The Riviera Theatre - Chicago, IL *
3/13 - MOCAD - Detroit, MI *
3/15 - Mr. Smalls Theatre - Millvale, PA *
3/16 - Agora Theatre - Cleveland, OH *
3/17 - Queen Elizabeth Theatre - Toronto, ON *
3/18 - Corona Theatre - Montreal, QC *
3/31 - Royale - Boston, MA #
4/1 - Brooklyn Steel - Brooklyn, NY $
4/2 - Brooklyn Steel - Brooklyn, NY #
4/4 - 9:30 Club - Washington, DC #
4/20 - Ogden Theater - Denver, CO
4/22 - Showbox at the Market - Seattle, WA
4/23 - The Imperial - Vancouver, BC
4/25 - Crystal Ballroom - Portland, OR
4/27 - Fox Theater - Oakland, CA
4/28 - The Wiltern Theatre - Los Angeles, CA
4/29 - The Glass House - Pomona, CA
4/30 - The Observatory North Park - San Diego, CA
5/21 - La Trianon - Paris, FR
5/22 - Trix - Antwerp, BE
5/24 - Stollwerck - Cologne, DE
5/25 - Heimathafen Neukölln - Berlin, DE
5/27 - Uebel & Gefährlich - Hamburg, DE
5/28 - Doornroosje - Nijmegen, NL
5/30 - Paradiso - Amsterdam, NL
5/31 - Le Grand MixLille, FR
6/1 - Epicerie Moderne - Lyon, FR
6/3 - Primavera Sound - Barcelona, ES
6/8 - Chalk - Brighton, UK
6/9 - Brixton O2 Academy - London, UK
6/11 - Helix - Dublin, IE
6/12 - Albert Hall - Manchester, UK
6/13 - Stylus - Leeds, UK
6/15 - The Barrowland Ballroom - Glasgow, UK
6/16 - O2 Institute - Birmingham, UK

* w/ Mdou Moctar
# w/ Hailu Mergia
% w/ Sun Ra Arkestra
$ w/ Yu Su