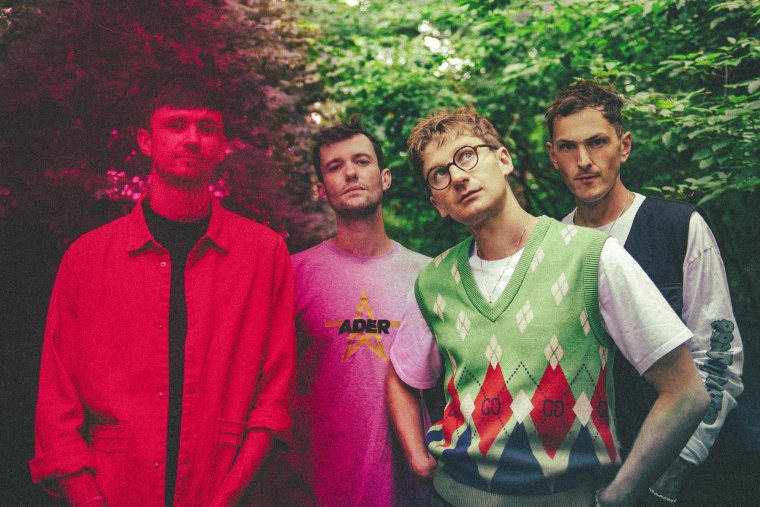 There has been a sense of familiarity in the rhyme and rhythm of indie rock band Glass Animals this past year. Months after its release, the fourth single from the four-piece's third studio album Dreamland – an amorphous, booming track titled "Heat Waves" – went from bubbling under to boiling over. The song had arrived at the peak of our first pandemic summer in June 2020. Then, seven months later, it entered Billboard's Hot 100 for the first time and spent the next 42 weeks climbing to the top 10, breaking the record for longest trek to the feat. It was a natural hit. They had been here before – albeit on a much smaller scale, comparatively. "Gooey," the distorted, hazy lead single from the band's 2014 debut album Zaba, became a blog-era SoundCloud favorite, finding itself plastered around Tumblr and slotted onto 8tracks playlists.
"You don't really understand what's happening," frontman Dave Bayley tells The FADER. "You just never expect either of those things." Glass Animals originated as the passion project of Bayley, bassist Ed Irwin-Singer, guitarist Drew MacFarlane and drummer Joe Seaward in Oxford, England over a decade ago. With no knowledge of the industry, or why anyone would even want them to release music, the band figured it out along the way – mostly on the road. They were a touring act and comfortable in their fate as such. But in 2018, a truck struck Seaward as he rode his bike in Dublin, Ireland, leaving him fighting for his life and having to relearn motor skills as simple as speaking. "I was very much in a personal lockdown," Bayley says. "We all were, as a band. The future was doomed."
The terror-striken fear of losing their best friend cast a fog around them that dissipated as Seaward convalesced. "We kind of thought that maybe was the end of the project," Bayley remembers. "Then he made this miracle recovery and then boom – pandemic." There was that feeling again. They'd been here before. Convinced the band would never work without touring, he found himself asking: "Are we facing the end of this again?" If there was even the slightest chance that Dreamland would be the final Glass Animals record, it meant enough that they would at least be going out on a high note. As lead songwriter and producer, Bayley unseated his deep-rooted memories and nostalgia to craft the band's first autobiographical album. If these moments of uncertainty were going to continue popping up and a sudden end would always be looming, would there ever be a better time to start taking risks?
"What keeps you on your toes is always trying to do something new and change direction," Bayley explains of his approach to Dreamland. "Sometimes it is very frightening taking those risks, especially in this case when you're taking a risk that is you. You're putting yourself out there in a very direct and personal way." To share this album was like unbinding the pages of a diary, opening a window above a crowded city and letting them blow away. "Heat Waves" itself has amassed hundreds of millions of streams, but it started as a solitary effort born from the late night remembrance of a departed friend whose birthday resurfaces grief each passing June.
"We spend so much time distracting ourselves from thinking about the past … trying not to think about a lot of the things that actually made you who you are," Bayley observes. "What this album was for me was looking back at the formative memories, the memories that really did change me." Elsewhere on the record, he uses cultural touchstones like Pokémon, Dunkaroos and Kodak film as points of reference in trying to make sense of the way childhood experiences follow you into adulthood, warping innocent curiosity into a matured confusion. He thinks of them as tiny comfort blankets. "When you're writing a song, you don't have that many words to play with quite often," he says. "So you're trying to paint as deep a picture as you can with as few words as possible."

Condensed within Dreamland are tales of domestic abuse ("Domestic Bliss") and an old friend who planned but never executed a school shooting ("Space Ghost Coast To Coast"). There are musings on the roots of insecurity and gaining wisdom from memories tucked beside hyper-specific, visual recollections of the past. Earlier this year, Bayley furthered his retrospective journey by breaking the album down into three EPs sorted by age: Childhood, Adolescence and Adulthood. Childhood houses the three home movies that initially functioned as interludes of his mother's voice from his time growing up in Texas. Adolescence features the Little Ann-sampling "Hot Sugar," which explores that young, often misguided desire to be like someone else, mining for portions of their personality and calling it love. "Heat Waves" and "It's All So Incredibly Loud" play key roles in the Adulthood collection, examining the two-sided coin of inflicting emotional pain on others and being on the receiving end, too.
"Those things have sentiments and add more context to the music," Bayley explains. "In a way it sort of helped me digest how each of those larger eras changed who I was, rather than a song-specific moment." While they aren't all firsthand accounts of his own stories, the writing reflects pivotal moments he was present for, directly connected to and forever changed by. It's a stark shift in content from Glass Animals' first two records which relied on abstraction and outsourcing for their lyrical material. "I was really shy and didn't know what I was doing," he remembers. "I was afraid of singing, to be honest. I was afraid of people understanding what I was saying." For their sophomore record, 2016's How To Be A Human Being, Bayley figured out that he could circumvent having the spotlight on himself by using Glass Animals to narrate other people's stories.
"There's stories about people on there who [told] me about love and lust, and their relationship with their mother and their father," he says, recalling finding himself within those narratives. "You're digesting your own life at the same time as telling the stories of these other people. And I guess I just never really had the guts. I felt a bit scared to talk about myself explicitly." The push of confidence he needed came from the heartfelt audience response to "Agnes," the only personal song on How To Be A Human Being which reels in the aftermath of a friend's death by suicide. Having found deep-rooted connection within one of the most honest songs he'd ever written, Bayley continued to seek out that relation on Dreamland with the newfound knowledge that he didn't have to hide.
In the weariness of the pandemic, he fostered this sense of connection through collaboration. Glass Animals created a classic desktop homepage via Open Source with complete access to the stems and artwork from Dreamland. What resulted was hundreds of fan submissions reimagining the hyper-personal record in their own way. "Without that stuff coming off of everybody who was listening, I would've just felt like a total spectator to this whole thing," Bayley says, nodding to the weight of his pandemic anxiety rooted in how the record would be received. "As lovely as the email updates and the numbers ticking on a screen are, that's not what gets you up in the morning." He'd seen the product of his own mental excavating repurposed as 3D-printed PEZ dispensers in the shape of his head and a "Heat Waves" remix courtesy of a 10-year-old which Bayley says is better than the original. It all made him feel real, as opposed to "an anxious, neurotic black hole."
Dreamland's resonance was fully realized when Glass Animals finally made it back out onto the road – celebrating not only the return of live music, but also Seaward's recovery – with sold out shows across the US. Then, in November, the band received their first ever Grammy Awards nomination. Next month, they'll go up against Olivia Rodrigo, The Kid LAROI, Japanese Breakfast, FINNEAS and more for Best New Artist. Even if they are a decade into their career, they've hit a new stride and are seeing the payoff. "For someone who's quite shy, [Dreamland] was incredibly difficult to even put out. It felt like such a risk, putting yourself out there," Bayley shares. "You make yourself quite vulnerable. And to have this at the end of that, it makes it feel a little less vulnerable."
He admits that he's still self-conscious playing the role of both subject and narrator, but he's learned all the ways in which the reward can outweigh the risk of vulnerability. "The thing that I was clinging onto as a bit of a north star the whole time was thinking about my favorite songs written by other people and how much their openness and honesty meant to me when I was listening to their music," he says. "It quite often justified the way that I was feeling when I was feeling my worst. Those really personal songs, they saved me."
For Bayley, the guiding principle behind it all is simple: "If you can write something personal, it has such an effect. Even if it has that effect on one person, it's probably worth doing."