MOTHERMARY reclaim their holiness on debut album I Am Your God
Identical twins Elyse and Larena Winn turned to retrofuturist art pop after escaping a repressive religious upbringing.
Before they moved to New York and started making music together, identical twins Elyse and Larena Winn were raised in in Missoula, Montana, the youngest members of a massive Mormon family. Elyse left at age 20 and Larena followed close behind, reunitng with her sister to become MOTHERMARY, a singular entity rooted in both the sacred and the profane. After nearly three years of scattered singles — starting with an ethereal rendition of Aqua's "Barbie Girl" and finishing, more fittingly, with two Madonna covers — they've shared their debut album, I Am Your God, out today via Italians Do It Better along with a music video for its closing, title track.
"This album isn't a God complex, it's an invitation to think about what you worship," they explain in a press release. "It's about women reclaiming their holiness & inviting you to acknowledge your own."
For the Winn siters, this secular canonization was hard won. It required breaking out of a strict, repressive community that was the only one they'd ever known. "It was our world... our paradigm," Larena says. "We were brainwashed... told that we were second class to men in our church and in our family."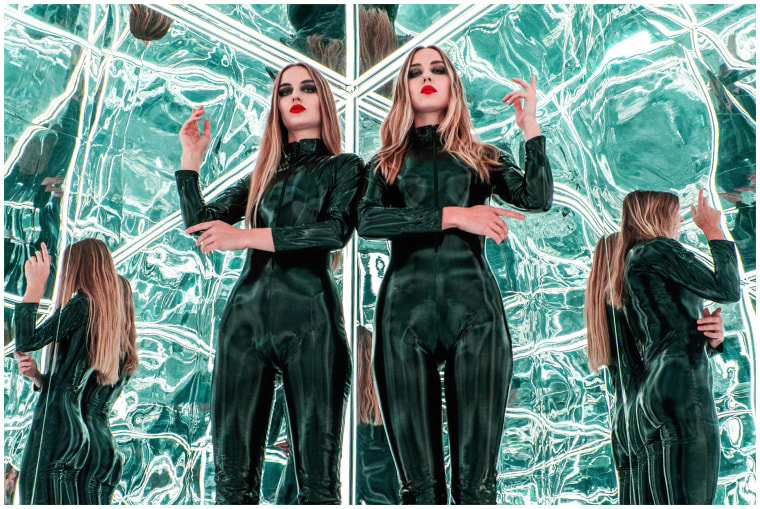 The burning desire to regain ownership of their narrative translates to their creative process. "I wanted to have control over the sound," Elyse says. "TOTAL CONTROL." The resulting product is immediately captivating. Combining deviant synth-pop instrumentals with vocal tracks pure as driven snow, they engage on a visceral level with traditional notions of femininity.
They've also developed a distinct visual language, blurring the line between biblical and perverse images to reveal them as two sides of the same gilded coin. Watch the "I AM YOUR GOD" video above, and stream I Am Your God below.