Spotify CEO criticizes Joe Rogan but won't "silence" the podcast host
Neil Young, Joni Mitchell, and India Arie have all removed their music from the platform in protest at Rogan.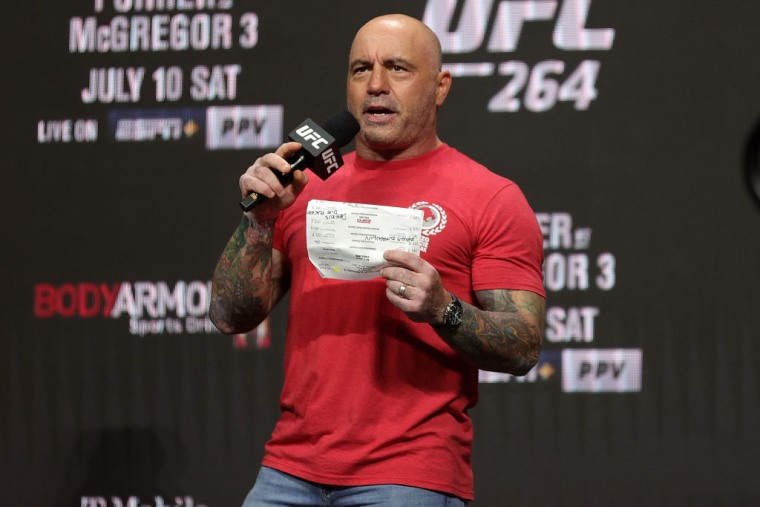 Spotify CEO Daniel Ek has moved to condemn comedian and podcast host Joe Rogan after another week of controversy. Over the weekend video clips of Rogan repeatedly using racial slurs, and laughing when white guests did the same, went viral. The video footage, all filmed during tapings of his Joe Rogan Experience podcast, has existed for years but has resurfaced in recent weeks as the host has faced criticism over his decision to have anti-vaccers on his show as guests. Last month both Neil Young and Joni Mitchell removed their music from Spotify in protest at the COVID-19 vaccine misinformation while India Arie employed the same move while highlighting Rogan's use of the n-word. Rogan shared a video apology, saying it was the "most regretful and shameful thing" he has ever had to speak about, but later claiming the clips were "taken out of context."
Ek previously shared a public statement in which he said he did not see the need for Spotify to change their policy beliefs in the wake of this moment but that any future podcast episodes that discuss the global pandemic would come with additional information, independent from the creators. Now, as The Hollywood Reporter and The Verge both report, Ek has shared a second statement internally with staff at the tech company. In the letter Ek confirms that a number of episodes of The Joe Rogan Experience were recently removed owing to use of racial slurs but states that "silencing" the comedian, who signed a $100M deal with Spotify in 2021, was not the answer.
"While I strongly condemn what Joe has said and I agree with his decision to remove past episodes from our platform, I realize some will want more," Ek wrote. "I want to make one point very clear—I do not believe that silencing Joe is the answer. We should have clear lines around content and take action when they are crossed, but canceling voices is a slippery slope."
You can read the full note from Ek here.