Is that ultra-rare Godspeed You! Black Emperor leak real? Their label isn't saying
A recording purporting to be the post-rock band's long-lost tape All Lights Fucked on the Hairy Amp Drooling was uploaded to the internet last week, and the debate over its legitimacy continues.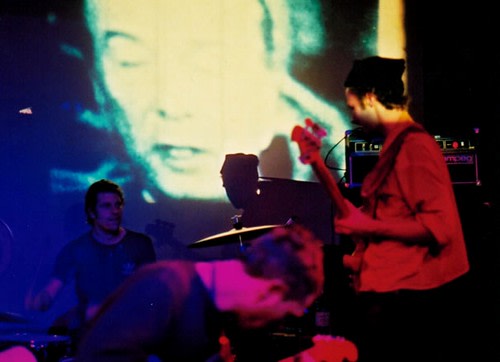 It's the stuff of post-rock legend: in 1993, Efrim Menuck, Mauro Pezzente and Mike Moya recorded a demo cassette called All Lights Fucked on the Hairy Amp Drooling, their first as Godspeed You! Black Emperor. The tape's run was limited to 33 copies, and all of them quickly disappeared out of the hands of the band, and into the ether without being heard by most of the band's fanbase. As they grew in popularity with the dawn of the internet age, Godspeed's fanbase clamored to hear the project in full. Menuck once discussed the project in a 2010 interview, and sounded just as confused as their followers. "I don't know why it hasn't turned up on the internet yet," he said. "I've been looking."
There were a handful of unverified leaks over the years, but last week, a 4chan user posted a filesharing link with what they claimed to be All Lights Fucked on the Hairy Amp Drooling. The music spread like wildfire and eventually made its way to YouTube.
Communities like the Godspeed You! Black Emperor subreddit seem to have largely accepted the tape as real. As Exclaim! points out, the 2022 release of All Lights contains "Random Luvly Moncton Blue(s)" and "Dadmomdaddy," two songs that were leaked by a Reddit user in 2013. The presence of the songs on both leaks make the chances of a fraud less likely, though not impossible.
Constellation Records, the label that has released all of Godspeed's albums since 1997, refused to comment on the veracity of the leak when contacted by The FADER, and implied that any official pronouncements on All Lights would not be forthcoming. "Constellation has never had any comment about this cassette or the legitimacy of any purported audio relating to it," a spokesperson for Constellation said in a statement. "That policy continues." The band has yet to address the release publically, and we'll update this post if we hear back.