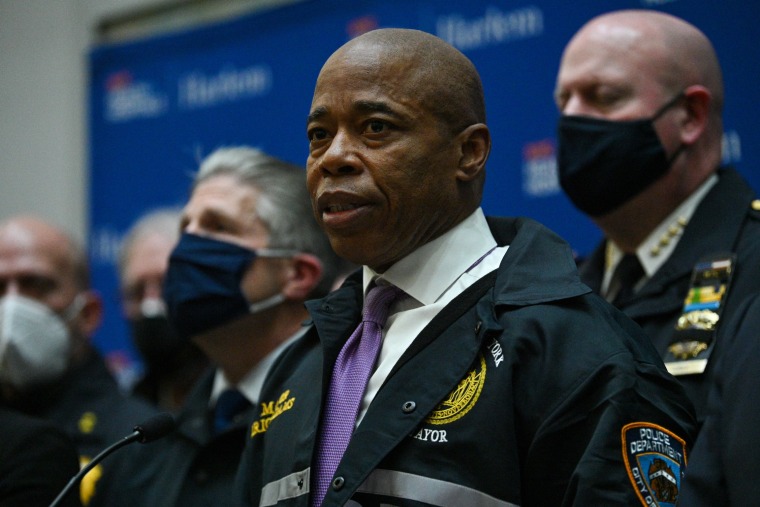 Drill music, the hardcore gangsta rap that has found regional strains in several different places including New York City, was condemned by the city's Mayor Eric Adams on Friday at a press conference.
Adams said that he was first exposed to drill when his son sent him some music videos, which he called "alarming." The Mayor went on to compare the videos to tweets by former President Donald Trump, who was permanently suspended from Twitter for inciting an insurrection at the United States Capitol. "We pulled Trump off Twitter because of what he was spewing. Yet we are allowing music, displaying of guns, violence, we're allowing it to stay on these sites."
The speech implies a willingness on the Mayor's part to pressure platforms to remove drill music. "We are going to pull together the social media companies," Adams said, "and state that you have a civic and corporate responsibility." Notably, Adams explicitly blamed drill for violent crime in the city. "We are alarmed by the use of social media to really overproliferate the use of violence in our communities... this is contributing to the violence we are seeing all over this country. It is one of those rivers that we have to dam."
A roundtable with "very top-known rappers" to discuss drill is also in the works, though he did not say which artists would be participating.
Adams hinted at his hardline approach yesterday at a press conference where he discussed the shooting death of 18-year-old Jayquan McKenley, a rapper known as CHII WVTTZ. "He was a Drill rapper, part of a scene which involves using music as a challenge for social media posts — posts that bled out into violent real-world confrontations. It was right there, for all to see. Our city should have done more."
In 2019, authorities in London, England forced YouTube to remove a majority of drill rappers from the platform. In response, a local drill rapper named 67 wrote an open letter.: "Whilst I see that media need to give the general public answers, and authorities have to publicly be seen to do something about violence and crime, I don't think it is right to blame or alienate one music genre as a scapegoat."
The FADER has reached out to the Mayor's office for more information.