death insurance shares label debut, i'm in your walls
The new record is Andy Morin's label A2B2's inaugural release.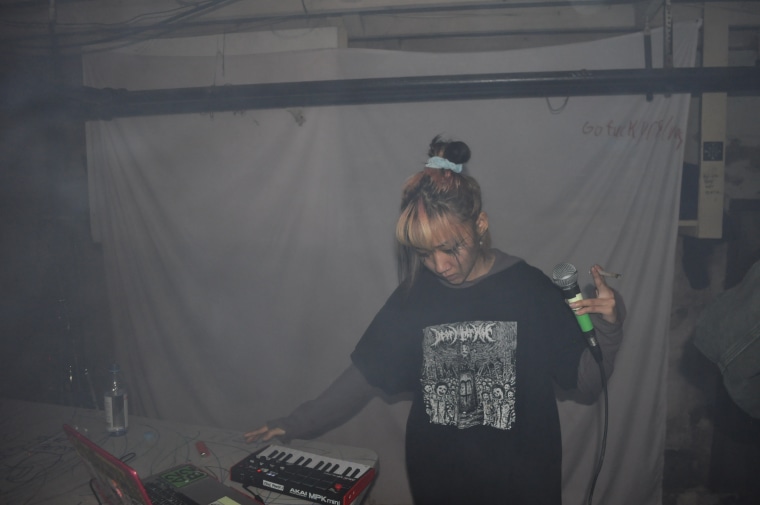 Last month, Death Grips synth wizard Andy Morin announced the founding of his label, A2B2 Records. The imprint is part of Morin's larger A2B2 empire, which also has footholds in print media, radio, and event promotion. Today, this new music division released its inaugural album, the third multi-track project from New York hyper-punk outsider Kat Liu, aka death insurance.
i'm in your walls fits seamlessly into the "mutant music" zeitgeist that Morin, Machine Girl, and their friends currently dominate, though death insurance's sound is decisively her own. Indeed, Liu has been a staple of A2B2 Radio since its inception last summer, was featured in both issues of A2B2 Magazine, and performed at A2B2 Night of Fire 2 in December as part of a stacked lineup that also included Arca, Kero Kero Bonito, Eartheater, and Lust$ickPuppy (as well as Morin, Machine Girl, and others). But she was virtually unknown before then, only entering mutant discouse after Morin and A2B2 Radio DJ Bort picked her song "ifeelgr8" from among more than 250 submissions to play on the show's first episode.
The new record more than lives up to its hype, providing eight tracks and 25 minutes of organized noise to gnash your teeth and claw your eyes out to, leaving your body and brain feeling as if they've just taken approximately 15 laps on Six Flags' Mind Eraser.
Stream it in full below.