LEYA and Eartheater swim through a fugue state in "Must Have Been Good" video
The track appears on LEYA's new mixtape, Eyeline, out now via NNA Tapes.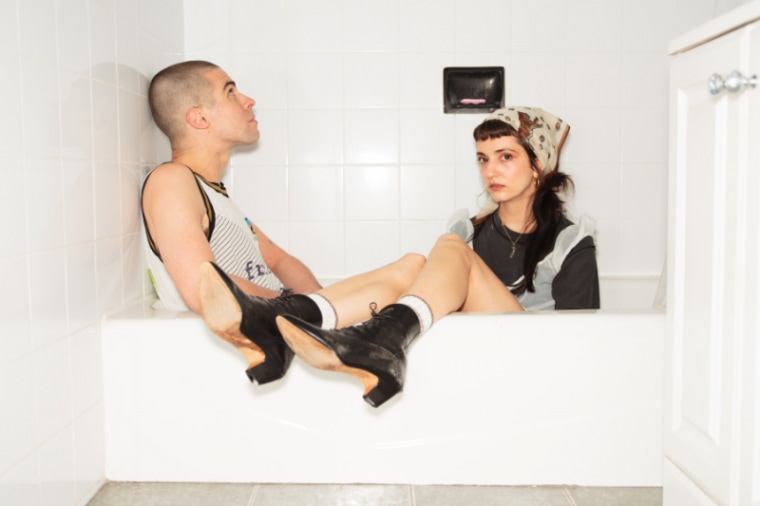 Violinist Adam Markiewicz and harpist Marilu Donovan (LEYA) make amorphous, ambient avant-pop that sounds unlike anything else. On Friday, they shared Eyeline, a mixtape featuring collaborators from across the organized sound spectrum: Julie Byrne, Okay Kaya, Actress, claire rousay, Deli Girls, James K, Sunk Heaven, and Martha Skye Murphy all join the duo. But the record's most organic track, "Must Have Been Good," finds them back with their closest creative partner, Eartheater. Today, that single gets a surreal visual treatment, directed by Eartheater herself.
The song is a morass of muddy strings, synths, and whisper-moaned vocals, and the video matches its energy. It finds the trio swimming through a smoky fugue state, trapped in a black-lodge fashion commercial featuring luxury cars, designer bags, and Domino granulated sugar.
"Alex [Eartheater] is the collaborator with whom we've worked the most over the years," LEYA write. "'Must Have Been Good' picks up the breadcrumb trail; we speak again to a subject split between the present and the past and we revel in a transcendence that bears both the colors of triumph and pain. There is an inevitability to flying if we can just remember why we are here."