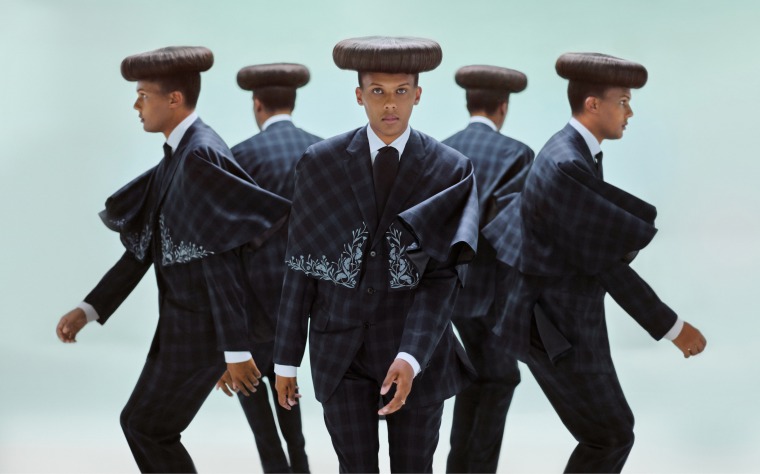 On Friday, Stromae shared his third album, Multitude, a set of 12 triumphant tracks arriving eight years after his previous studio LP. Now he's shared a cinematic video for "Fils de Joie," a dynamic mid-album cut.
Each song on Multidude is a mini melodrama set in its own world. In the tradition of his countryman Jacques Brel, Stromae is a natural storyteller with a flair for the theatrical. "Fils de Joie" is a fictional nation's tribute to a sex worker who has passed away. In the visual treatment, he delivers a speech from a podium at a hero's funeral for the track's subject.
Read Stromae's statement on the song, watch his new video, and view his upcoming North American tour dates below.
"The idea for "Fils de Joie" came from watching Faustine Bollaert's talk show, Ca Commence Aujourd'hui. One of her shows was dedicated to the children of sex workers. I was struck because I discovered a world that I did not know at all. A child testified by explaining that a client of his mother had come to tell him: 'Ah well, yesterday I banged your mother.' I found the phrase and the attitude most out of place. How can you afford to say such things to a child? I wanted to take everyone's point of view since everyone has an opinion on her, but unfortunately we don't often ask her for hers. I therefore speak in place of the son, the client, the pimp and the policeman. 'Fils De Joie' is in a way, a tribute to these women who do this very difficult work, very little recognized, but which exists and which will exist, whether we like it or not."
Stromae 2022 North American shows
4/16 – Coachella Festival – Indio, CA
4/23 – Coachella Festival – Indio, CA
10/21 – Pacific Coliseum – Vancouver, BC
10/25 – Bill Graham Civic Auditorium –San Francisco, CA
11/21 – Madison Square Garden – New York, NY
11/25 – Bell Centre – Montreal, QC
11/26 – Bell Centre – Montreal, QC (SOLD OUT)
11/27 – Bell Centre – Montreal, QC
11/29 – Coca-Cola Coliseum – Toronto, ON
12/3 –The Anthem –Washington, DC
12/6 – Agganis Arena – Boston, MA
12/11 – Centre Videotron – Quebec City, QC