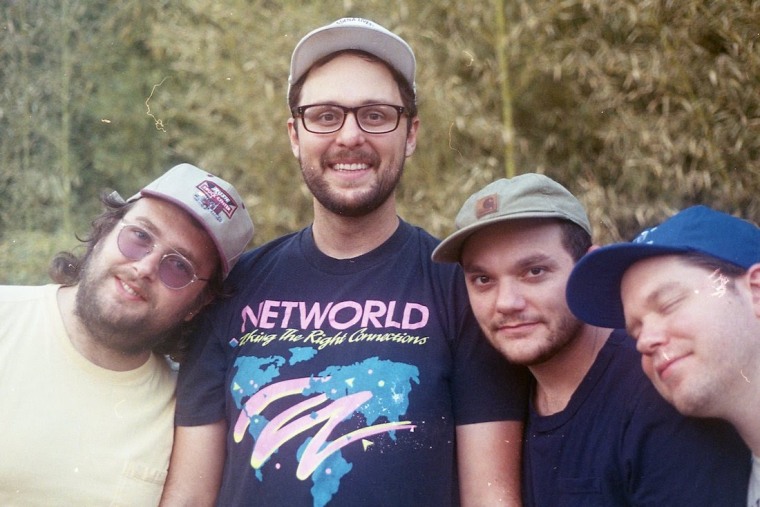 Austin folk-rock four-piece Good Looks have have been slowly building up to the release of their debut album, Bummer Year, since January, when they announced the forthcoming record with its lead single, "Almost Automatic." They followed that song with February's "Vision Boards," and today, they've shared the project's title track a month ahead of its April 8 release.
The new cut is a wistful contemplation of old friends who've taken hard right turns since childhood. "All my friends from high school / They all got motorcycles / Joined up with a bike gang, supported Donald Trump," frontman Tyler Jordan sings over a translucent guitar line that could slide easily into the end of a Friday Night Lights episode. "I don't think they're evil / Even when they're awful / Not totally class conscious, but ultimately good." He goes on to explain how their loyalty is powerful enough to transcend politics, not all the time but when it counts.
Listen to the song and read Jordan's full statement on reconciling these types of relationships below.
This song is about trying to understand where my highschool friends got lost along the way, while also sifting through a moment of deep depression. I couldn't reconcile how these people I knew to be kind, caring, and good could be swept up in the neo-fascist movement of Donald Trump. Here I was, deeply sad, partially because Donald Trump had just been elected president, and I was longing for the type of support and friendship that these folks had offered me in my teens.
Ultimately, what I came to is, it was a failure of the left and working class institutions for not being able to win over enough folks to their cause. If there's going to be positive, substantive change in this country, it's going to take convincing a large section of the working class by showing them where their interests truly lie. So much "political action" in this moment is about shaming and dunking on folks via social media, but the task at hand is actually about meeting folks where they're at, and bringing them into the fold. This song clumsily attempts to bridge that gap. And like most of my songs, who knows if it'll change anything or win anybody over, but it made me feel better.