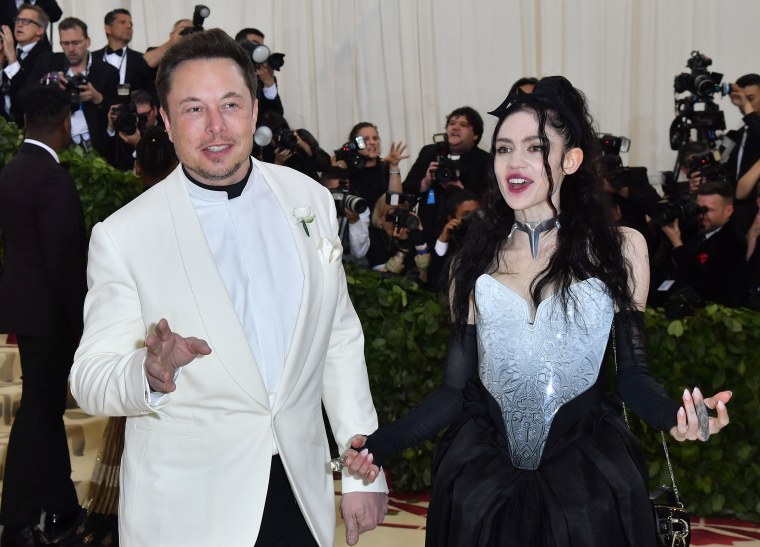 Grimes and Elon Musk had a daughter named Exa Dark Sideræl Musk, and nicknamed Y, in secret this past December, the artist told Devin Gordon in an interview for Vanity Fair's April 2022 cover story. She revealed the news accidentally, it seems, when Gordon heard a baby crying in Grimes' Austin home — though she'd told him that she and Musk's 22-month-old son, X Æ A-Xii Musk (nicknamed X), was with his father — and asked her if she'd had a second child.
"I'm not at liberty to speak on these things," Grimes told him. "Whatever is going on with family stuff, I just feel like kids need to stay out of it, and X is just out there. I mean, I think E is really seeing him as a protégé and bringing him to everything and stuff." Eventually, she broke down and revealed the details of Y's birth, though she didn't share her full name until later, via text.
Exa's first name, according to her mother, is a reference to the computing term exaFLOPS: the ability to calculate 1 quintillion floating-point operations per second. Sideræl, she said, is "a more elven" spelling of sidereal, "the true time of the universe, star time, deep space time, not our relative earth time." Grimes and Musk chose to have Y through a surrogate mother due to difficulties the singer experienced during her first pregnancy, she explained.
Though Musk seemingly confirmed rumors that he and Grimes had broken up last fall, Grimes told Gordon the situation wasn't so simple. "There's no real word for it," she said. "I would probably refer to him as my boyfriend, but we're very fluid. We live in separate houses. We're best friends. We see each other all the time... We just have our own thing going on, and I don't expect other people to understand it."
Grimes is currently working on her sixth album, Book 1, which she announced in January with its lead single, "Shinigami Eyes." She's also said the album will feature a collaboration with The Weeknd and Illangelo titled "Sci-Fi," and that the forthcoming album will be preceded by a "prelude" EP called Fairies Cum First, though this project wasn't mentioned in the Vanity Fair interview. Gordon writes: "Book 1 is Grimes's Mellon Collie and the Infinite Sadness, with a hint of Lemonade, and it was partly inspired by a theory of Musk's: that she's a simulation."
Watch Grimes reflect on 10 "big moments" from her life in a promotional video for the VF cover story below.
UPDATE: Grimes has posted a thread of tweets with some clarifications on Vanity Fair's coverage. Read it below.