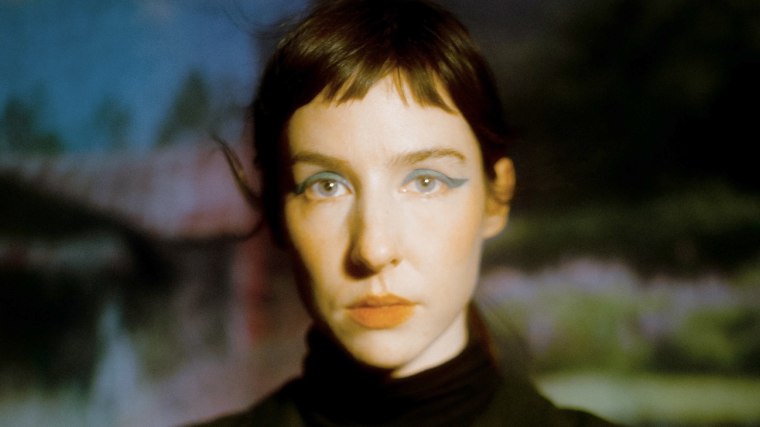 The Opening, Or Closing Of A Door, Kristine Leschper's first album as a solo artist, was a full 180 from her most recent album at the helm of the Athens folk-rock group cum Philly post-punk outfit Mothers. Where When You Walk A Long Distance You Are Tired is a generally upbeat trek through country paths and Render Another Ugly Method is a sullen, seething saga in which Leschper iterates and reiterates her desire to separate from her mortal form, the new record is a lush grab bag of chamber-pop tracks, synth-laden singles, and a disco cut.
It's the latter song, "Blue," that's receiving a new video today, premiering here. The track finds Leschper pitting abstract, anxious lyrics against a contagious groove, and the video, directed by Jakov Lazovick and choreographed by Sharleen Chidiac, is a literalization of this cognitive dissonance through movement.
"There's a disconnect between the music and lyrics, probably because the original demo of this song sounded like a medieval funeral dirge," Leshper says. "So the words still have an unsettling quality, but the musical backdrop eventually morphed into this sexy disco track; I like the push and pull of that, it feels like the dissonance between adds a complexity to both elements. Sharleen Chidiac is a masterful choreographer, she was the glue that held this piece together. You can see how the professional dancers embody the smooth music, whereas my character is more representative of the uneasiness in the lyrics. Jake Lazovick was incredible to work with as always, the end result grappling with and emphasizing the uncanniness of it all, as if in a dream."
Watch the video, and read Leschper's conversation with The FADER, below.
The FADER: The differences between your albums with Mothers and this one are night and day, and both those records are quite different from each other in turn. Do you think of yourself as a shapeshifting artist? Do you feel compelled to reinvent yourself with each new project?
Kristine Leschper: I think this comes from a place of restlessness and curiosity, and it's for this same reason that I found myself writing these songs on keys rather than guitar. I don't associate with any particular instrument, because I'm just going to follow whatever whim to its logical conclusion. Curiosity and discovery are the experiences that keep me deeply invested in music. There's a sense of not knowing what you'll find, so each encounter sort of ends with a question. I can't imagine going to work thinking I'll invent something; that seems like a halting, demeaning process. There is an excitement and beauty in looking and listening deeply with the intention of uncovering something that is already there. People constantly grow and change… How could the music stay the same?
One constant between your albums has been your penchant for long and opaque titles. But they've all been pretty apt. When You Walk a Long Distance You Are Tired plays like a long journey through a forest; Render Another Ugly Method is bleak and jaded; and this new record, The Opening, or Closing of a Door, has a really hopeful vibe. Do you have a specific approach you take to naming each of your projects? Do they reflect the state of mind you were in when you made them?
Language has an inherent power — words don't just frame our reality, they build it. My mind goes to something I read in Braiding Sweetgrass by Robin Wall Kimmerer, where she explains that in the indigenous Potawatomi language, over 70 percent of words are verbs, whereas English is something like 30 percent. She contrasts the English noun "bay" with the Potowatomi verb wiikwegamaa, which means "to be a bay." In defining something, you hold the power to dominate it, or to recognize its autonomy. I say all of this to say, words are important, and I take them very seriously as they are the builders of worlds. Titles are one of my favorite things to assemble, because they have to boil down to the absolute essence of something, like a poem. My most precious custom is daydreaming, and when the right title arrives, it does so swiftly; I only have to write it down.
You worked with an almost entirely new lineup for this record. What was it like working with one person [Sammy Weissberg] handling strings and woodwinds, an old collaborator [Garrett Burke, of Mothers] handling percussion, and a supporting cast that acted more as session musicians than full band members?
I wrote and developed this music during the early Covid lockdown, so I was spending a lot of time alone in my room exploring home recording, and for the first time ever I made exhaustive demo recordings. I finally understood this to be a vital part of my process, that I like to flesh out most of an arrangement before adding a collaborator into the mix. I started clapping on the music to explore syncopations, because this was approachable, and it became a fundamental part of the instrumentation. I learned to play bass and wrote a few of the bass lines; I learned drum rudiments so I could better communicate the feel I was looking for in a groove. Home recording allowed me the autonomy I had been craving to build a foundation that was specific to my vision, so that when I was ready to invite Sammy and Garrett into this world there was a comprehensible structure and direction for the music. They are both absolutely brilliant, and were able to take my elemental ideas into territories well beyond what I could have imagined or executed.
"Blue" is an outlier on the album. It's got a deeply funky groove that I wouldn't have expected to ever hear on one of your records, given your previous work. How did it get from the "medieval funeral dirge" of the demo to the "sexy disco track" it is today?
I naturally gravitate towards a waltzy feel, so a lot of my songs end up in 3/4 time. Garrett, Sammy, and I were playing "Blue" in 3/4 as I had recorded it on my demo, with a feel that I'm not sure how to describe besides Medieval and somber, and one of them was like, "Are all of your songs in 3/4?," which made me a little self conscious, and also raised the question, what would this song be like in 4/4? So we tried it, and immediately Sammy locked into this nasty bass line, and it felt so good that there was no going back. This is a good example of the ways this music encouraged me to follow the body, how it naturally desires to move and synchronize. I started to consider the sensations I felt in my body, whether this music encouraged a sway, a hug, a shaking of the hips, or even stillness, which is its own kind of movement.
The video is really fun, and I like the idea of the dancers representing the groovy music and you representing the uneasy lyrics. Is unease your default state of mind when you're out dancing?
I actually love to dance — if anything, I think my character could represent an uneasiness I sometimes experience with visibility, or the difference between visibility and actually sharing yourself. There have to be boundaries, because to be a person in this time is to be hypervisible, which is not necessarily participatory and can feel like a bit of a spectacle. I think of a moment from "Bag of Holding" by The Cradle, an album that Sammy Weissberg also did string and woodwind arrangements for:
figured I had enough shit to worry about without
having to keep track of my mind in cyberspace
things are hard enough just living in one time and place