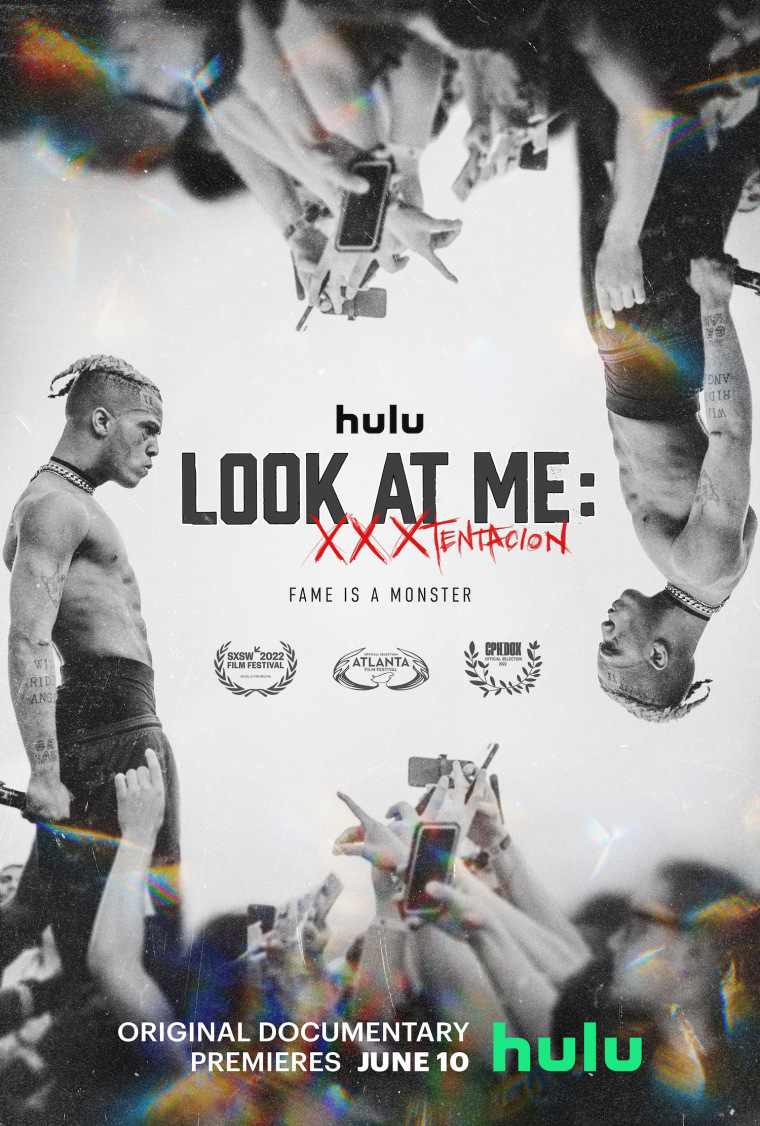 Look At Me: XXXTENTACION, the long-awaited documentary on the late rapper XXXTENTACION, now has a confirmed release date. The film will premiere today, March 15, at SXSW in Austin, and it will be available to stream on Hulu on June 10.
Look at Me: XXXTENTACION, produced by FADER Films, includes previously unseen archival footage and interviews with XXXTENTACION's family, friends, and romantic partners. It was directed by Sabaah Folayan, who also directed the 2017 documentary Whose Streets? on the Ferguson Uprising.
In a press release, Folayan wrote that it was important to wrestle with the contradictions inherent in X's story:
I've always been clear that the answer to the question 'can you separate the art from the artist' is 'no.' Often, the artists that touch us most deeply are the artists whose intimate lives we think we understand. Jahseh Onfroy, aka XXXTENTACION, had an uncanny ability to draw attention and curiosity to himself both as an artist and as a person. He used social media to give his devoted fanbase a sense of authentic connection to him, amidst his open struggles with mental health. However, those outside his social media following learned about his private life through the publication of graphic court documents, describing acts of intimate partner violence. Now, four years after his death, his undeniable talent hangs in the balance of these competing identities. With his passing, the possibility of a neat resolution is also lost. Instead, it is crucial that we grapple with the irreconcilable questions of his life.
I decided to tell this story because while violence is inexcusable, it is not unintelligible. It has interpersonal roots and generational pathways for both abusers and survivors. I am hopeful that with care from the collective, cycles of violence can be interrupted. Movements like #MeToo have spotlighted the need for improvement in the way masculinity is performed in society. But when, where and how can this positive change take place? There is no certain solution but what is clear is that the criminal justice and deportation systems are doing more harm than good. Titled after the viral single that marked the beginning of his notoriety, Look at Me: XXXTENTACION challenges viewers not to look away from the nuances of Jahseh Onfroy's story, both in public and behind the scenes. His story, and his family and community's tragic loss, begs us to imagine how different our world would be if we had systems in place to nurture and support youth and families through mental health and other challenges.
It is time to uplift and support the work of mental health professionals who are on the frontlines of care for youth. It is time for effective mental health care to become widespread and readily accessible to all.
XXXTentacion burst out of Broward County in 2017 with the distorted and visceral track "Look At Me!" His short career was inextricably linked to accusations of domestic abuse of an ex-partner and violent behavior. His first two albums 17 and ? both went platinum, but, as his viral fame calcified into genuine stardom, he became an increasingly polarizing figure. He was shot and killed in an apparent robbery on June 18, 2018, in Deerfield Beach, Florida.