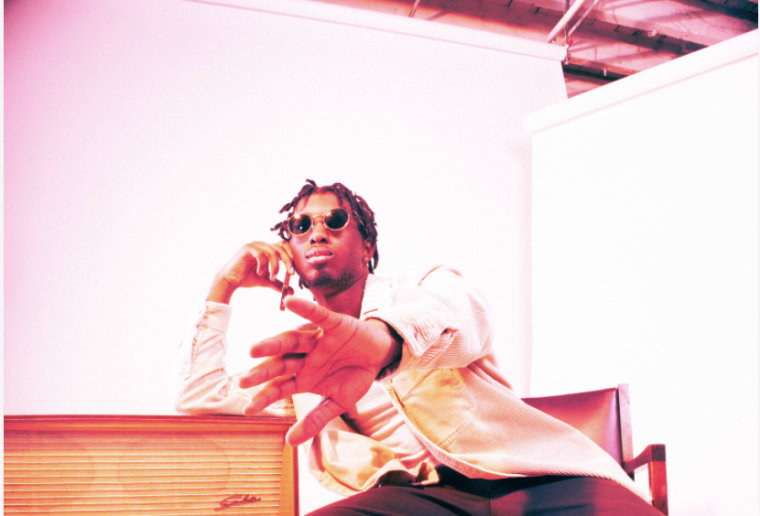 Julius Rodriguez was born a musician. He was playing in his church band and learning theory before his adult teeth came in, sat in at Smalls Jazz Club for the first time at 11, and at 20, dropped out of Juilliard to tour with his friends Onyx Collective as A$AP Rocky's backing band. Since then, he's played with a line of legends stretching from the Wu-Tang Clan to Meshell Ndgeocello to the late, great Roy Hargrove and beyond. And now, at 23, he's announced his debut album — Let Sound Tell All, due out June 10 on Verve — and shared its lead single, "Gift Of The Moon."
The new song is a cosmic jazz saga that starts with a mesmeric two-chord cadence and expands into something colossal yet sleek and reserved, with Rodriguez on Rhodes piano, Jongkuk "JK" Kim on drums, Daryl Johns on bass, and Giveton Gelin on trumpet. It comes with a visualizer, premiering here, that renders the group's performance in overlapping sketches, emphasizing the effortless aura of harmony and groove the players project.
Watch the video and read Julius Rodriguez's conversation with The FADER below.
The FADER: Tell me about your musical upbringing. From personal experience on a much smaller scale, I know it's easy to stop putting in real practice hours when you hear from the adults around you that you're a prodigy. Were there points where you got cocky from all the attention, or discouraged when things got hard all of a sudden after the early praise?
Julius Rodriguez: I was ALWAYS just curious about music, even before i could talk. I studied music theory very early on (starting at 6) so when I wasn't practicing for my lessons I was using what i learned to figure out music I was listening to, whether it was on the radio, TV, movies or musicals, etc. All of that "prodigy" talk never got to me because I never believed it. I just wanted to learn more, fill in the gaps of my musical knowledge. Even if you can play anything, what is the musical statement you are making? That's what's kept me hungry all these years. The turning points for me were not where I would get lazy or discouraged, but rather encouraged or have my mind opened to new sounds (new to me) I'd want to explore.
Dropping out of Juilliard to tour with A$AP is a gutsy move. What led to that decision, and are you happy you made it?
Actually just before that, The Lemon Twigs asked me to join them on a four-month-long tour, opening for the Arctic Monkeys... My parents shot that right down. Maybe a week after... the Onyx Collective asked me to join them in accompanying A$AP Rocky. To be honest, he wasn't an artist I had spent any time listening to consciously, but it was the absolute biggest gig opportunity I had ever been given. Plus the Onyx guys were some of the earliest musician friends I had ever made. I had already been doing a lot of traveling for gigs, and school hadn't turned out to be all I had hoped it would be. So it appealed to me to take some time off to focus on the opportunities coming to me. Took some convincing of my parents and I ended up doing it. I knew it would look good on my resumé (you're asking me about it now), but I also made some meaningful connections and learned a lot about the music industry and how someone on that scale operates, and those lessons continue to inspire me to this day. So, yes I am happy with my decision.
You've collaborated with some legends of jazz and hip-hop before even releasing your first album. What's one of the best experiences you've had playing onstage with someone who's reached the top of their craft?
I did some work with Meshell Ndegeocello for an upcoming (hopefully) album. There were a lot of moving parts and I wasn't on every song and she didn't play on every song either, but there was one song we did where ALL of the musicians in the studio tracked at the same time: three keyboardists, guitar, drums, and Meshell on bass. It was amazing to witness how she glued everyone together in such a harmonious way, whether directly or indirectly, guiding us all away from potential chaos. Her craft goes beyond just playing, but being able to command musical situations in such an organic way.
Your ability as an arranger is really impressive. I like that you're not going super-maximalist and saturating the whole song right off the bat, but you still manage to make it feel really lush and layered. When you're writing, do you start with drums and build harmony and melody from there, or vice versa?
Lately, I've been taking arrangement tips from some of my favorite electronic artists/producers: James Blake, Jai Paul, Baths… It's funny, instrumentalists often look down on or don't take it seriously [when] people make music with a computer. But the way I see it, if you're able to grab anyone's attention with "computer music," then the computer IS your instrument. So I try to implement the techniques they use but play them with live people. When I'm writing, I usually start with the melody, and the harmony... naturally fills itself in from there. Drum grooves and other arrangement ideas are typically up to [the] interpretation of whoever's playing... I like to bring my compositions to different bands and configurations and see how they deal with [them] differently. For instance, on this past tour, Brian Richburg Jr. has been playing drums, and he's introduced a sort of Afrobeat or even Konpa type groove to the song. That groove inspired a whole new section at the end, and now that's just how we play it. And these evolutions can even happen in the mixing/production process. There's a section to "Gift of the Moon" that I added after hearing my co-producer Drew ofthe Drew mess around with the speed, pitch, and filtering of the drums. I like for my compositions to be these sort of evolving creations that any musician who plays it can leave their mark on.