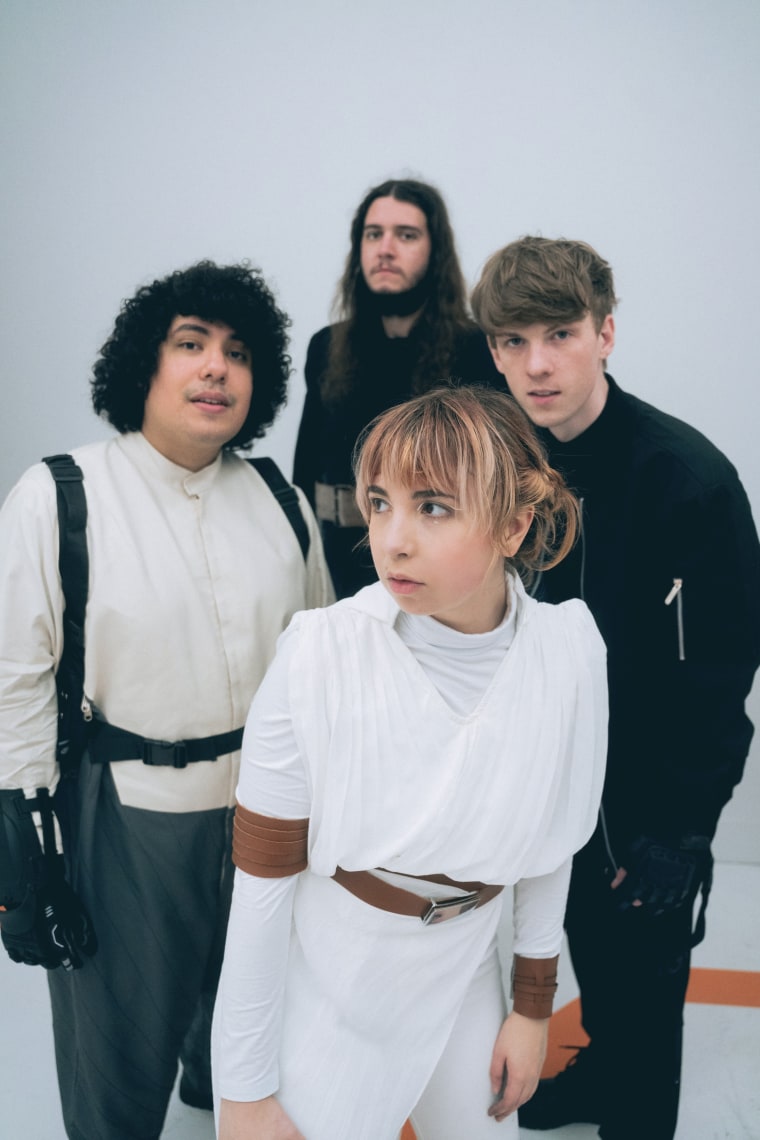 Beach Bunny's path to pop-rock stardom has been an untraditional one for rock groups: songs taken from across their catalog of EPs and one album, Honeymoon, have been embraced by tens of millions of TikTok users around the world. Now, the Chicago band are doing streaming numbers reserved for K-pop acts, with over a billion on-demand listens accrued to date.
This year, the band is seeking to push that number even higher with Emotional Creature, a new album out July 22 via Mom + Pop. On producer duties is Sean O'Keefe (Fall Out Boy, Motion City Soundtrack) with bandleader Lili Trifilio once again handling songwriting. Their new song, "Fire Escape," surges with alt-rock radio-friendly riffage and Trifilio's gently urgent vocal delivery – despite an itch for change in her voice, her approachable delivery makes the song feel like a friendly commiseration more than a plea. Listen below in the song's '50s space-age visualizer.
Here's Trifilio's statement on the song:
"We are always changing, growing, and adapting - it's a deeply ingrained part of the human experience. We strive to be stronger, trust we'll grow smarter, and spend most of our lives reaching for comfort and happiness. Sometimes, life is stagnant, sometimes, life is difficult - but the wonderful part of being human is that we evolve and make the bleak moments beautiful - we find new ways to survive. Humans are emotional creatures and I wanted to capture that with this album in order to show how complex, sometimes tragic, and mostly wonderful the human experience can be."
In April, Beach Bunny will embark on a big spring tour of the United States and Canada. Find those dates below.
Beach Bunny 2022 tour dates
4/7-9 - Iowa City, IA - Mission Creek Festival
4/10 - Austin, TX - Emo's Austin
4/11 - Dallas, TX - The Studio at The Factory
4/13 - Mesa, AZ - Nile Theater
4/15-17 - Indio, CA - Coachella
4/18- Los Angeles, CA - El Rey Theatre
4/22-24 - Indio, CA - Coachella
4/26 - Oakland, CA - Fox Theater
4/28 - Seattle, WA - The Showbox SOLD OUT
4/29 - Portland, OR - Roseland Theater
4/30 - Boise, ID - El Korah Shrine
5/2 - Denver, CO - Ogden Theatre
5/4 - Omaha, NE - The Waiting Room Lounge
5/6 - Laurence, KS - Granada Theatre
5/7 - Indianapolis, IN - Hi Fi Annex
5/9 - Albany, NY - Empire Live
5/10 - Burlington, VT - Higher Ground
5/12 - Boston, MA House of Blues - Boston
5/13 - Brooklyn, NY - Brooklyn Steel
5/14 - Brooklyn, NY - Brooklyn Steel
5/15 - Washington, DC - 9:30 Club SOLD OUT
5/17 - Baltimore, MD - Baltimore Soundstage
5/18 - Philadelphia, PA - The Fillmore Philadelphia
5/20 - Asheville, NC - The Orange Peel
5/21 - Carrboro, NC - Cat's Cradle SOLD OUT
5/22 - Atlanta, GA - The Eastern
5/24 - Nashville, TN - Brooklyn Bowl - Nashville
5/25 - Louisville, KY - Headliners Music Hall
5/27 - Toronto, ON - Danforth Music Hall