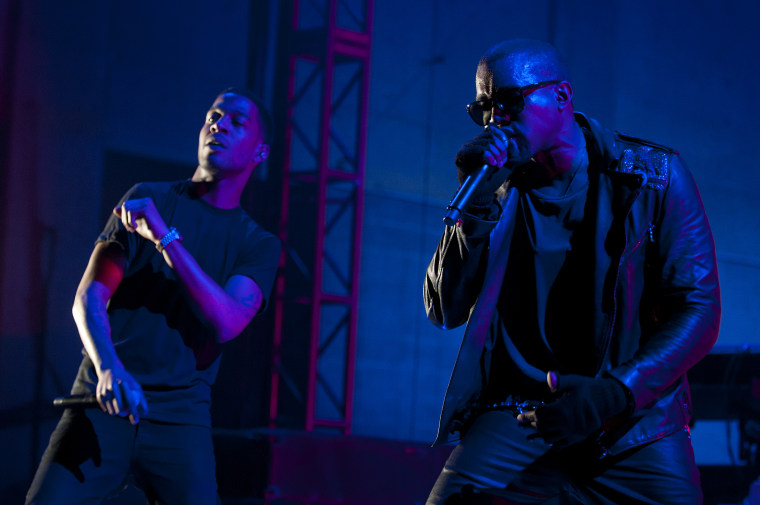 Pusha T's new album It's Almost Dry, out this Friday, is produced by Kanye West and Pharrell Williams. On Tuesday, Kid Cudi confirmed that he will appear on an It's Almost Dry track, and that it will be his "last song" with Kanye West, with whom Cudi had a falling out earlier this year.
In his tweet, Cudi explained that the as-yet-unnamed song was recorded prior to the end of his friendship with Kanye West. "I did this song a year ago when I was still cool w Kanye," Cudi wrote. "I am not cool w that man. He's not my friend and I only cleared the song for Pusha cuz thats my guy. This is the last song u will hear me on w Kanye."
The split between the two frequent collaborators was prompted by Cudi's friendship with Pete Davidson, the comedian who is dating West's ex-wife Kim Kardashian. West posted on Instagram that he would not enlist Cudi for his album Donda 2 "because he's friends with you know who," to which Cudi responded in the comments with "Too bad I don't wanna be on ur album u fuckin dinosaur hahaha 🤣."
Cudi elaborated on the situation further in a tweet posted soon afterward: "We talked weeks ago about this. You're whack for flipping the script and posting this lie just for a look on the internet. You ain't no friend. BYE."
Cudi and West were consistent collaborators for years, teaming up for the full-length album Kids See Ghosts in 2018. Cudi appeared on the Donda 2 tracks "Moon" and "Remote Control Pt 2."