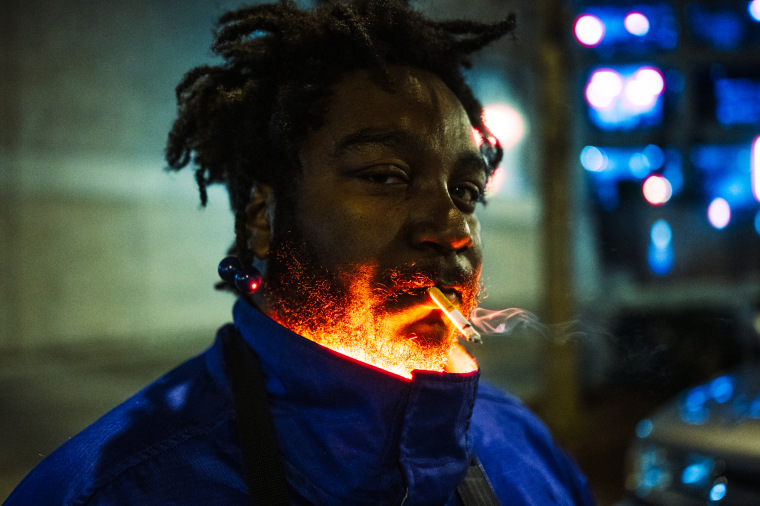 Over the past few years, Nashville rapper, singer, producer, and multi-instrumentalist Namir Blade has quietly built a substantial catalog, never remaining in one genre too long. From the house explorations of 2017's Colour With Soul to the soulful meditations of 2020's Aphelion's Traveling Circus to the explosive, jazz-tinged miniatures of Imagine Everything — a 2021 collaboration with North Carolina producer L'Orange — Blade has tried on styles like designer clothes in a dressing room, always seeming to find an effortless fit. Today, he's announcing Metropolis, a new project dropping June 3 via Mello Music Group, and premiering its lead single, "Ride," with The FADER.
The project, produced from soup to nuts by Blade himself, draws inspiration from the 1927 German expressionist science-fiction film of the same name, as well as its 2002 anime remake. "Despite it being a silent film, I felt like it was able to provide an in-depth look at the ramifications of technologic and perceived infrastructural advancements on urban society at large," Blade tells The FADER. "I discovered themes of classism, civil unrest, and an overall uncertainty in a bright future. These are all themes that I identified with as a Black man living in the United States."
Despite the record's overall thematic depth, "Ride" is a fun, breezy track about showing old, reliable cars the love they deserve. "Pull up in the 1990, do you wanna ride?" Blade repeats over a silky beat, unashamed of his vintage wheels.
"The song is about having a beater for a vehicle, but driving it like it's a C class luxury car," he write. "I want people to be able to bump this in their vehicles and feel good about whatever they are driving in."
Listen below.