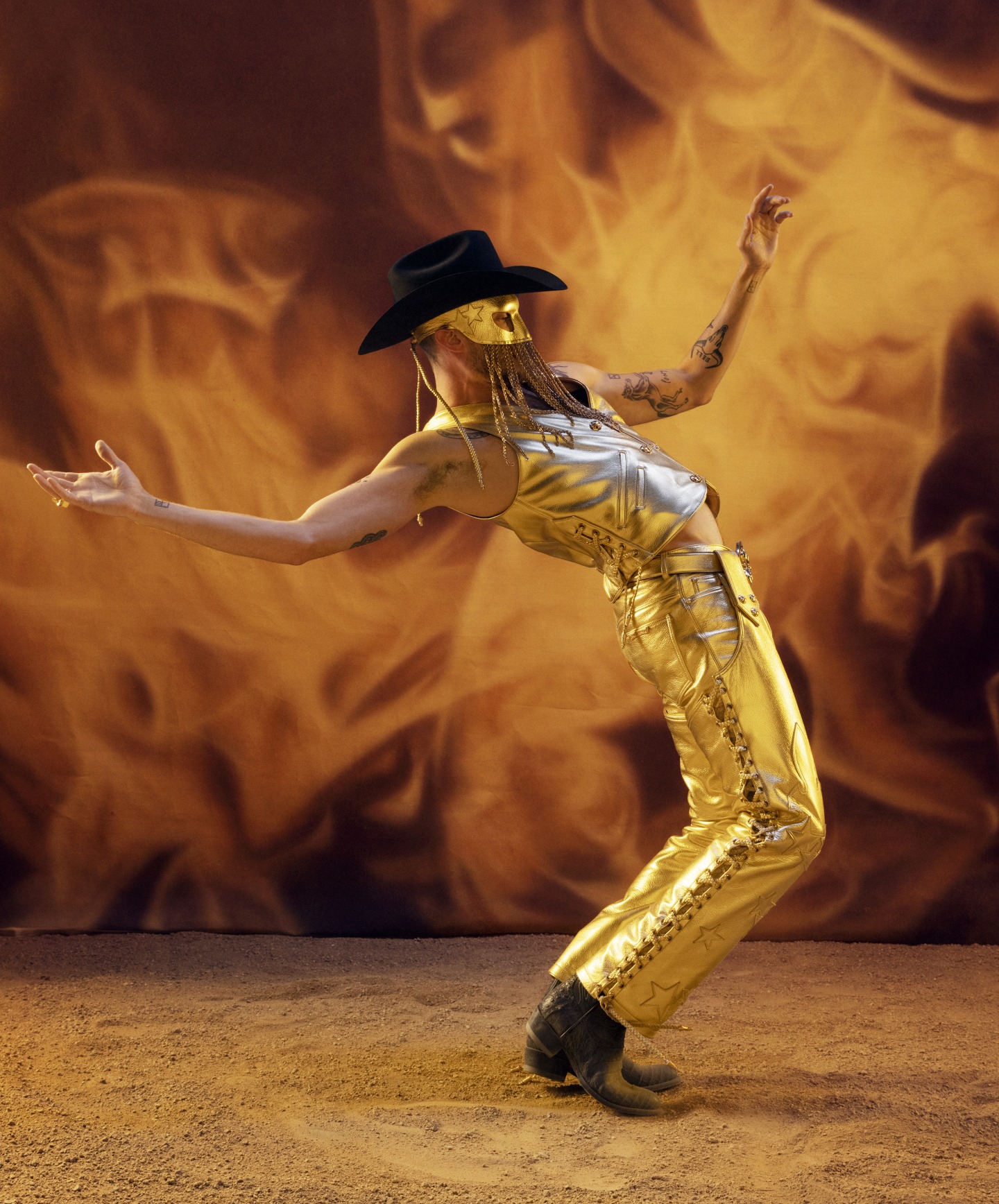 This post is sponsored by Unshackled Wines, official wine of VIP at Coachella. Create your own Coachella VIP experience at home by purchasing the Unshackled Coachella Bundle. The first 100 purchases will be gifted a FADER poster.
Regardless of how often you may listen to contemporary country, it's undeniable that the sociocultural and political factors that once defined its fan base have been changing, slowly but surely. Over the past few years, what once was a space solely for cis-gendered, straight, white conservatives with an affinity for Christianity has gradually opened itself up to those who may not fit into this hyper-specific demographic. And one sign of this is Orville Peck, whose performance at Coachella this year helped cement his place at the center of a subtle, but powerful shift in country music.
For too long, country listeners have forgotten the genre's roots as a historically Black, working-class, and anti-establishment form of expression. However, the line between country and other genres has been thinning for a while now, with many country and country-adjacent musicians challenging the outdated and, frankly, bigoted beliefs of its original fanbase, proving that it's ready to be reclaimed by those who were wrongfully removed from its imagery.
Within country itself, younger artists have become more cognizant of its Black roots and the way the genre's been shaped by Black artists like Charley Pride. Some could even argue that the emergence of "bro-country" artists like Florida Georgia Line — who are influenced by hip-hop and R&B and collaborate with Black artists from these genres — have been helping traditional country listeners open up to other musical styles, even if that particular subgenre still remains misogynistic and homophobic at times. That said, there's also a new wave of female country artists like Kacey Musgraves, Maren Morris, and (at one time) Taylor Swift, who have continued to push back against the genre's anti-Black, feminist, and LGBTQ+ stance, all while making more country music more accessible through non-country sonic elements.
While not a household name just yet, Orville has been disrupting the idea of traditional "country" in his very own way. By writing decidedly progressive songs delivered with a melodrama reminiscent of the Golden Age of Country, he lets his emotive baritone quaver with wistful longing in a way that feels right at home alongside a twangy pedal steel. Still, he's able to keep it fresh by incorporating elements of new wave, indie rock, and psychedelia into his songs, making his music an example of a cross-genre exchange that will speak to the people it was always meant for: everyone.
The original themes of country that speak to heartache, struggle, and the experiences of marginalized people were painfully missing during the post-9/11, pop-country ideal, with a jingoist undercurrent that felt exclusionary for many. And that could be why people of all backgrounds can enjoy newer music emerging from artists like Peck; his music has all the melancholic romance of country but speaks to everyone, bringing comfort to the lonely and misunderstood. And the musician is not only modernizing the image of country at Coachella but simultaneously bringing the genre back to its roots as music for the underdog, because as he sings in his signature rich baritone, "It ain't the letting go, it's more about the things that you take with."
The country fandom is one musical subculture that remains largely separated from the types of crowds that flock to Coachella. Most of the time, it's reserved for its sister festival, Stagecoach, which happens this coming weekend. Redefining where country music belongs on the lineup of Southern California festivals is a daunting but revolutionary task that artists of the genre are aiming to change every day. And Orville's back-to-back appearance at both events is something to marvel at, as it insinuates that the worlds of two wildly different festivals can finally collide in the Indio desert.
While there's no telling what his Stagecoach audience will look like, the crowd at Orville Peck's set was diverse to the extent that it would be impossible to deem it homogenous. Whether it's ethnicity to style to gender and beyond, Peck managed to successfully gather a crowd of concert-goers that couldn't be pinned as country fans with a simple once-over. And it was obvious that they weren't wanderers seeking rest or shade - they were animated and deeply involved fans, noticeably recognizing and cheering on each song as Peck transitioned from one to the next.
Kicking off his set was "Daytona Sand," an indie-infused and more accessible choice for a less traditional country crowd from his most recent album, Bronco: Chapters 1 & 2, which was followed up by live renditions of his songs "Turn to Hate" and "The Curse of the Blackened Eye," which he described as one "for anyone that's ever been mistreated before." It's something reflected within The music video, which sees actor Norman Reedus haunting the crooning country singer for most of it before Orville finally invites the darkness that Reedus represents into a warm embrace — perhaps signaling his healing and embrace of the personal growth stemming from his aforementioned mistreatment.
Peck's poignant lyricism, his combination of modern rock and nostalgic country, and enigmatic performing style is consistent at all times, making the last song of his set "Take You Back (The Iron Hoof Cattle Call)" - a classic from Orville's discography - a seemingly perfect closing choice that summarizes his artistry in under 4 minutes.
But there are other reasons why Orville in particular has found a foothold amongst non-country listeners, as evidenced by the swell of the crowd and the hundreds of hands flying to the air once Peck began playing the first few strums of "Dead of Night," with passersby even stopping to get a better listen.
Perhaps part of their fascination stemmed from seeing a man who, at first glance, looks like a "real man," resembling a gunslinging cowboy straight out of a Western — apart from his tasseled mask, of course, and, more recently, its appearance in Euphoria. Or maybe it's because he included a performance of "Drive Me, Crazy" from his Show Pony EP by explaining that "it's about gay truck drivers." Either way, his performance was a blunt reminder to listeners that his songs depict a story about his true identity behind the tassels and his status amongst the LGBTQ+ community, who appreciate his less toxic take on traditional American norms about masculinity.
As we shift towards a more inclusive culture and country music being here to stay in the mainstream, pioneering artists such as Peck will bring with him some of country's most legendary musical practices while leaving behind the ideologies that no longer serve us. His set at Coachella is the perfect indication to Stagecoach attendees that they're in for a treat, and the two crowds may not be as different as we assume.