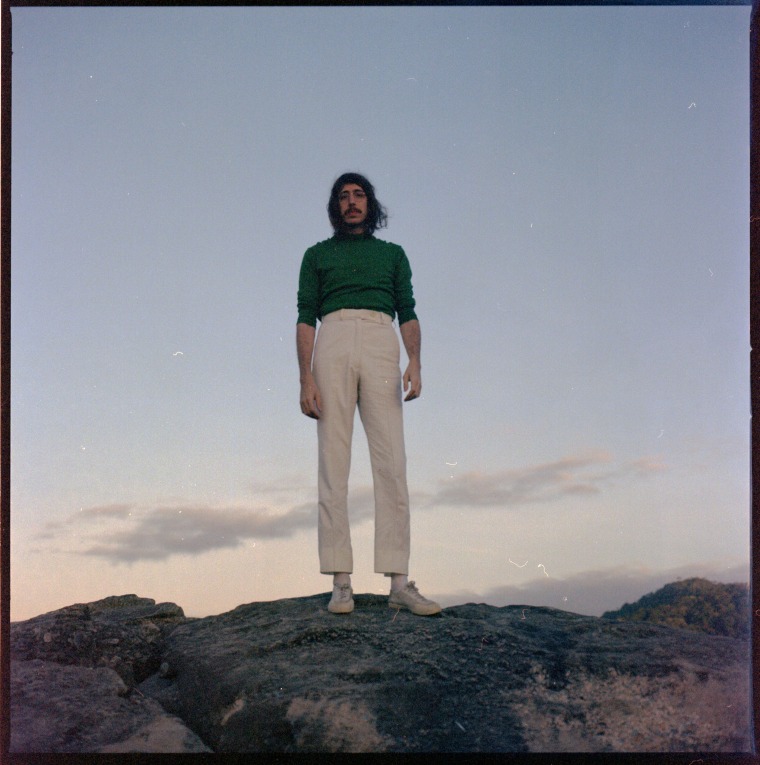 The FADER's "Songs You Need" are the tracks we can't stop playing. Check back every day for new music and follow along on our Spotify playlist.
Tim Bernardes is a superstar in his hometown of São Paolo and in Brazil at large. At 30, he's already collaborated with tropicália legends such as Gal Costa and Tom Zé, as well as an eclectic set of acts the world across — from David Byrne to Devendra Banhart and Shintaro Sakamoto to Fleet Foxes, with whom he'll tour North America this summer. His songwriting and composing have led BADBADNOTGOOD's Alex Sowinski to cosign him as "a modern legend," and the great Caetano Veloso has referred to his performance style as "a marvel of tuning, dynamics control, refinement, instrumental execution and freedom in the elegance of using the stage." Still, he hasn't made the critical or commercial splash one would expect in the global north, given his impressive resume.
Today, he's announced his sophomore album, Mil Coisas Invisíveis (1,000 Invisible Things), with the release of its lead single: "Nascer, Viver, Morrer." The track is a case study on the power of quietude and brevity, the art of saying a lot with a little. In under two minutes, Bernardes paints an impressionistic portrait of birth, life, and death, tacitly capturing the capacity of the human experience to be both terrifyingly simple and wonderfully multitudinous. Split into three verses with no intersecting chorus — each beginning with one of the titular infinitive verbs — the song's straightforward structure gives him room to associate freely.
"Viver / na realidade que é onde é possível / às vezes sem nem perceber que está vivo / às vezes na barra, às vezes na boa / no mundo, na mente, no sonho e no ser / no raro momento infinito viver," he sings in the second verse. ("To live / In reality that is where it is possible / Sometimes without even realizing you're alive / Sometimes in the bar, sometimes in the good / In the world, in the mind, in the dream and in the being / In the rare infinite moment, to live.")
"This is a very short song that when I wrote I felt it fit as kind of an opening to the album," he explains. "The songs in the album have some different vibes between them but I feel that this one connects them in a very synthetic way. Trying to say a lot with few words. About 'just being,' about how magical the existence of existence is. About the presence of presence, and presence of absence in life."
Listen to "Nascer, Viver, Morrer" and view Tim Bernardes' upcoming tour dates with Fleet Foxes below.

Tim Bernardes & Fleet Foxes summer 2022 tour
June 23 - Seattle, WA - The Moore Theatre
June 27 - Sandy, UT - Sandy Amphitheatre
June 28 - Denver, CO - The Mission Ballroom
June 29 - Beaver Creek, CO - Vilar Performing Arts Center
July 1 - Dallas, TX - The Factory In Deep Ellum
July 2 - Houston, TX - 713 Music Hall
July 3 - Austin, TX - Moody Amphitheater
July 5 - Phoenix, AZ - Arizona Federal Theatre
July 6 - San Diego, CA - Cal Coast Credit Union Amphitheater
July 8 - Los Angeles, CA - Greek Theatre
July 9 - Santa Barbara, CA - Santa Barbara Bowl
July 10 - Berkeley, CA - The Greek Theatre
July 12 - Troutdale, OR - McMenamins Edgefield Amphitheater
July 13 - Vancouver, BC - Queen Elizabeth Theatre
July 15 - Redmond, WA - King's County Marymoor Park
July 16 - Spokane WA - First Interstate Center For The Arts
July 17- Missoula, MT - Kettlehouse Amphiteater