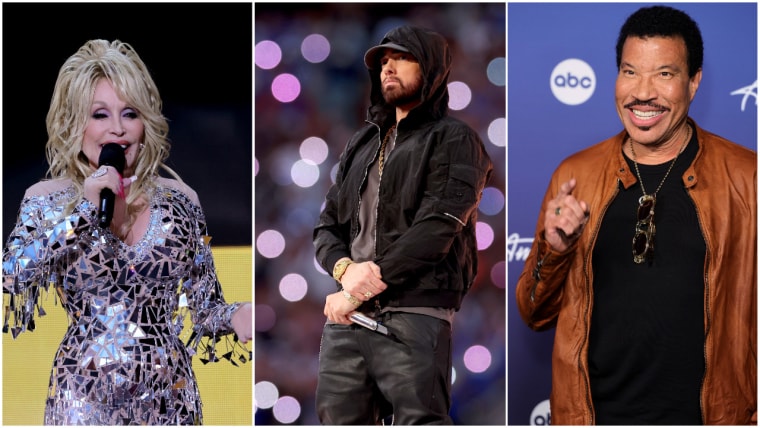 The Rock & Roll Hall of Fame has officially announced its class of 2022. Dolly Parton, Eminem, Lionel Richie, Duran Duran, Pat Benatar, Eurythmics, and Carly Simon make up the class of 2022's performer category.
In addition to the above, Judas Priest and production duo Jimmy Jam & Terry Lewis will receive the Musical Excellence Award. The Ahmet Ertegun Award will be given to Allen Grubman, Interscope founder Jimmy Iovine, and Sugar Hill Records founder Sylvia Robinson. Elizabeth Cotten and Harry Belafonte will receive the Early Influence Award.
Notably, Parton's induction comes after the country icon initially turned down her nomination. She was kept on the voting ballot anyway, and last week said that she would "gracefully accept" her potential induction in an interview on NPR's Morning Edition in April.
"[W]hen I said that, it was always my belief that the Rock & Roll Hall of Fame was for the people in rock music, and I have found out lately that it's not necessarily that," she explained. "But if they can't go there to be recognized, where do they go? So I just felt like I would be taking away from someone that maybe deserved it, certainly more than me, because I never considered myself a rock artist. But obviously, there's more to it than that."
The 2022 Rock & Roll Hall of Fame induction ceremony will be held on November 5, 2022 at the Microsoft Theater in Los Angeles. It will be simulcast on SirusXM and air at a later date on HBO and stream HBO Max.
Performer Category
Pat Benatar
Duran Duran
Eminem
Eurythmics
Dolly Parton
Lionel Richie
Carly Simon
Musical Excellence Award
Judas Priest
Jimmy Jam & Terry Lewis

Early Influence Award
Elizabeth Cotten
Harry Belafonte
Ahmet Ertegun Award
Allen Grubman
Jimmy Iovine
Sylvia Robinson