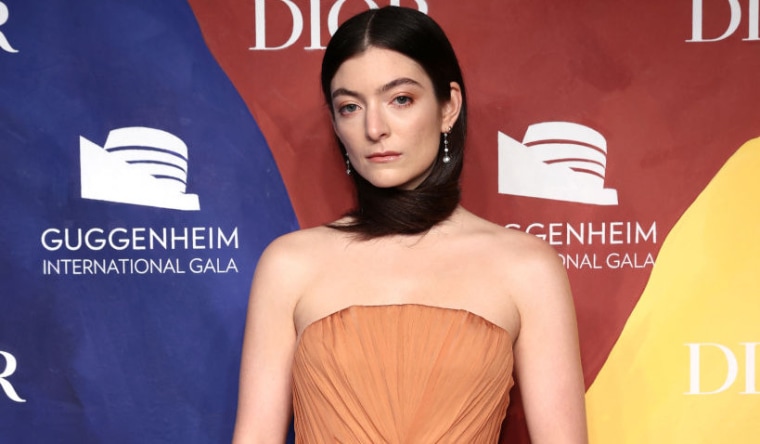 Lorde spoke out in support of abortion rights during her May 5 show at L.A.'s Shrine Auditorium. The singer's speech, caught on camera by fans in attendance, came after a draft opinion leaked earlier this week suggested the Supreme Court is poised to end abortion protections in the United States.
"Like so many of you, I've been sickened and heartbroken this week by the news that there are some people who think that our bodies are not our own," Lorde said prior to performing her song "Hard Feelings." "And I still don't have the words to talk about this with you. It's so big and so heavy. I think it's OK to freeze for a little bit, you know, and then you re-engage. But, what I'm trying to say is I have some big, heavy shit that I am working through that I am feeling."
Lorde on the recent SCOTUS decision draft to overturn Roe v. Wade.

"I've been sickened and heartbroken this week by the news that there is some people that think our bodies are not our own."

pic.twitter.com/F4FAqffSUq

— The Lorde Cult (@TheLordeCult) May 6, 2022
Lorde is the latest artist to speak out on the subject and follows Phoebe Bridgers, who shared her own experiences with abortion in a candid social media post. "I had an abortion in October of last year while I was on tour," Bridgers wrote. "I went to planned parenthood where they gave me the abortion pill. It was easy. Everyone deserves that kind of access."
Meanwhile, Olivia Rodrigo paused a concert in Washington DC to speak to her fans about the huge ramifications overturning Roe Vs Wade would have. "I couldn't pass up the opportunity to talk about how heartbroken I am over the Supreme Court's potential decision," she said. "When a women tells us her body should never be in the hands of politicians," Rodrigo continued, "I hope we can raise our voices to protect our right to have a safe abortion, which is a right that so many people before us have worked so hard to get."
For more information and necessary links to where you can donate and support abortion rights in the USA click here.