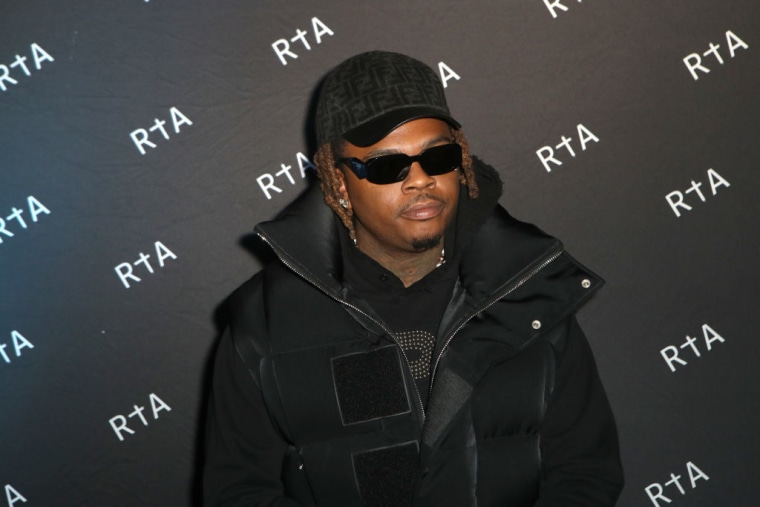 Gunna has reportedly surrendered to police after a warrant for his arrest was issued earlier this week as part of an investigation into gang involvement and conspiracy to violate the Georgia criminal racketeering law (RICO). His arrest follows that of Young Thug on Monday on racketeering charges. Michael Seiden, a reporter for WSBTV in Atlanta, shared news of Gunna's surrender on Wednesday.
Gunna, real name Sergio Kitchens, is accused of one count of racketeering and committing felonies including receiving stolen property and drug possession with intent to distribute. The Atlanta rapper is one of 28 members of his YSL collective charged as part of a 56-count grand jury indictment.
BREAKING: Rapper Gunna (Sergio Kitchens) has surrendered to authorities in Fulton County. He is charged with Conspiracy to Violate the Racketeer Influenced and Corrupt Organizations Act (RICO). @wsbtv pic.twitter.com/xYAQZKABF2

— Michael Seiden (@SeidenWSBTV) May 11, 2022
The sweeping grand jury indictment alleges that YSL is "a criminal street gang" that "claims affiliation with the national Bloods gang." According to the indictment, Young Thug is accused of renting a 2014 Infiniti Q50 which was allegedly used in the murder of a rival gang member. Other charges for members of YSL include violent crimes such as murder and attempted armed robbery.
Brian Steel, an attorney for Williams, claimed innocence on behalf of his client on Tuesday. "I'll tell you the response to any allegation," Steel said, "Mr. Williams committed no crime whatsoever and we will fight to my last drop of blood to clear him."
The FADER has reached out to Gunna's representatives for more information.