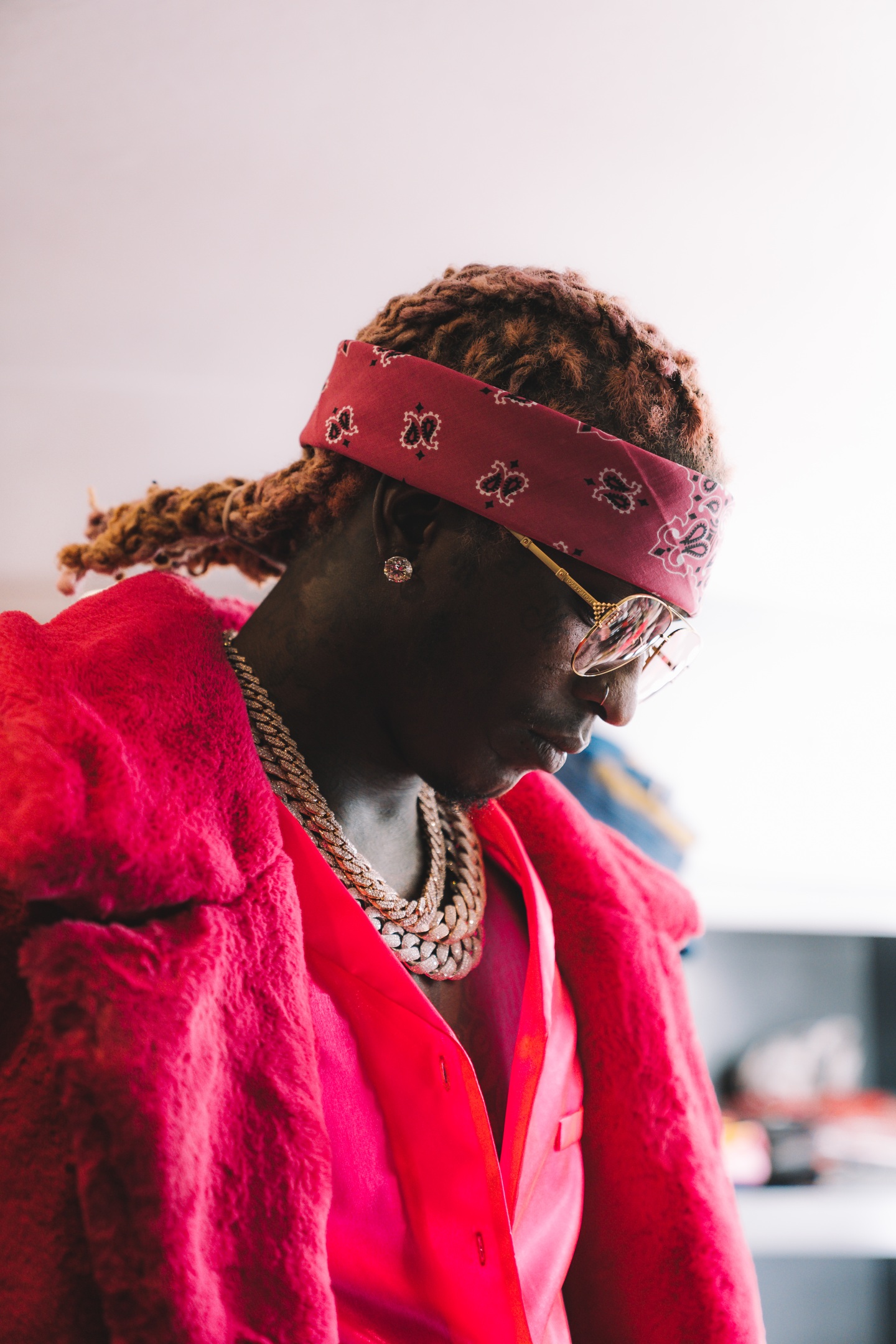 Just over two weeks ago, free speech seemed to be America's most pressing issue. At the end of April, Elon Musk's $44 billion bid to buy Twitter was accepted, and all sides of the political spectrum were consumed by what this meant for the discourse. Musk is sympathetic to right-wing criticisms of Twitter as biased against conservatives (claims that are factually untrue) and has vowed to make Twitter a ​​"platform for free speech around the world" (of course, Musk recently stated that, under his leadership, tweets deemed "wrong and bad" could "be either deleted or made invisible," so who knows). This issue has more or less faded from the news cycle, but a vision of lives destroyed for the wrong expression isn't some dystopic future. As the recent arrests of Gunna and Young Thug prove, it's happening right now.
The 56-count indictment was handed down on May 9. It names 28 associates of Young Thug's label YSL (Young Slime Life) including Thug and Gunna – according to prosecutors, YSL is a criminal gang founded in 2012 and connected to national Bloods crews. Each person in the indictment is charged with conspiracy to violate the state's Racketeer Influenced and Corrupt Organizations (RICO) Act. To prosecute someone under the Act, the state of Georgia must prove that a defendant has committed at least two offenses under the broad umbrella of "racketeering" and that they were perpetrated by at least two members of a criminal enterprise. If found guilty, a defendant can face up to 20 years in prison, a fine, or both.
Young Thug is accused of over 30 RICO violations. Some are serious, like the charge that he rented a car used in the murder of a rival gang member. But on the whole, the indictment against Thug is built on the allegation that he used lyrics in his songs and his social media presence as recruitment tools for YSL and to direct violence. Vague Instagram threats, pictures and videos of Thug displaying alleged gang signs, and lyrics from songs like "Eww," "Take It To Trial," and "Slime Shit" are treated as transmissions from a criminal enterprise. (Young Thug's attorney Brian Steele has vehemently denied any wrongdoing by his client).
Other YSL rappers facing RICO charges are Unfoonk, Yak Gotti, and Gunna. Prosecutors have accused Gunna of nine RICO violations between 2017 and 2022 ranging from possession of drugs with intent to distribute, to an appearance in Lil Gotit's video for "Fox 5," where, according to the indictment, Gunna was wearing a "'YSL' pendant and a 'Slatt' pendant, with lyrics stating 'We got ten-hundred round choppers.'" The indictment calls this behaviour, and all its other assertions, "an overt act in furtherance of the conspiracy."

Fulton County District Attorney Fani Willis, the chief prosecutor in the YSL case, confirmed this narrow view of the right to free speech at a press conference on Tuesday. "The First Amendment does not protect people from prosecutors using it as evidence if it is such," Willis said. "In this case, we put it as overt and predicate acts within the RICO count, because we believe that's exactly what it is."
Seeing these lyrics and social media presences in a court document that could destroy dozens of lives is both absurd and deeply chilling. It's also nothing new. Rap has been criminalized for decades and by authorities across the world thanks to a view of culture profoundly shaped by the Broken Window Theory, which assumes any sign of anti-social behaviour leads to increased disorder unless it is stopped at the root. With its focus on the realities of the street, rap is an easy target from coast to coast. New York City Mayor Eric Adams has partially blamed the city's violent crime rate on the rap subgenre of drill. And in Los Angeles, rapper Drakeo The Ruler saw years of his life stolen by prison as he was tried – and eventually acquitted – for murder in a trial that saw his lyrics entered as evidence.
Cases like Drakeo's are what make policy like the Rap On Trial bill, currently being debated in New York City, so important. If adopted, the bar would be much higher for prosecutors seeking to admit rap lyrics and videos as evidence into court. Of course, it's telling that hip-hop needs to be defended at all. "Every kind of art is drawn from life," the bill's co-author Jack Lerner told The FADER this year. "Just as in country music or any other form of music, rappers take on public identities and personas, but that doesn't mean that's who they are."
Young Thug's public identity, expressed in music and on social media, now threatens to help put him in prison for decades — a final brutal irony from a justice system that created the real-life cycles of violence that Thug tried to escape through his art. This kind of prosecution seems ideal for free speech advocates, fired up from their Elon Musk/Twitter win, to bring the momentum for their cause into the real world: speech is being criminalized in America right now, not in the "woke" future they so fear. But of course they will stay silent for the same reason that the NRA said nothing when a police officer shot Philando Castile, a licensed gun owner: The right kind of people are suffering, and they're willing to bet the domino effect of these prosecutions will not eventually land on their doorsteps.