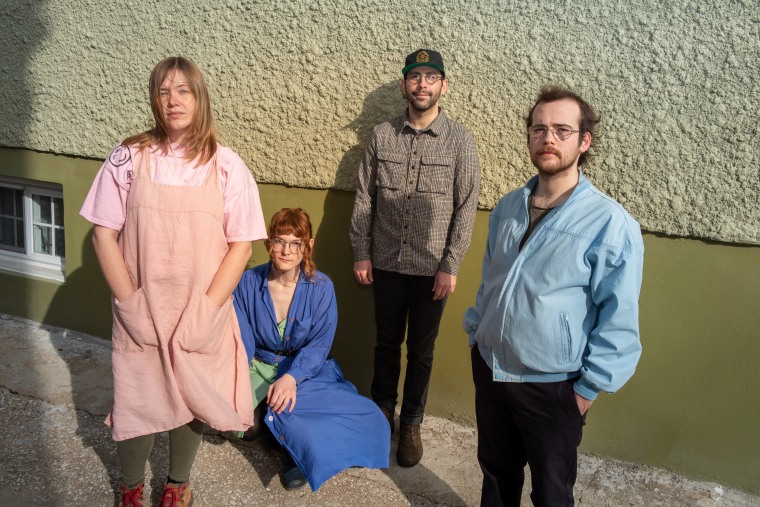 The FADER's "Songs You Need" are the tracks we can't stop playing. Check back every day for new music and follow along on our Spotify playlist.
Tomato Flower is a slow-growing project, rooted in the bond of four long-time friends. The Baltimore band arrived this past winter, bearing fruit for the first time in the form of their debut EP, Gold Arc. Today, they're announcing its follow-up, Construction, due out August 5 via Ramp Local, and premiering its lead single and title track with The FADER.
"Construction" is an appropriately named cut. Though it may not be as meticulously built as a certain Brazilian standard, it's quite intricately rendered — beginning with a wonderfully idiosyncratic guitar lick and amassing new harmonies and polyrhythms as it continues.
The angular axes of Austyn Wohlers and Jamison Murphy cut a strange pattern into the track — clearing a narrow, curving path in the dense, prickly underbrush of Mike Alferi's wildly syncopated drumming. Wohlers and Murphy step confidently through the whole mess with psychedelic, sometimes incomprehensible vocals that touch on sea travel, solitude, and the slow march of time.
Listen to "Construction" and view Tomato Flower's upcoming tour dates — including a late-summer run in support of Animal Collective — below. Preorder Construction in CD form along with a Gold Arc cassette via Ramp Local's website.
Tomato Flower 2022 tour dates
June 21 – Cleveland, OH – Shepard Records
June 22 – Detroit, MI – Trixie's Bar
June 23 – Chicago, IL – Golden Dagger
June 24 – Indianapolis, IN – State St Pub
June 25 – South Bend, IN – McCormick's
July 1 – Philadelphia, PA – Khyber Pass Pub
July 2 Washington DC – DC9 ^
August 13 – Vancouver, BC – Vogue Theatre *
August 16 – Edmonton, AB – Union Hall *
August 17 – Calgary, AB – The Palace *
August 19 – Bozeman, MT – The ELM *
August 20 – Missoula, MT – The Wilma *
August 22 – Cheyenne, WY – The Lincoln *
August 23 – Omaha, NE – Slowdown *
August 24 – Des Moines, IA – Wooly's *
August 29 – Portland, ME – State Theatre *
August 30 – New York, NY – SummerStage in Central Park *
August 31 – New Haven, CT – College Street Music Hall *
September 2 – Toronto, ON – The Danforth Music Hall *
September 3 – Rouyn-Noranda, QC – Festival De Musique Émergente
September 4 – Montréal, QC – Corona Theatre *
* = Supporting Animal Collective
^ = Supporting Bex