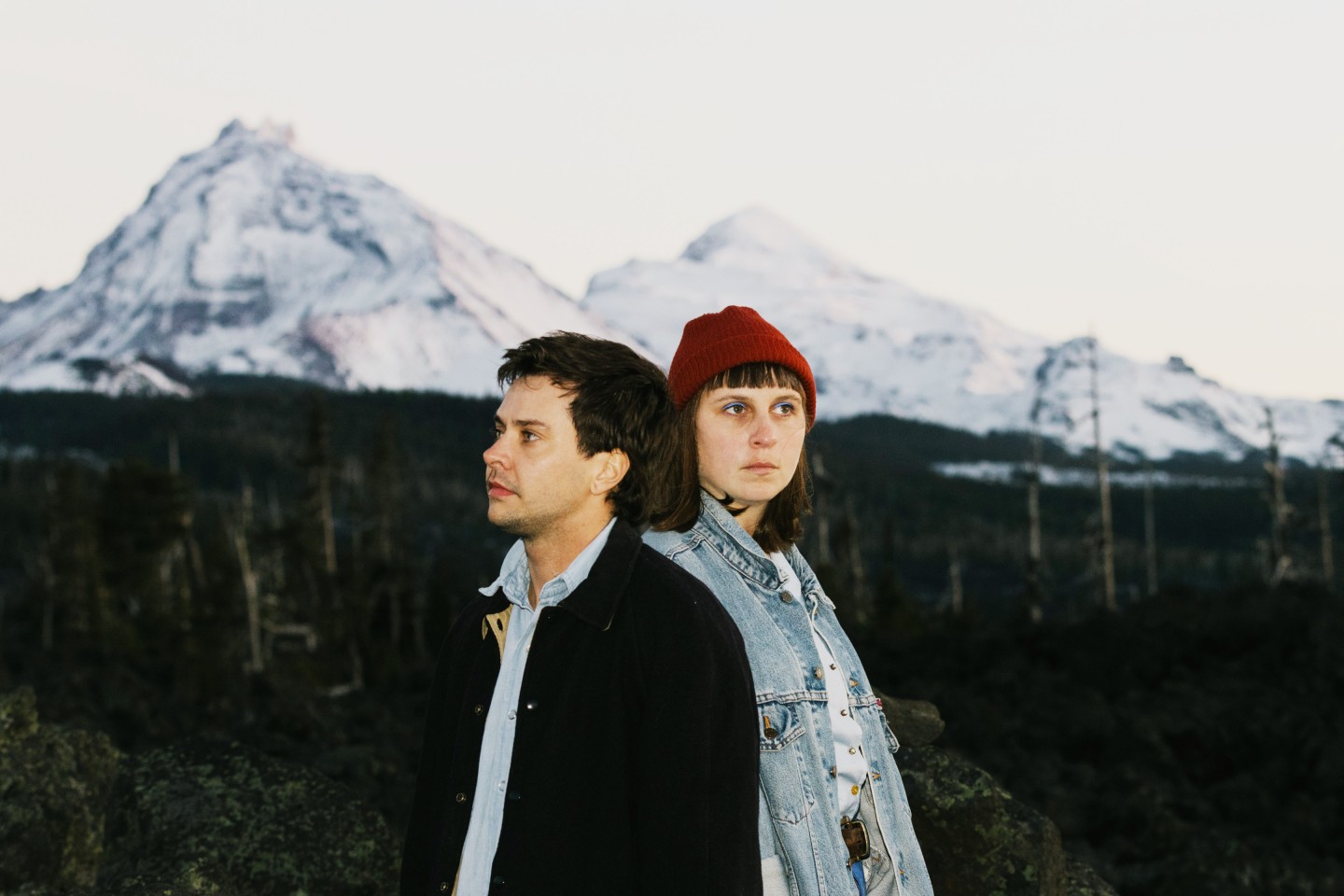 Flasher have broken free. The D.C.-founded, now-bicoastal duo of Taylor Mulitz and Emma Baker established themselves with a self-titled 2016 EP and a 2018 full-length's worth of tightly wound post-punk tracks. On those songs, Mulitz's urgent guitar playing and Baker's precise drumming pushed them above the pack. But on their new record, they've unshackled themselves from the genre's sometimes suffocating strictures, adding automated percussion, lush vocal harmonies, and a striking vulnerability to their already impressive tool kit.
Love Is Yours, out today via Domino, is a refreshingly thorough examination of the culture industry's favorite four-letter word. Here, we find songs about miscommunication, co-dependance, vertigo, disappointment, existential dread, obsession, toxicity, betrayal, and selfishness. But somehow, the record still feels like a positive take on romance — if not a ringing endorsement — by the time its final notes fade out. Love may be an all-consuming, life-destroying thing, but it's still worth fighting for.
Below, find Mulitz and Baker's breakdown of the emotional themes and musical machinations of every track on their heartbreakingly hopeful sophomore LP.
Taylor Mulitz: "I Saw You" is about being (un)seen or (mis)understood. In essence it expresses the intense desire to be fully seen (as understood by the self) and the simultaneous fear of being taken at face value (somehow at odds with what's within). Sometimes in conversation you find yourself holding up a mirror and can't help wincing at your reflection. I was reading "Near To The Wild Heart" by Clarice Lispector when writing the lyrics for this song, and its stream-of-conscious narrative style definitely had an influence.

TM: "Love is Yours" is about navigating the highs and lows of a long term relationship, the patterns we fall into and how hard it can be to break out of them. The structure of the song presents a juxtaposition — the verses are about those desperate moments where your wires are crossed and you just can't get through. Before things can spiral too far the chorus kicks in as a reminder of the overwhelming euphoria of the beginning of a relationship. The second verse begins with the line "Love is yours, if you want it," which sums up the sentiment of the song and really the record as a whole (this is one of the reasons why we chose it as the title track). Many of these songs at their core are about learning to forgive your younger self and embracing change. Acceptance is out there; you just have to commit to loving yourself and the people around you.
Emma Baker: We wrote "Little Things" in a cabin in Berkeley Springs, West Virginia. It was the dead of winter and I was experiencing intense vertigo for the first time in my life. It felt like being stuck inside a constantly moving elevator. At its worst, it felt like having the spins but in the sober light of day with no end in sight. I was 16 again, coming home from a party and trying to hide my intoxication from my parents. Stumbling up the stairs and spending the whole night sitting on the bathroom floor by the toilet. Laying in bed trying to be as still as possible to trick myself into feeling normal. In the second half of the song everything kind of falls apart with the intention of having the listener feel disoriented (like me).
EB: "Nothing" is about disappointment: reflecting on the hurt someone caused and their inability to accept the consequences of their actions, despite their desire to be held accountable. This song had a million different iterations — instrumentally, lyrically, structurally, melodically, etc. We ended up saving the chorus for the very end of the song to build up tension and give it a cathartic release.
TM: "Spell it Out" is meant to function as an interlude and transition on the record. We recorded a version with vocals but eventually decided that it worked best as an instrumental piece. The drums were really fun to record: Emma did a bunch of takes where she improvised on a crazy kit that had many cowbells, a bunch of chains, a triangle hung from the ceiling, and a broken cymbal over the floor tom to give it the "stomp" quality.
TM: "Still Life" is about existential dread and anxiety in the face of technology, climate change, collective trauma, the mundane everyday, cyborgs, etc — essentially just trying to make sense of the present moment. This is another song, similar to "Nothing," that went though a ton of different structural iterations and finally came into its final form after some brilliant chopping and screwing done by Owen (who engineered & produced the record).
TM: "All Day Long" is about the early stages of a relationship and the anxiety and obsessive scrutiny that comes along with it. It's about those early moments when you're constantly tripping over your words, overanalyzing every interaction, second guessing yourself, and it's unclear whether your desires are in alignment.
EB: "I'm Better" is about leaving a toxic relationship — in particular, being years past the trauma and feeling absolute joy, freedom and superiority on the other side. If the summary of this song could only be two words it would be "bye bitch!" :) It's supposed to sound sassy, shit-talky, funny even, but ultimately joyful.
TM: "Sideways" is about driving and self-reflection. I've had countless big realizations while in the car, especially during long drives on tour. There's something about being in that liminal space that inevitably brings things to the surface because you're forced to sit with your own thoughts without distraction.
TM: Like "Spell It Out", "Pink" is meant to function as an interlude (for ["Sideways" and] "Damage") on the record. This song originally came about as an instrumental exploration with a synth guitar pedal and stayed very true to the original demo.
EB: TW Assault
"Damage" is about a time I was sexually assaulted by someone I know and trust in a place that felt like home. It was made even worse by having to guide this person through an accountability process while carrying the weight of the harm I had endured. It's about physical spaces becoming tainted, haunted & uninhabitable. While the personal meaning behind "Damage" is heavy, relief came from its creation (there's no better way to reclaim your body than with a dance track). I demoed this song with a shitty logic beat, intending to add live drums later. There was a breakthrough moment in recording this song (and some others on this record) when we realized it didn't need to follow the same "rock band" rules as our previous record, Constant Image. Instead of recording live drums, Owen [Wuerker] created a more fleshed-out drum machine track, and its danceability became fully realized.
TM: "Dial Up" draws on imagery of a dream I had – one where I was reaching out and calling into the distance but couldn't quite make the connection I was searching for. Instrumentally, this song came from a very early demo of guitar, synth, and drum machine I made when I went out to LA in 2019 to help ghost-write a record for an artist who ended up scrapping the whole project.
TM: "Tangerine" is about reckoning with the selfish parts of oneself and others. Sonically this song was built around the chord progression in the verse. It never quite resolves and is constantly shifting, which I think adds to the tension and moodiness of the track. This song was inspired by Massive Attack.