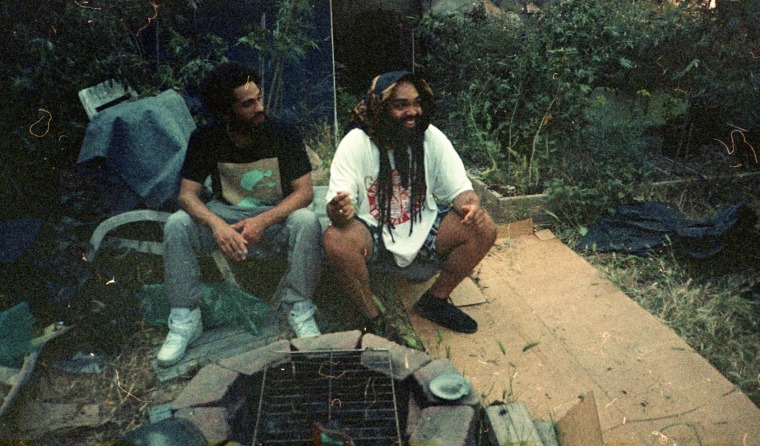 The FADER's "Songs You Need" are the tracks we can't stop playing. Check back every day for new music and follow along on our Spotify playlist.
Mejiwahn's woozy, hypnotic production evokes feeling through texture. The Oakland producer is credited all over Dallas-raised singer Liv.e's prismatic debut Couldn't Wait To Tell You alongside co-producer Daoud Anthony. On that album, he soothed listeners into a loose psychedelic state with crackling samples wobbly drums. The meandering, lived-in beats of "To Unplug" and "You the One Fish in the Sea" ask for you to trust that they'll be brought to a mellow final destination. Right now, Mejiwahn is gearing up for his debut album, Beanna, which drops on July 1. Premiering on The FADER today ahead of the its release is the album's fourth single: "Justheweed" featuring Los Angeles' Zeroh and Philadelphia's lojii. Check out the video below, which was filmed by flatspot_ and edited by Rollinos.
"When I made this beat, I knew exactly who I wanted to write to it. However, I was unsure if it should be included on Beanna," Mejiwahn said about the song. "It felt true to me and the story I'm trying to tell with this album, but I was overthinking whether or not it would be sonically/stylistically cohesive with the rest of the songs. When I got the verses back, the sentiments expressed by Zeroh and lojii immediately put the doubt to rest with a much needed reminder. Only you determine life's meaning, and no one writes your own story better than you do."
The very first voice you hear on "Justheweed" is Zeroh, who comes with an slick, enigmatic verse that scorches gentrifiers and longs for leisurely days in the same breath. lojii comes in right after, leaving little space between their head-spinning verses. The Philly rapper's flow tightly coils in on itself before unraveling to do it all over again in the next bar. "Just need my flowers and a drink, I wanna sit with N.O.R.E," lojii raps over a sticky bassline. Mejiwahn's sparse lo-fi production gives the two rappers room to set the pace as they please and let their personalities shine. Even though Zeroh and lojii seem totally chilled out, their verses show that they're both ready to go off at a moment's notice.