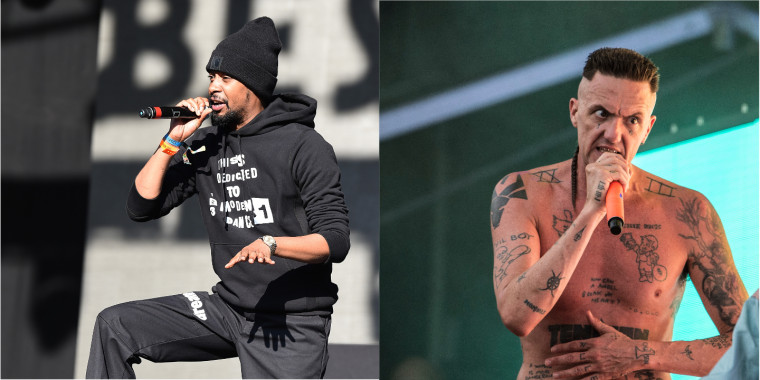 During a recent appearance on the podcast 2 Bears 1 Cave, Danny Brown claimed that he was sexually assaulted at a nightclub in Paris by Ninja, one half of the South African duo Die Antwoord.
Brown alleges that he was in a nightclub in Paris when Ninja sat in his lap and began to kiss him. "It freaked me out," Brown said before insinuating that Ninja offered three-way sex with himself and Yolandi, the other half of Die Antwoord.
"I was a single, experimenting man at the time," Brown said, "but he was too aggressive. He sat on my lap and started trying to kiss me and shit and doing weird shit. I'm like, 'Man, you tripping.""
He continued: "Yeah, Ninja. Ninja tried to fuck me… I was scared. Fuck them, though! Fuck them. I could've canceled cuz. [#]MeToo. I was sexually assaulted by Ninja. He know I ain't lying!"
Brown also claimed that Ninja asked for his hotel's address. When Brown refused, he claims that Ninja said "Don't worry, I'll find you." Brown says he proceeded to "pound drinks" after that exchange "because I'm like, 'I might have to stab this n**** tonight… if this n**** knock on my hotel room door, bro, it's gonna be a big deal."
Watch footage from the podcast below via Stereogum.
Ninja and Yolandi have always been polarizing artists, criticized as derivative shock artists since the start of their collaborative career as Die Antwoord in 2008. It wasn't until 2019, however, that allegations of criminal misconduct began to surface. In March of that year, Australian musician Zheani Sparkes released a diss track titled "The Question," in which she accused Ninja (whose legal name is Watkin Tudor Jones) of sexually assaulting her in 2013 and sent explicit images of her to cast members of Chappy. She filed a police report formalizing her claims six months later. Around that time, American singer Dionna Dal Monte came forward to claim that Jones had assaulted her in Italy in 2014. Jones has repeatedly denied these allegations.
In August of the same year, a 2012 video surfaced in which Jones is shown assaulting Andy Butler, the founder of Hercules and Love Affair, while Yolandi (whose legal name is Anri du Toit) shouted homophobic slurs at him. The duo responded to the ensuing public backlash by claiming the video had been edited by Ben Crossman, who they referred to as a disgruntled cameraman they'd fired for being stoned on the job. Crossman denied he'd edited the video but admitted he had participated in the assault. Shortly thereafter, Die Antwoord were dropped from several festival lineups.
In April, the South African online publication News24 released a report in which Jones and du Toit's estranged adopted son Gabriel "Tokkie" du Preez accused them of sexual abuse and exploitation. The report included an excerpt of a 44-minute interview conducted and edited by Crossman. Die Antwoord responded to these allegations by releasing a statement to their website claiming du Preez, Crossman, and News24's editor-in-chief, Adriaan Basson, all conspired to fabricate the story for financial gain.
Jones has yet to respond to Danny Brown's accusation. The FADER has reached out to representatives of both Jones and Brown for further comment.