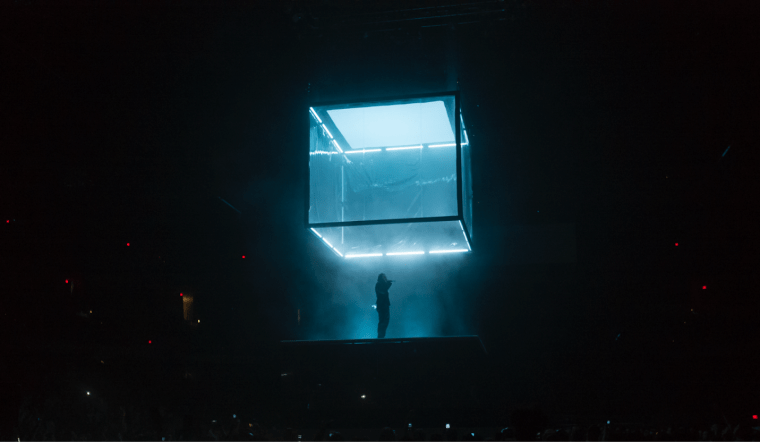 Kendrick Lamar kicked off his Big Steppers tour Tuesday night at the Paycom Center in Oklahoma City, with support from Baby Keem and Tanna Leone. It was his first North American performance since the release of his fifth studio album, Mr. Morale & the Big Steppers, in May. He'd previously premiered six tracks from the new record — "Count Me Out," "N95," "Savior," "Silent Hill," "United in Grief," and "Rich Spirit" — over the course of a one-week, four-stop festival run that started in Cannes and stopped in Paris and Milan before ending at Glastonbury 2022.
Last night in OKC, he played all of those cuts, plus eight more: "Auntie Diaries," "Crown," "Die Hard," "Father Time," " Mirror," "Mr. Morale," "Purple Hearts," and "Worldwide Steppers." Only two songs — "We Cry Together" (a 50/50 duet with Zola actress Taylour Paige) and "Mother I Sober" (the record's slow-burning, seven-minute penultimate track) — and two interludes from the double album have yet to be performed live.
Watch some (unofficial) footage of three of last night's live debuts and view Kendrick's mammoth, 26-song setlist below.

Kendrick Lamar OKC setlist
1. United In Grief
2. N95
3. ELEMENT
4. Worldwide Steppers
5. Backseat Freestyle
6. Rich Spirit
7. HUMBLE
8. Father Time
9. m.A.A.d city"
10. Purple Hearts
11. Alright
12. Bitch, Don't Kill My Vibe (Remix)
13. Die Hard
14. The Art Of Peer Pressure
15. DNA.
16. Money Trees
17. LOVE.
18. family ties (with Baby Keem)
19. Mirror
20. LOYALTY.
21. Auntie Diaries (final verse only)
22. Silent Hill
23. Crown
24. Mr. Morale (with Tanna Leone)
25. Count Me Out
26. Savior