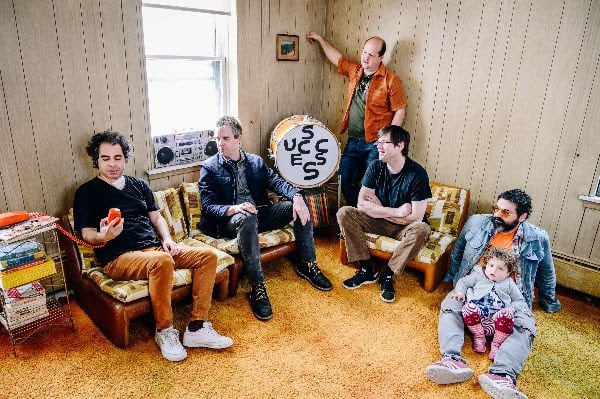 The FADER's "Songs You Need" are the tracks we can't stop playing. Check back every day for new music and follow along on our Spotify playlist.
"Sometimes even the longest journey ends close to where you started" — so begins financial writer/music journalist Jennifer Kelly's bio for Success, the 16th studio LP by the long-running Brooklyn avant-rock quintet Oneida. The first arc of the circle she's referring to was drawn 25 years ago: A Place Called El Shaddai's, released in 1997 on the short-lived New York label Turnbuckle Records, is a messy, thrashing, proto-punk debut.
Since then, the group has traced a curved but steadily rising line into heady abstraction, taking brief breaks along the way to collaborate with the likes of Mike Watt, as well as members of Portishead, Godspeed You! Black Emperor, The Flaming Lips, et al. They've become best known for their live performances, which generally include extended, noisy freakouts — like the one that closes their most recent record Romance, pushing it well past the one-hour mark.
If the first three singles from Success give any indication of the project as a whole — and it would be hard to believe otherwise, since the full album is only seven tracks long — the forthcoming record will represent a pivot of 180 degrees and change. Pre-announcement cut "I Wanna Hold Your Electric Hand" and lead single "Beat Me to the Punch" both reach nearly Ramones-level simplicity, though the latter track is bisected by a demented, two-and-a-half-minute guitar solo that quickly devolves into a frenzy of feedback.
Their new song, "Rotten," is even more stripped down than the others. For starters, it's just over half the length of either previous release, and it contains none of their diversions, despite a guest appearance from bassist James McNew of fellow noise-rock stalwarts Yo La Tengo.
"My sweetheart doesn't taste so sweet anymore," Fat Bobby — the wire-thin keyboardist formerly known as Bobby Matador — sings over a single chord hammered out repeatedly by every band member save for synth player Barry London and, of course, drummer Kid Millions, whose pummeling, four-on-the-floor beat is essentially in unison with the rest of the instrumental.
In honor of last night's MLB All-Star game and YLT's deep ties to baseball — and for fear of over-plagiarizing Jen Kelly's metaphor — I'll end with the image of five aging Brooklyn hipsters smashing a career-defining, walk-off home run, jogging around the base path hand in hand, and arriving emphatically at home plate, where a team of fellow aging Brooklyn hipsters waits to greet them with high fives and a PBR shower.
See more images — including ones of candy, worms, tooth decay, and nuclear explosions — in the track's Matt Marlin-edited music video, and view Oneida's upcoming U.S. tour dates, below.
Oneida summer 2022 tour dates
August 4 - Kingston, NY @ Tubby's
August 5 - New Haven, CT @ The State House
August 6 - Troy, NY @ No Fun
August 17 - Cleveland, OH @ Beachland Tavern
August 18 - Bloomington, IN @ The Bishop Bar
August 19 - Chicago, IL @ Empty Bottle
August 20 - Pittsburgh, PA @ Brillo Box
September 17 - Queens, NY @ Seuffert Bandshell