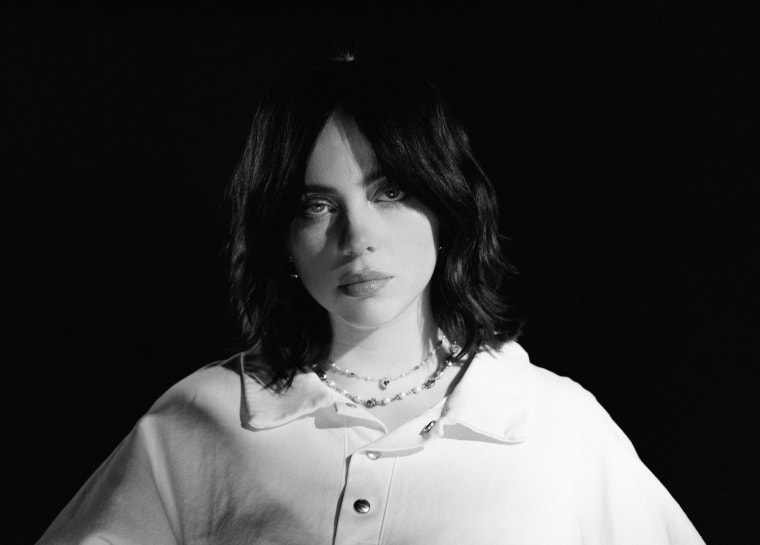 Billie Eilish has shared two new singles, "TV" and "The 30th." Both went live on digital streaming platforms today at noon without warning, packaged as an extremely short EP titled Guitar Songs. True to the project's title, both are acoustic, singer-songwriter cuts.
"TV" was teased six weeks ago when Eilish played it at a UK stop on her sold-out, ongoing Happier Than Ever tour. "We haven't played a new song live before it's out since 2017 or 2018," she told fans before she and her brother FINNEAS debuted the track for a packed AO Arena in Manchester. The studio version closes with a live singalong from the show.
"The 30th," on the other hand, is brand new. Over a simple, fingerpicked guitar line, Eilish recounts a traumatic tale that begins with a car accident and and traces a narrative circle from the ambulance to the hospital and then back to the initial incident.
"We wrote that on December 30th, and that was actually the first song that we had written since Happier Than Ever," she told Apple Music 1's Zane Lowe on his latest Apple Music 1 show. "That's why it's called 'The 30th,' because something happened on November 30th and it had just been the most indescribable thing to have to witness and experience. I had been writing down all these thoughts that I was having. I was with FINNEAS, and I was like, 'I'm sorry, I don't know what you were planning on doing, but we need to write this song about this right now,' and we did.
Watch the official lyric videos for both new songs below.