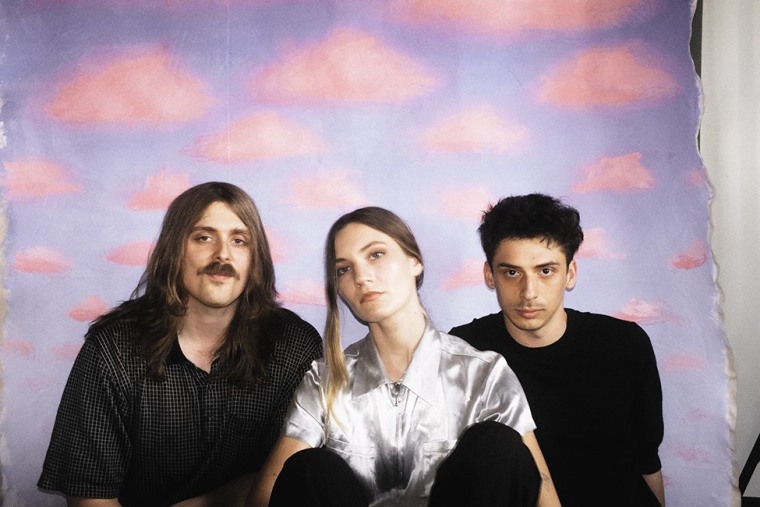 The FADER's "Songs You Need" are the tracks we can't stop playing. Check back every day for new music and follow along on our Spotify playlist.
Wombo, an unassuming trio of art rockers from Louisville, Kentucky, have spent the past few years quietly perfecting the art of post-punk — and pushing it into the year of our lord 2022 in a way that feels organic, fresh, and neither overly deliberate nor too tongue in cheek. Their excellent studio debut Fairy Dust — preceded by the singles "Backflip," "Below the House," "Seven of Cups," and "Snakey" — is finally out today via Fire Talk Records.
"Regular Demon," the record's fourth track and an early standout, is clearly the product of meticulous planning and practice. As tight a band as you're likely to hear this year, and even more impressive live, they've successfully mind-melded here: Guitarist Cameron Lowe starts things off with a scratchy tone that doubles as a distorted cue for drummer Joel Taylor to enter with a punchy, four-on-the-floor beat. Frontwoman Sydney Chadwick follows shortly after, her aggressive bass line taking on triple duty as it syncopates Taylor's simple percussion, fleshes out Lowe's high neck angularities, and plays a perfect foil to her own transcendent soprano vocals.
That's only the beginning: Across four minutes, the group makes several metric and tonal pivots, delighting in keeping their audience in a constant state of blissful bewilderment. And Chadwick's oblique, enigmatic lyrics present an entirely different challenge for the active listener.
According to the band, "Regular Demon" is "about the parts of ourselves we would rather not acknowledge, not realizing we are making them worse by ignoring them. In the end, coming to terms with them and understanding in order to be whole, you have to allow those dark bits of yourself to have space."
Listen to the new song and view Wombo's upcoming tour dates below.

Wombo summer 2022 tour
July 28 - Madison, WI - University of Wisconsin
July 30 - Albany, WI - Postock Festival
August 1 - Minneapolis, MN - First Avenue ^
August 4 - Seattle, WA - Sunset Tavern ^
August 9 - San Francisco, CA - Brick and Mortar ^
August 10 - Los Angeles, CA - Zebulon ^
August 11 - San Diego, CA - Whistle Stop Bar ^
August 12 - Phoenix, AZ - The Beast ^
August 13 - Tucson, AZ - Templetons ^
August 16 - San Antonio, TX - Paper Tiger
August 17 - Austin, TX - Mohawk (Inside)
August 20 - Nashville, TN - Third Man Records
August 21 - Louisville, KY - Guestroom Records
September 2 - Louisville, KY - Headliner's
^ w/ Deeper