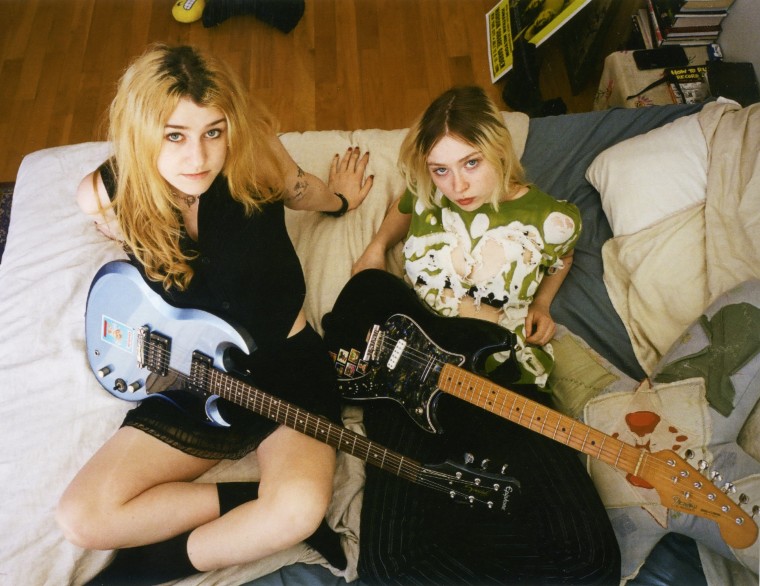 Last month, Momma shared their third full-length album, Household Name, and took their first bona fide step toward the sort of success their record's title implies. Founded in Los Angeles by Etta Friedman and Allegra Weingarten, they've since moved to Brooklyn and added multi-instrumentalist and producer Aron Kobayashi Ritch to their full-time lineup. With his help, they've taken their clever compositions into power-pop overdrive, embracing a stylishly self-aware commercialism.
Today, they're premiering a documentary on this progression — from bedroom recordings and GarageBand to a professional studio with a Grammy-winning engineer (Emily Lazar). In contrast to the album's polish, the 22-minute short film is shot on a handheld camera and cut roughly. Beginning with the record's first session, if follows a non-linear narrative that captures the chaos and hilarity that goes into making a project this much fun.
Read each band member's statement on Making of Household Name, and watch the full doc below.
Momma on Making of a Household Name
Allegra Weingarten: We had an idea to make a VH1-style rockumentary while we were making the record. We thought it would fit the theme of Household Name, and we could make something kind of satirical. Once we started actually recording the album, we all kind of became too invested in the music to really focus on making the rockumentary we had planned. The footage we did end up getting was when we picked up the camera in moments of laughter or observation. It's cool to look back on little snippets of the recording process that I didn't even really remember. We were kind of all going crazy, and were insanely exhausted, but we were still able to joke around and not take anything too seriously.
Etta Friedman: Making Household Name was one of the most exciting and challenging feats for us as a band. A lot changed — we were in a real studio, we had more time than we ever had before, and we had fully completed demos before walking into our first day. Filming the recording process was an ideal way to capture Momma in the studio, and keep us occupied at the same time. I'm glad that we decided to pick up the handheld camera because the documentary feels like it'll be a kind of time capsule that bookmarks our memories from recording (what feels like) our first real record.
Aron Kobayashi Ritch: I think we decided to film a documentary because we all knew this record was gonna be really important for us. It was our first time making a record where we felt like we could really do it our way. Planning out every detail and production choice and sound, and then getting to bring it to life in a real studio with a real budget was always a goal for us. This documentary captures our obsession with perfection, including all the anxieties that come with it. Even though we had a lot of time, we still found ourselves backed against a wall, which I think is sometimes a good thing. In the end I hope this doc gives people a window into what it's like for Momma to make a record.