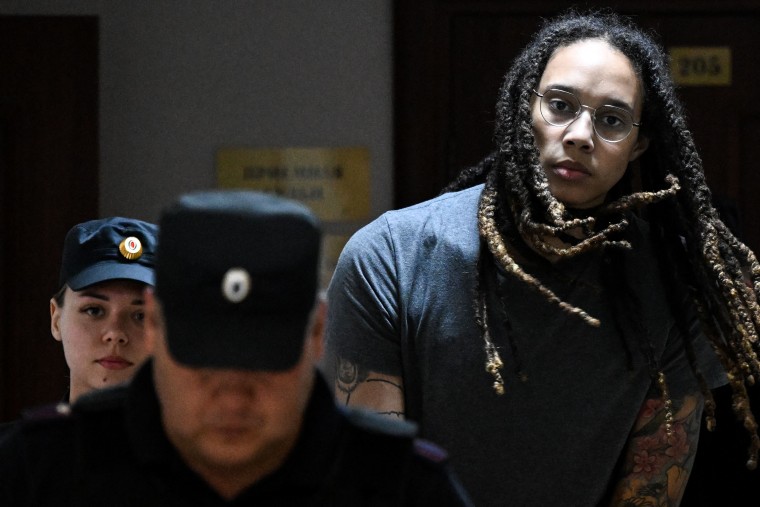 Laywers for Brittney Griner have appealed a Russian court's decision to sentence her to nine years in prison, Russian news agencies reported this morning and multiple U.S. outlets have confirmed. The American basketball star was convicted earlier this month of smuggling drugs into the country with criminal intent. The grounds for the appeal were not immediately clear, though her defense team of Maria Blagovolina and Alexander Boykov had stated after the sentencing that nine years was excessive and that most people convicted with the charge received sentences closer to five years.
Griner, who plays center for the WNBA's Phoenix Mercury, was arrested in February at Moscow's Sheremetyevo Airport when cannabis oil vape canisters were found in her luggage during a search. She has admitted the canisters were hers but maintains she packed them accidentally and had no criminal intent. During her trial, Blagovolina and Boykov provided the court with written statements from American physicians attesting to the fact that Griner has been prescribed marijuana as a pain treatment medication in the States.
In July, U.S. Secretary of State Antony Blinken told press that the Department of Justice had made a "substantial proposal" to bring Griner home. Though he did not go into detail, CNN and other news organizations later reported that the DOJ had offered to trade the freedom of Viktor Bout, a Russian arms dealer serving a 25-year sentence stateside, for that of Griner and Paul Whelan, a former U.S.marine serving 16 years in Russian prison for espionage. Alexander Darchiev, head of the Russian foreign ministry's North America department, confirmed to the Russian news agency Tass that talk exchange talks have occurred.