Calvin Harris and pop music's search for connection
On Funk Wav Bounces, Vol. 2 , Harris brings together superstars in an attempt to capture the same magic that made the summer of 2017 more bearable.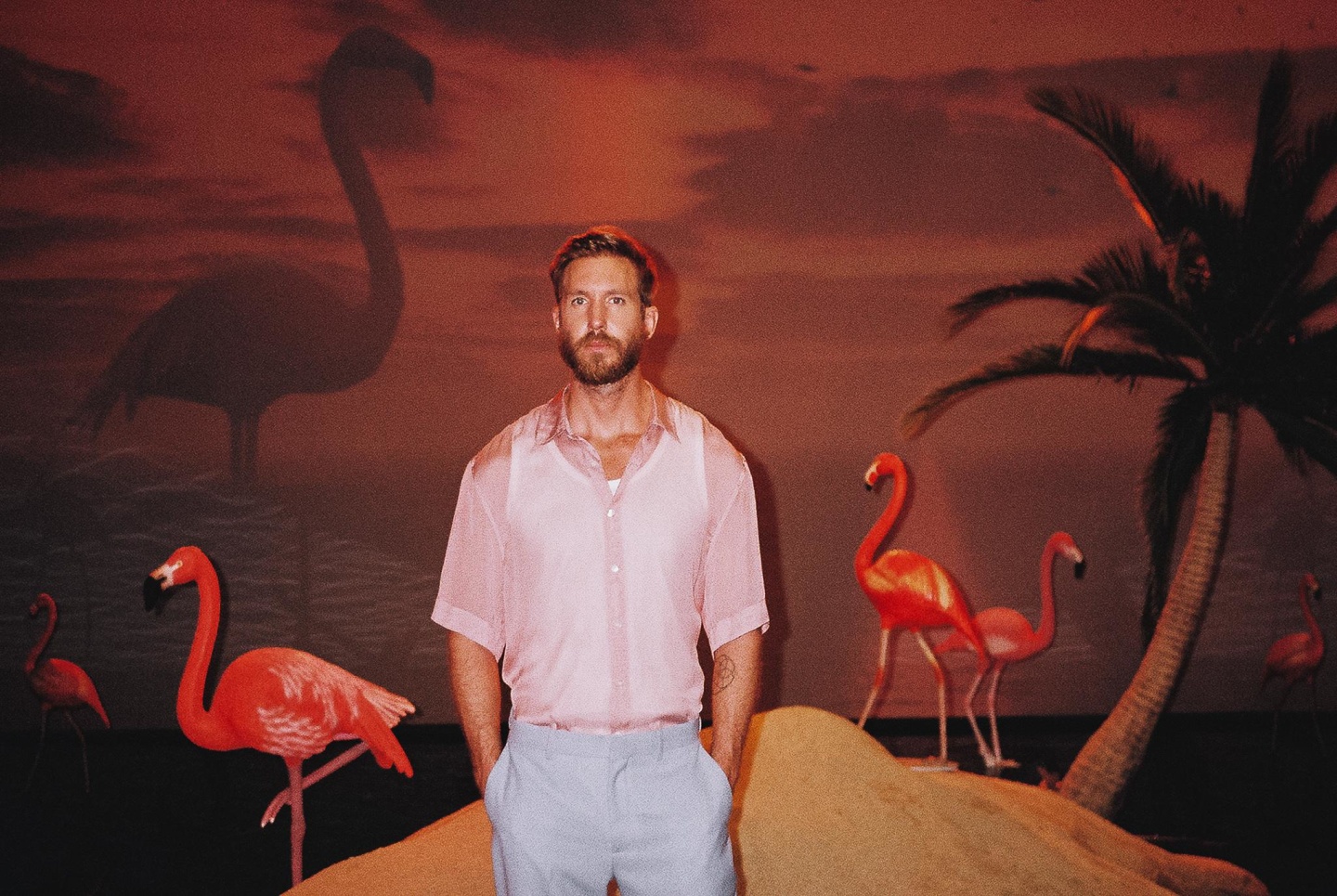 Back in February 2017, Frank Ocean stopped thinking ahead. There was no point. Donald Trump had been inaugurated a month prior, any sense of normalcy had crumbled away, and no one knew what to expect next. What came to matter most was the here and now. "I might empty my bank account / And buy that Boy With a Pipe," he sang, pitched up, on "Slide" — the lead single to Calvin Harris's nu-disco-funk-fusion album Funk Wav Bounces, Vol. 1 — as he considered buying a Pablo Picasso painting that sold for ​​$104.2 million in 2004. "It's like we can die here all young," Ocean considered. "Like we could dye hair all blonde." As the future started to blur, he sounded liberated by the notion that he could do anything he liked.
This idea was at the root of Funk Wav Bounces, Vol. 1, a collection of breezy hits that felt like the familiar arrival of summer but thrived on the novelty of Harris's unexpected artist groupings: Khalid with Future ("Rollin"), Ariana Grande with Young Thug and Pharrell ("Heatstroke"), John Legend with Snoop Dogg and Takeoff ("Holiday"). The surprisingly effective combinations spoke to the producer's knack for tastemaking, while the warm serenity of the album as a whole reflected his understanding of dance music's escapist thrills.
Harris was familiar with the territory. Five years prior, his third studio album, 18 Months, had featured over half a dozen trance-inducing electro house hits, from the Kelis-featuring "Bounce" and the Florence Welch-led "Sweet Nothing" to the era-defining singles "Feel So Close" and "We Found Love," his team-up with Rihanna that spent 10 non-consecutive weeks at No.1 on the Billboard Hot 100. In 2017, during that first post-election summer, as audiences leaned on artists like Harris to transport them – if only temporarily – away from the stress and conflict around them, artists themselves leaned on each other. DJ Khaled, who was on a collaborative hot streak of his own, linked up with Beyoncé and Jay-Z ("Shining"), Rihanna and Bryson Tiller ("Wild Thoughts"), and most successfully with Justin Bieber, Lil Wayne, Quavo, and Chance the Rapper ("I'm The One").

These collaborations felt like stand-ins for the interpersonal connections that this fraught new reality threatened to destroy. And, anyway, they were big-budget distractions, superstars sounding as though they had been dropped into a studio in paradise to lay down some sunny vocals. But as urgent as it felt five years ago, the search for escapism and meaningful shared experiences in 2022 is even more pointed. It seems like this would have been the perfect time for Harris to return with a continuation of the Funk Wav Bounces series. And the announcement of Vol. 2 earlier this year did spark a brief moment of nostalgia: another collection of blissful collaborations arriving just in time for summer.
"I can work with artists and they can express themselves in a way that they can't do on their own music but they sort of want to – whether it be record label politics, or what their fans expect of them – it's completely no pressure," Harris told Zane Lowe in a recent interview. The producer's own confidence in his own process of selecting collaborative pairings for the record was infectious in the lead up to its release.
People on social media lauded the room he made for strange combinations, one semi-viral tweet reading: "Calvin Harris tracks will be like Match My Vibe ft. Cèline Dion, Lil Baby & Harry Potter." In the replies, Andre 3000 was thrown together with Hans Zimmer and Lana Del Rey while Drake was paired with BTS and Harry Styles. The consensus was that these would all somehow still hit – Funk Wav Bounces, Vol. 1 style.
Harris added: "I can promise you it'll sound good. It might not be a hit, but you'll have a good time, you'll make a good record, and you might just end up on a tune with someone that you would never dream of."
But now that it's here, Funk Wav Bounces, Vol. 2 feels disconnected in a way that its prototype didn't. The spaces that were once filled with the inspired creativity of unexpected collaborations successfully brought to life are glaringly vacant. When Normani appears alongside Tinashe and Offset on "Next To Me," there's none of the glimmering potential from her past run ins with Harris (2018's "Slow Down" and "Checklist"). Instead – like Dua Lipa and Young Thug's "Potion" or Stefflon Don, Chlöe, and Coi Leray's "Woman of the Year" – the song comes together like a combination of mismatched pieces from entirely different puzzles.
When the Funk Wav Bounces, Vol. 2 tracklist was revealed, Harris' choice to bring Charlie Puth together with Jamaican dancehall star Shenseea seemed odd on paper, but surely he could make it work. Instead, Puth's vocal performance – altered seemingly by the consumption of crushed-up ants to make him sound like Michael McDonald – comes across more like a jump scare and the spark of Shenseea's usual flare feels snuffed out. It's less than the sum of its parts.
During the pandemic, collaborations that would have likely developed organically in the studio were migrated to Zoom sessions, or worse – files bounced back and forth over email with barely any direct, person-to-person interactions at all – more frequently than ever. Remote recording dates back decades, with artists from 100 gecs to the Postal Service and Bruce Springsteen using file-sharing and makeshift studios to create entire albums. When Charli XCX made her self-isolation album How I'm Feeling Now in 2020, producers A. G. Cook and BJ Burton helped to bring the experimental pop record to life without ever being in the same room as the singer.
Often that change in process didn't significantly alter the sound of a project. Out of necessity, more producers have refined their skills for seamlessly combining these long-distance interactions, and when the perfect collaborator isn't directly available, engrossing samples and interpolations take the reins. Even Harris didn't necessarily have his sights set on innovation, but his introduction of live instruments throughout Funk Wav Bounces, Vol. 2 felt strategic in emulating a sense of physical proximity. On "Somebody Else," Jorja Smith and Lil Durk's performance is united with a deep, funk-driven bassline and a blissful arrangement of electric guitar plucks that communicate the feeling of a room full of musicians in jam mode – even if it was only a single producer in his studio combining audio files, there was something more human about it.
But still, the album often feels disjointed, devoid of connection to any current musical movements or to the ensembles of artists on the tracks themselves. In this instance, time worked against Harris in more ways than one. The functional purpose of Funk Wav Bounces, Vol. 1, where the escapism that had been offered up was an unexpected surprise, was far less urgent than that of Vol. 2. Now, the absence of immersive distraction calls attention to itself at a moment where it's actively being sought out.
He also had the misfortune of delivering the middling collection of tracks in the midst of pop's latest dance resurgence, courtesy of Beyoncé's attention-demanding Renaissance and Drake's refreshing pivot Honestly, Nevermind. It may be understandably unfair to put the three artists in conversation with one another – they run in almost entirely different circles altogether – but in the current sphere of pop, they possess overlapping endgoals.
"Hey, it's a mess out there / They can leave, but we don't care / We'll stay, I'm good right here," Halsey offers with bored sincerity on "Stay With Me," the closest replication of the Funk Wav Bounces, Vol. 1 formula, combining with Pharrell and Justin Timberlake for an all-star team up á la Katy Perry, Pharrell, and Big Sean on "Feels." The disco-flared track prefers the rose-colored hues of staying on the dancefloor to facing the truth of the world outside of it. It's the same messaging that Beyoncé delivers on Renaissance lead single "Break My Soul," only without the historical ties to the liberation movements in Black and queer communities soundtracked through dance music. It even mirrors the self-indulgence of "Slide," embracing the option to opt out of reality, even if only momentarily, in favor of a lavish fantasy.
Drake, whose reality is all lavish fantasy all the time, ran the risk of isolating entire sections of his audience in his pivot towards the rejuvenation of house music. But he had seemingly burnt himself out chasing the highs of the past on his more recent projects. Honestly, Nevermind finds the rapper reconstructing himself in as refreshing a way as Harris' own reinvention in 2017, which traded in the thumping pulse of EDM for the wealth of nu-disco and funk. In a way, the producer delivered exactly what was asked of him by returning with more of the same on Funk Wav Bounces Vol. 2 – with familiarity.
But pop nostalgia often conveniently ignores its own romanticization of the past. In the haze of hindsight, it forgets to credit exactly what it was that created the feeling we so fondly remember and yearn for. It wasn't enough to have thrown a bunch of artists together on a track and hoped that they stuck – the true selling point was the ability to make it sound as though they were all in meaningful conversation with one another, leaning on each other for support and escape in the same way the masses dancing along to the music had hoped to as well.
Funk Wav Bounces Vol. 1 succeeded because of its escapist qualities, the perfect amalgamation of artistic connections and hedonism to transport its audience to a better reality, if only for a moment. But Funk Wav Bounces Vol. 2 became a mirror of the environment it was created within – one characterized by the burnout and estrangement it was meant to be calling attention away from, rather than inadvertently spotlighting. Now, the illusion has been shattered.