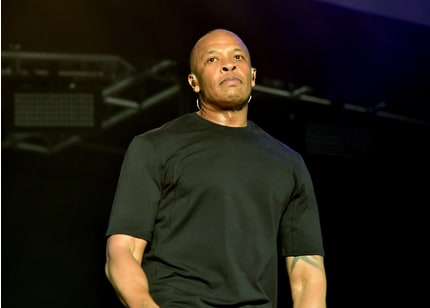 Dr. Dre has spoke about suffering a brain aneurysm in 2021 and how close it came to killing him. The rapper, producer, and business mogul was hospitalized in Los Angeles last January with an Instagram post at the time clarifying that he was "doing great and getting excellent care from my medical team."
However, that may have been putting a positive spin on things. Speaking with Dolvett Quince on the Workout the Doubt podcast, Dre claimed that staff at the Cedars-Sinai Medical Center allowed his family to break COVID protocols at the time and visit him in his room as they feared they may not get another opportunity to say goodbye.
"I'm at Cedars-Sinai hospital and they weren't allowing anybody to come up, meaning visitors or family or anything like that, because of COVID, but they allowed my family to come in," he said. "I found out later, they called them up so they could say their last goodbyes because they thought I was out of here."
Dre went on to talk about his time in the hospital and the rigorous checks the doctors put him through. "Because of what was going on in my brain, they had to wake me up every hour, on the hour, for two weeks to do these tests," he told Quince. "Basically, sobriety tests, like touch your nose, rub your heel on your calf, and all that shit."
Earlier this year Dr. Dre joined Snoop Dogg, Kendrick Lamar, Eminem, and Mary J. Blige as joint headliner of the Super Bowl.